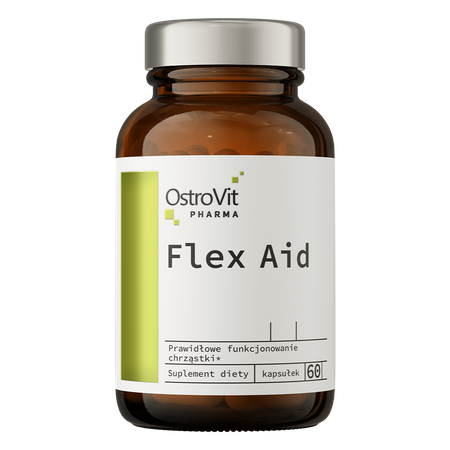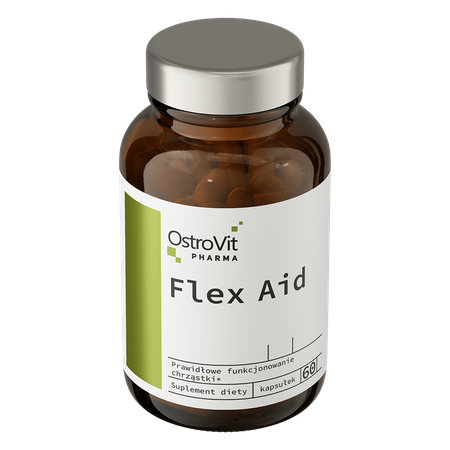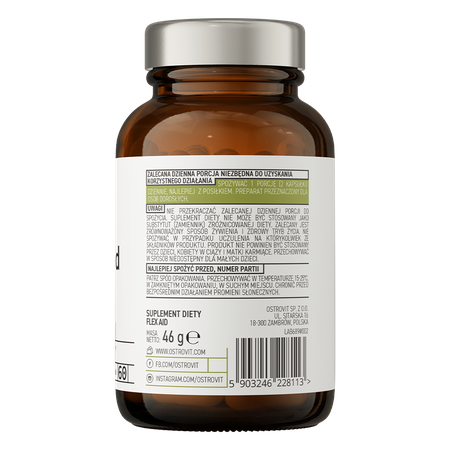 OstroVit Pharma Flex Aid 60 caps
6,43 €
OstroVit Pharma Flex Aid 60 caps
OstroVit Pharma Flex Aid is the highest quality dietary supplement in HPMC capsules (hydroxypropyl methylcellulose), which contains a complex of ingredients aimed at regeneration, protection and prevention of the proper functioning of our bone and joint system. OstroVit Pharma is a line that puts the quality of raw materials, pharmaceutical production diligence and all the components thanks to which the supplement is created, in the first place. OstroVit Pharma are absolutely elite supplements for consumers who know what is most important to them.

10 active ingredients
30 servings of the supplement in the package
The highest quality of raw materials and production
Dark, glass bottle with capsules
The product is enough for a month of supplementation
It supports the proper functioning of the movement apparatus
Joints, tendons, cartilage in good hands
OstroVit Pharma Flex Aid - prevention and protection of the osteoarticular system
Chondroitin sulfate (chondroitin)- is a chemical compound that belongs to mucopolysaccharides. It consists of residues of glucuronic acid and N-acetylgalactosamine. This substance is endogenous, so it is produced by our body. The main place of its occurrence is articular cartilage. Chondroitin in the form of sulphate is most effective. This relationship is very important because it helps to eliminate the feeling of friction between the articular surfaces. In addition, chondroitin naturally supports the production of synovial fluid, which is responsible for the proper functioning of the joints. As a result, their structure is not damaged and the quality of traffic is still at the correct level.
Glucosamine sulfate 2KCL (Glucosamine)- is a substance constituting the building blocks of compounds found in articular cartilage. During periods of increased physical exertion, greater joint load, overweight and in old age, the body produces less glucosamine than it needs. The lack of this substance means that the joints do not do their job properly. Providing the body with an adequate source of glucosamine supports articular cartilage.
Methylsulfonylmethane MSM - or methylsulfonylmethane is an organic sulfur compound. Like glucosamine, it is often recommended for joint problems. In addition, sulfur also participates in the synthesis of collagen and keratin. These substances are necessary for the maintenance of strong and healthy hair, skin and nails.
Hydrolyzed collagen - is a protein found in our body in practically all tissues. It builds our tendons, skin, joints and bones. It is responsible for the production of synovial fluid as well as the elasticity and hardness of cartilage, skin hydration and proper epidermis renewal. It affects the cohesiveness, strength and elasticity of the connective tissue. It also has the unique ability to bind water, thanks to which the skin maintains proper firmness, elasticity and tension.
Frankincense oleoresin extract (65% boswellic acid) - an extract obtained from the Frankincense tree from the territories of India. Indian resin was used in Ayurveda thousands of years ago to treat arthritis, osteoarthritis, joint pain and as a panacea with pleiotropic anti-inflammatory effects.
Ginger root extract (5% gingerols) - is a spice widely known all over the world, which contains several ingredients with antiviral properties, which is why ginger has been used for years as one of the home methods of treating colds and infections. Its bactericidal and anti-inflammatory properties mean that it can be used as an adjuvant in the treatment of colds and flu. Ginger also has disinfecting properties. The strong heating effect of ginger can be used to cool the body.
Hyaluronic acid is most often associated with body care cosmetics, rejuvenating cosmetics and as an anti-aging agent. Thanks to its properties, hyaluronic acid can increase the elasticity of the skin, which can protect us from unwanted stretch marks that spoil the visual effect of our figure. Oral supplementation with hyaluronic acid increases its level in our skin, thanks to which it can accelerate recovery after injuries, cuts, abrasions or soft tissue damage. One of the most desirable advantages of hyaluronic acid during its supplementation is its positive effect on the functioning of bones, joints and connective tissue.
Vitamin C - helps in the proper production of collagen to ensure the proper functioning of blood vessels, bones, cartilage, gums, skin and teeth. In addition, it contributes to the maintenance of proper energy metabolism and additionally helps in the proper functioning of the nervous and immune systems.
Copper (copper bis-glycinate) - a chemical element commonly found in many plant and animal organisms. As a micronutrient, it is essential for the life of many organisms, taking part, among others, in photosynthesis and respiration, but some die even at very low concentrations. It regenerates and simulates the growth of the epidermis, increasing the elasticity and firmness of the skin.
Manganese (manganese bisglycinate) - is a chemical element that occurs in the tissues of the human body, i.e. liver, kidneys or pancreas. Its deficiency may lead to bone deformation, the development of osteoporosis or growth inhibition.
Properties of the ingredients contained in OstroVit Pharma Flex Aid:
It is a complex of effective ingredients
Helps to strengthen joints, tendons, cartilage and ligaments
It contributes to regeneration after injuries and injuries
Daily protection of joints
Suitable for the elderly and athletes
Supports the construction of tendons, ligaments and muscles
Contributes to the synthesis of collagen and connective tissue
It clearly improves the functioning of our skeletal system (increases joint flexibility)
Laboratory-proven quality
For the sake of the health of our customers, the products manufactured by us are regularly tested in an independent accredited laboratory to ensure and maintain the highest quality.
Suggested usage
Consume 1 serving (2 capsules) daily, preferably with a meal. The preparation is intended for adults.
Do not exceed the recommended daily allowance. Dietary supplement cannot be used as a substitute for a varied diet. A balanced diet and a healthy lifestyle are recommended. Do not consume if you are allergic to any of the ingredients in the product. The product should not be used by children, pregnant women and nursing mothers. Keep out of reach of small children.
Nutritional information
Ingredients
Hydrolyzed bovine collagen, 2KCL glucosamine sulfate (Glucosamine - contains crustaceans), capsule shell (bulking agent: hydroxypropyl methylcellulose), Chondroitin sulfate (Chondroitin), Frankincense oleoresin extract (65% boswellic acid), Methylsulfonyl extract gingerols), Vitamin C (L-ascorbic acid), Hyaluronic acid (sodium hyaluronate), Manganese (manganese diglycinate), Copper (copper diglycinate).
The product may contain milk (including lactose), soy, peanuts, other nuts, sesame seeds, oats, eggs, fish.
Nutrition Facts
| Active ingredients | Per portion | % RI* |
| --- | --- | --- |
| Hydrolyzed beef collagen | 300 mg |  - |
| Glucosamine sulfate 2KCL | 125 mg |  - |
| Chondroitin sulfate (Chondroitin) | 50 mg |  -  |
| Frankincense oleoresin extract (65% boswellic acid) | 50 mg | - |
| MSM methylsulfonylmethane | 50 mg | - |
| Ginger root extract (5% gingerols) | 50 mg | -  |
| Vitamin C (L-ascorbic acid) | 40 mg | 50 |
| Hyaluronic acid (sodium hyaluronate) | 7.5 mg | - |
| Manganese (manganese bisglycinate) | 1 mg | 50 |
| Copper (copper bisglycinate) | 0.5 mg | 50 |
*RI - Reference intake
Product reviews
0
opinion
Questions and Answers
Add a question about this product