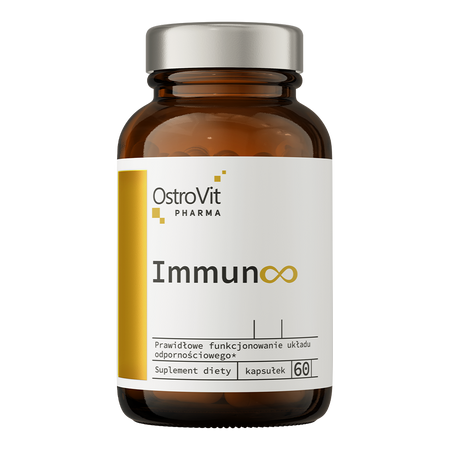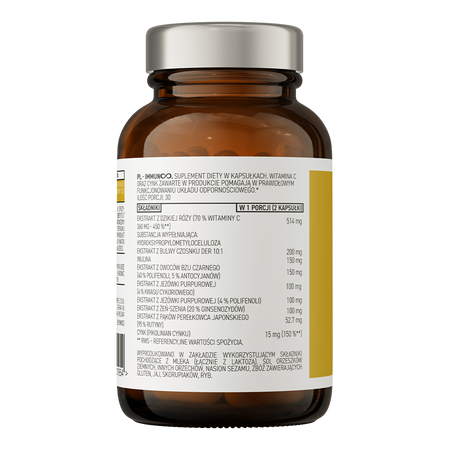 OstroVit Pharma For Immunity 60 caps
4,11 €
OstroVit Pharma For Immunity 60 caps
OstroVit Pharma For Immunity is a set of six natural plant extracts which support operation of the immunological system. The product is rich in zinc - a mineral which supports immunity. Do you often get sick and want to support your immunity? Or maybe you wish to secure yourself against flu season. You can do it with OstroVit Pharma For Immunity dietary supplement!

What is OstroVit Pharma For Immunity?
OstroVit Pharma For Immunity dietary supplement is a unique combination of zinc and natural plant extracts which support immunity of the organism - dog rose extract, garlic bulb extract, black elder fruit extract, purple coneflower extract and ginseng extract. Active ingredients included in these extracts, together with a series of vitamins and minerals, support operation of numerous systems, for example the immunological system.
OstroVit Pharma For Immunity will help you deal with infections. Choose this supplement if you:
often get sick
recover slowly
want to ensure improved immunity
deal with hard-to-heal wounds
Properties:
Regular use of OstroVit Pharma For Immunity supports proper operation of your natural immunity system. The supplement performs well when your immunity is lowered, that is in the autumn-winter season and in spring.
Major features of the supplement:
FORCE OF NATURE - Plant extracts included in OstroVit Pharma For Immunity counteract various infections, including viruses, bacteria and fungi.
VALUABLE ZINC - Thanks to a high content of zinc, you don't need to take any other preparations rich in this mineral.
IMMUNITY ALL YEAR LONG -Taking the supplement, you regularly take care of immunity throughout the year, also in the flu season.
EASY DOSING - Only two capsules of the supplement a day together with meal is enough to improve operation of your immunity system.
Active ingredients of OstroVit Pharma For Immunity
See properties of particular supplement ingredients:
Dog rose extract - It demonstrates a positive impact on kidneys and liver. It strengthens blood vessels. It allows cleansing the urinary tract. It is sometimes used for sore throat.
Garlic bulb extract - It helps you treat respiratory tract viral infections. It reduces "bad" LDL cholesterol level.
Black elder fruit extract - It shows antiviral and antibacterial properties. It performs well in treating various infections. It improves digestion and supports the cardiovascular system.
Purple coneflower extract - It is suitable for treating viral, bacterial and fungal diseases. It can be used to support treatment of parasitic diseases. It improves a general immunity and boosts wounds healing process.
Ginseng extract - It encourages the immunity system to work. It shows adaptogenic properties. It supports operation of the cognitive system.
Japanese pagoda tree extract - It is used to support treatment of cold and flu. It shows antibacterial properties and seals blood vessels.
Zinc - It supports operation of internal organs. It has a positive influence on the immunity system. It fosters wounds healing and makes the skin younger.
Suggested usage
Consume 1 serving (2 capsules) daily, preferably with a meal. The preparation is intended for adults.
Do not exceed the recommended daily allowance. A dietary supplement cannot be used as a substitute (replacement) for a varied diet. A balanced diet and a healthy lifestyle are recommended. Do not eat if you are allergic to any of the ingredients of the product. The product should not be used by children, pregnant women and nursing mothers. Keep out of the reach of small children.
Nutritional information
Ingredients
Rosehip extract (70% vitamin C 360 mg - 450% **), garlic bulb extract DER 10:1, elderberry fruit extract (40% polyphenols, 5% anthocyanins), purple echinacea extract ( 4% chicory acid), purple echinacea extract (4% polyphenols), ginseng extract (20% ginsenosides), Japanese pearl extract (95% rutin), zinc (zinc picolinate), capsule shell (filler: hydroxypropyl methylcellulose).
Product may contain milk (including lactose), soy, peanuts, other nuts, sesame seeds, gluten-containing cereals, eggs, crustaceans, fish.
Nutrition Facts
| Active ingredients | Per portion | % RI* |
| --- | --- | --- |
| Rosehip extract (70% vitamin C 360 mg - 450% **) | 514 mg | - |
| Garlic tuber extract DER 10:1 | 200 mg | - |
| Elderberry extract (40% polyphenols, 5% anthocyanins) | 150 mg | - |
| Echinacea extract (4% chicory acid) | 100 mg | - |
| Echinacea extract (4% polyphenols) | 100 mg | - |
| Ginseng extract (20% ginsenosides) | 100 mg | - |
| Japanese pearl extract (95% rutin) | 52.7 mg | - |
| Zinc (zinc picolinate) | 15 mg | 150 |
*RI- Reference intake
Product reviews
0
opinion
Questions and Answers
Add a question about this product