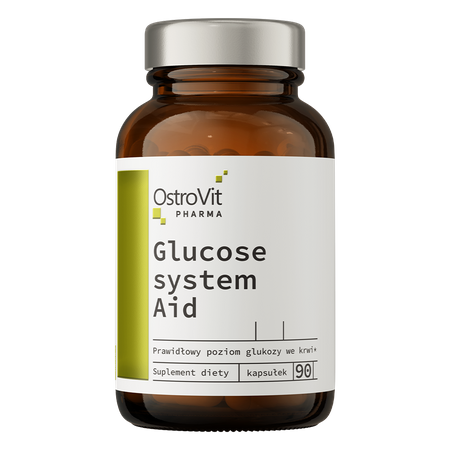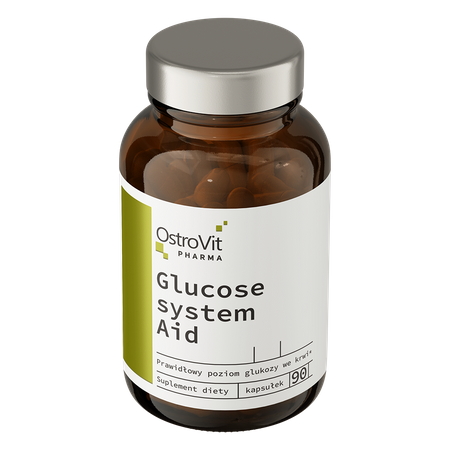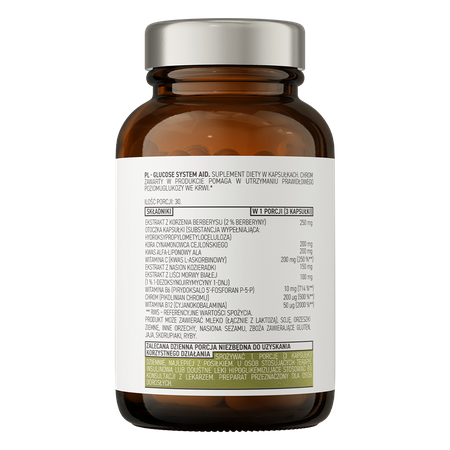 OstroVit Pharma Glucose System Aid 90 caps
6,27 €
OstroVit Pharma Glucose System Aid 90 caps
OstroVit Pharma Glucose System Aid is the highest-quality dietary supplement in HPMC capsules, which contains a complex of ingredients supporting the proper functioning of glucose and insulin metabolism. OstroVit Pharma is a line that puts the quality of raw materials, pharmaceutical diligence of production and all components thanks to which the supplement is created in the first place. OstroVit Pharma are absolutely elite supplements for consumers who know what is most important to them.

9 active ingredients
30 servings of the supplement in the package
The highest quality of raw materials and production
Dark glass bottle with capsules
The product is enough for a month of supplementation
Complex of ingredients regulating blood glucose levels
OstroVit Pharma Glucose System Aid - composition
Barberry extract - It has a beneficial effect in reducing body weight. It helps to increase the activity of adiponectin (a hormone secreted by adipose tissue, which plays a role in improving insulin sensitivity), which makes berberine a supplement supporting the reduction of adipose tissue - by regulating glycemia, and also by influencing the hormones that are secreted by adipose tissue. Moreover, berberine also has an effect on memory. It can be used as a means of improving cognitive functions and memorization, mainly by influencing the cholinergic pathways.
Ceylon cinnamon bark - cinnamon is one of the most famous spices in the world. In addition to its highly valued organoleptic values, it can modify insulin receptors, improving glucose penetration into the cell and the ability to support glycogenesis and reduce gluconeogenesis, i.e. glucose management processes.
Alpha-lipoic acid - ALA for short is a mitochondrial chemical compound from the group of carboxylic acids that engages and promotes energy metabolism in the human body. Until recently, it was considered a vitamin, as it was believed that it could only be obtained exogenously. ALA can support the rate of our metabolism (metabolism), which clearly proves that ALA is also an excellent means for slimming. The supplement also has chelating properties (binds heavy metals), i.e. it helps the body get rid of unwanted toxins and other dangerous substances.
White mulberry leaf extract - Due to the content of the substance 1-DNJ (1-deoxynojirimycin), it is known primarily for the properties of regulating glucose and insulin metabolism. White mulberry can regulate glucose metabolism and also reduce the increase in blood glucose after a meal, so it is recommended for diabetics and people who want to lose unnecessary excess kilograms. White mulberry is also an effective plant that acts as an antioxidant on the body, i.e. as an antioxidant. Antioxidants are compounds that "fight" against free radicals or reactive oxygen species (ROS).
Fenugreek seed extract - Fenugreek can improve insulin functions, influencing the regulation of blood sugar levels, which is a real treat for diabetics and people with insulin resistance. Fenugreek regulates the control of appetite and wolf hunger, reduces the level of triglycerides and low-density lipoproteins LDL.
Chromium - an essential micronutrient in our diet. It can be found in trace amounts in plant foods, specifically grains. Chromium can be used as a "golden mean" for weight loss. It helps fight ravenous appetite, helps regulate blood glucose levels and even promote lipolysis, which is a process that is the key to a healthy, slim and well-groomed figure that is worth taking care of. Chromium is also recommended for athletes considering the fact that it can help maintain muscle mass and even increase it.
Vitamin B6 - in the form of p-5-p, i.e. pyridoxal 5-phosphate. It is the best form of vitamin B6 available to our body. It fulfills and supports the ocean of physiological functions and is essential for the proper functioning of all organs in our body.
Vitamin B12 (cyanocobalamin) - Contributes to the maintenance of proper energy metabolism and helps in the proper functioning of the nervous system and in maintaining the proper metabolism of homocysteine. This vitamin plays a role in the process of cell division.
Vitamin C - helps in the proper production of collagen to ensure the proper functioning of blood vessels, bones, cartilage, gums, skin and teeth. In addition, it contributes to the maintenance of proper energy metabolism and additionally helps in the proper functioning of the nervous and immune systems.
Properties of the ingredients contained in OstroVit Pharma Glucose System Aid:
Help in maintaining the proper metabolism of macronutrients
Can help maintain normal glucose levels
Support postprandial glycemic control
Can support the "reduction" of adipose tissue
May reduce the level and oxidation of low density lipoproteins - LDL
Help to maintain a healthy body weight
Suggested usage
Consume 1 serving (3 capsules) daily, preferably with a meal. In people using insulin therapy or oral hypoglycaemic drugs, consult a doctor. The preparation is intended for adults.
Do not exceed the recommended daily allowance. Dietary supplement cannot be used as a substitute for a varied diet. A balanced diet and a healthy lifestyle are recommended. Do not consume if you are allergic to any of the ingredients in the product. The product should not be used by children, pregnant women and nursing mothers. Keep out of reach of small children.
Nutritional information
Ingredients
Barberry root extract (2% berberine), capsule shell (bulking agent: hydroxypropyl methylcellulose), ceylon cinnamon bark, ALA alpha-lipoic acid, vitamin C (L-ascorbic acid), fenugreek seed extract, white mulberry leaf extract (1% 1-deoxynojirimycin 1-DNJ), vitamin B6 (pyridoxal 5'-phosphate P-5-P), chromium (chromium picolinate), vitamin B12 (cyanocobalamin).
The product may contain milk (including lactose), soy, peanuts, other nuts, sesame seeds, oats, eggs, crustaceans, fish.
Nutrition Facts
| Active ingredients | Per portion | % RI* |
| --- | --- | --- |
| Barberry root extract (2% berberine) | 250 mg | - |
| Ceylon cinnamon bark | 200 mg | - |
| ALA alpha lipoic acid | 200 mg | - |
| Vitamin C (L-ascorbic acid) | 200 mg | 250 |
| Fenugreek seed extract | 150 mg | - |
| White mulberry leaf extract (1% 1-deoxynojirimycin 1-DNJ) | 100 mg | - |
| Vitamin B6 (pyridoxal 5'-phosphate P-5-P) | 10 mg | 714 |
| Chromium (chromium picolinate) | 200 µg | 500 |
| Vitamin B12 (cyanocobalamin) | 50 µg | 2000 |
*RI - Reference intake
Product reviews
0
opinion
Questions and Answers
Add a question about this product