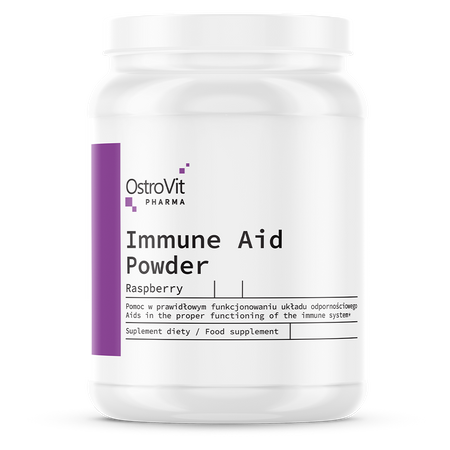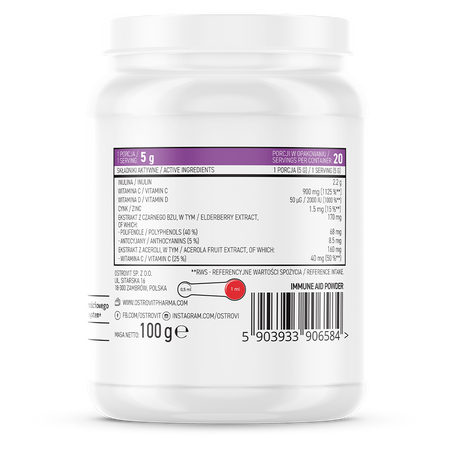 OstroVit Pharma Immune Aid Powder 100 g raspberry
5,31 €
OstroVit Pharma Immune Aid Powder 100 g
OstroVit Pharma Immune Aid Powder is a dietary supplement powder, the ingredients contained in the supplement will allow you to take care of your body's immunity.

The OstroVit Pharma Immune Aid Powder dietary supplement has been designed for those who look for an easy-to-use immunity-boosting supplement. Just mix our powder with water and have a drink.
Properties of the ingredients contained in OstroVit Immune Aid
WEALTH OF ACTIVE INGREDIENTS – The OstroVit Pharma Immune Aid Powder dietary supplement is a unique combination of ingredients, including vitamins and natural extracts, which support operation of your organism.
STIMULATION OF YOUR IMMUNE SYSTEM – Vitamin C, D, zinc, inulin, polyphenols and anthocyanins improve immunity and protect you against infections.
BEAUTIFUL LOOK – Active ingredients of the supplement boost production of collagen and may contribute to reduction of acne.
RASPBERRY FLAVOR – A delicious raspberry flavor makes the supplement perfect on a daily basis!
Ingredients of the dietary supplement
Check the role of particular ingredients of our dietary supplement:
Vitamin C. It is a strong anti-oxidant. It can shorten your cold, help you heal wounds and support the collagen synthesis.
Vitamin D. It fosters your immunity and bone and teeth mineralization.
Zinc. It supports operation of the immune system. It takes care of skin, hair and nails. It can boost wounds healing and reduce acne and ulcers. It helps you stabilize your blood pressure.
Inulin. It is a natural prebiotic which helps you restore your intestinal flora. It supports operation of your digestive system and may contribute to growth of immunity.
Black elder extract. Thanks to a high content of valuable polyphenols and anthocyans, it prevents microorganism infections and shows anti-oxidant properties as well as neutralizes free radicals, and protects you against harmful impact of UV radiation.
Acerola fruit extract. A natural form of vitamin C, included in the extract, strengthens health-promoting properties of the product.
Beetroot juice. It supplies numerous vitamins and minerals as well as polyphenols, and therefore supports general functioning of your organism. It has an anti-oxidant influence.
Laboratory-confirmed quality
For the sake of our customers' health, the products we manufacture are regularly tested in an independent accredited laboratory to ensure and maintain the highest quality.






Suggested usage
Dissolve 1 serving 5 g (5 scoops) in a glass (200-250 ml) of warm water. Do not consume more than 1 serving daily. Product is intended for adults.
Please use the scoop included in the package (1 ml).
It is advisable to perform a 25-(OH)D blood test and consult the doctor or pharmacist before use.
Nutritional information
Ingredients
Chicory inulin (prebiotic), L-ascorbic acid (vitamin C), acidity regulator: citric acid; elderberry extract - 40 % polyphenols and 5 % anthocyanins, acerola fruit extract - 25 % vitamin C, beet juice concentrate in powder, aroma, sweetener: sucralose; cholecalciferol from lanolin (vitamin D), zinc gluconate (zinc).
Product may contain milk (including lactose), soybeans, peanuts, other nuts, sesame seeds, cereals containing gluten, eggs, crustaceans, fish.
Nutrition Facts
| Active ingredients | Per Portion | % RI* |
| --- | --- | --- |
| Inulin | 2.2 g | - |
| Vitamin C | 900 mg | 1125 |
| Vitamin D | 50 μg / 2000 IU | 1000 |
| Zinc | 1.5 mg | 15 |
| Elderberry extract, of which: | 170 mg | - |
| - polyphenols (40 %) | 68 mg | - |
| - anthocyanins (5 %) | 8.5 mg | - |
| Acerola fruit extract, of which: | 160 mg | - |
| - Vitamin C (25 %) | 40 mg |  50 |
*RI - Reference Intake
Product reviews
0
opinion
Questions and Answers
Add a question about this product