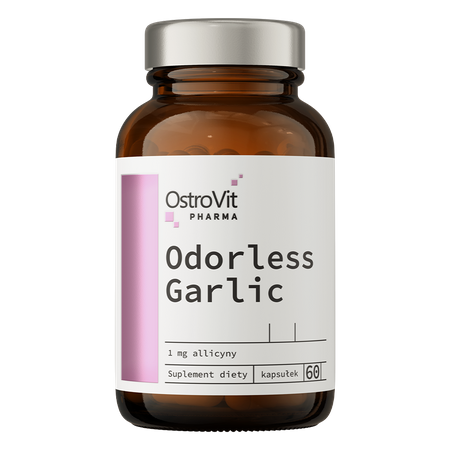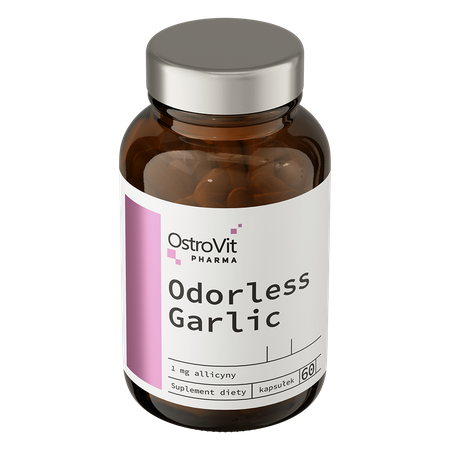 OstroVit Pharma Odorless Garlic 60 capsules
3,57 €
OstroVit Pharma Odorless Garlic 60 softgels
OstroVit Pharma Odorless Garlic is a high-quality dietary supplement from the elite OstroVit Pharma line, which is a source of odorless oil from fresh garlic tubers. It is a preparation available in the form of easy-to-swallow capsules, created for people who want to supplement their daily diet with natural ingredients.

Source of odorless garlic oil - one serving of dietary supplement provides the body with 2 mg of the compound, which corresponds to 1000 mg of fresh garlic tuber. In addition, the substance contains 50% (1 g) of the active compound, which is allicin.
1 serving = 1 capsule.
Performance - the package contains 60 servings of the product, which is enough for two months of regular supplementation.
Convenient form - the preparation available in the form of easy-to-swallow capsules provides trouble-free supply of dietary supplement.
OstroVit Odorless Garlic - a valuable dietary supplement
Garlic - Allium sativum L. - a tuberous plant of the amaryllis family, which is known and cultivated all over the world. For centuries, garlic has been used as a spice with a specific, sulphurous smell, the release of which is responsible for a compound known as allicin. The unpleasant aroma of garlic is a defense mechanism that protects the plant from pests and insects. At the same time, allicin is one of the main active compounds present in the plant, which is responsible for a number of valuable properties of garlic. Interestingly, allicin is only formed in garlic when its bulb is damaged. Therefore, in order to release a valuable compound, you need to cut or crush the cloves of the plant.
Eating raw garlic is associated with an unpleasant, repulsive odor. A good solution may be to use OstroVit, which contains garlic in an odorless oil formula, which facilitates supply and ensures trouble-free delivery of valuable compounds to the body.
Suggested usage
Consume 1 serving (1 capsule) daily, preferably with a meal.
Do not exceed the recommended daily allowance. A dietary supplement cannot be used as a substitute (replacement) for a varied diet. A balanced diet and a healthy lifestyle are recommended. Do not eat if you are allergic to any of the ingredients of the product. The product should not be used by children, pregnant women and nursing mothers. Keep out of the reach of small children.
Nutritional information
Ingredients
Soybean oil, capsule shell: gelatin, humectant: glycerol, water; odorless garlic oil (Allium sativum L.) DER 500:1.
The product may contain milk (including lactose), peanuts, other nuts, sesame seeds, gluten-containing cereals, eggs, crustaceans, fish.
Nutrition Facts
| Active ingredients | Per portion |
| --- | --- |
| Odorless garlic oil DER 500: 1, of which: | 2 mg (1000 mg of fresh garlic tuber equivalent) |
| - allicin (50%) | 1 mg |
Product reviews
0
opinion
Questions and Answers
Add a question about this product