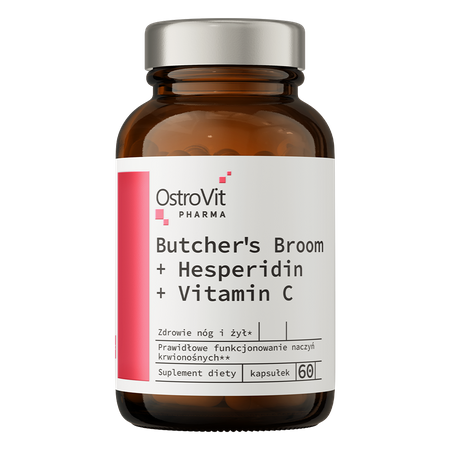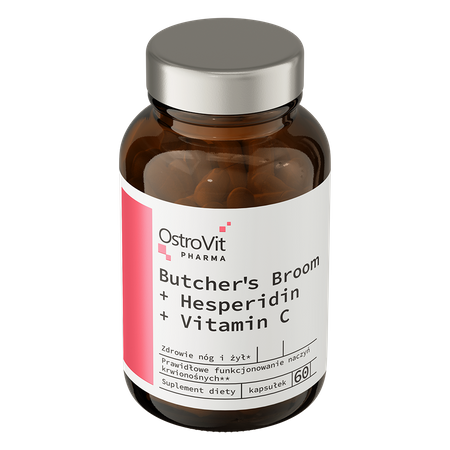 OstroVit Pharma Ruscus + Hesperidin + Vitamin C 60 capsules
4,27 €
OstroVit Pharma Ruscus + Hesperidin + Vitamin C 60 capsules
OstroVit Pharma Ruscus + Hesperidin + Vitamin C is a health-promoting dietary supplement which combines the ascorbic acid and natural bitter orange extracts and butcher's broom roots. The ingredients of the supplement support the proper functioning of blood vessels, as well as the health of the legs and veins.

Ruscus + Hesperidin + Vitamin C
Our dietary supplement by OstroVit Pharma is a unique combination of three various ingredients which support your vascular system. The hesperidin-rich bitter orange extract, included in the supplement, shows sealing and anti-inflammatory properties. With combination with vitamin C, it neutralizes free radicals and boosts the collagen synthesis. In turn the butcher's broom roots extract is perfect at counteracting burst blood vessels. Active ingredients, including ruscogenins, may increase the tension of vascular walls and support shrink-wrapping of blood vessels.
Properties of the ingredients contained in OstroVit Pharma Ruscus + Hesperidin + Vitamin C:
OstroVit Pharma Ruscus + Hesperidin + Vitamin C is intended for all those who want to protect themselves against varicose veins, burst blood vessels, swelling, cellulite and other vascular issues. The supplement relies on the vitamin C and natural extracts which have been used in folk medicine for ages.
SUPPORT FOR THE VASCULAR SYSTEM – Ingredients of the supplement demonstrate comprehensive sealing properties, which may contribute to reduction of swelling and edema.
FLEXIBLE SKIN – OstroVit Pharma Ruscus + Hesperidin + Vitamin C dietary supplement supports generation of collagen, which makes the skin more flexible and ample. Thanks to its springy structure, the collagen can prevent the blood from congesting in veins.
POWER OF NATURAL EXTRACTS – The butcher's broom and bitter orange extracts are natural ingredients which prove to have health-promoting impact. They not only support healthy legs and veins – their ingredients may provide protection against free radicals.
HANDY FORM – Our supplement in the form of capsules is very easy to use. Just take it together with water or other drink. A daily dose of the supplement is one capsule. The box is sufficient for a 2-month supplementation.
Suggested usage
Take 1 portion (1 capsule) a day. The product is intended for adults.
Do not exceed the recommended daily intake. The dietary supplement must not be used as a substitute to a diversified diet. Well-balanced eating habits and healthy lifestyle are recommended. Do not use in case of allergy to any of its ingredients. The product must not be used by children, pregnant women and breastfeeding mothers. Keep out of reach of children.
Nutritional information
Ingredients
The bitter orange extract (60% of hesperidin), the butcher's broom root extract (5% of ruscogenin), the capsule coating (filler: hydroxypropyl methylcellulose), vitamin C (ascorbic acid).
The product may include milk (together with lactose), soy, peanuts, other nuts, sesame seeds, gluten-rich corns, eggs, crustacea, fish.
Nutrition Facts
| Active ingredients | Per portion | % RI* |
| --- | --- | --- |
| Bitter orange extract (60% of hesperidin) | 250 mg | - |
| Butcher's-broom root extract (5% of ruscogenin) | 150 mg | - |
| Vitamin C (ascorbic acid) | 100 mg | 125 |
*RI - REFERENCE INTAKE
Product reviews
0
opinion
Questions and Answers
Add a question about this product