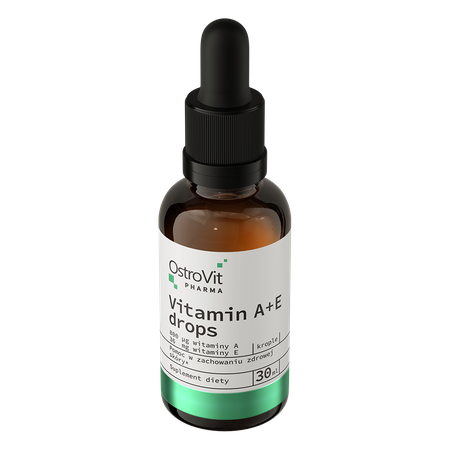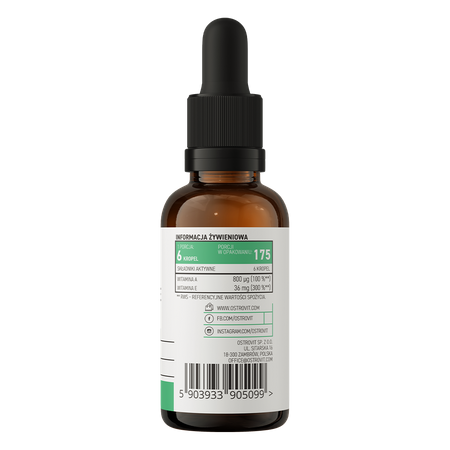 OstroVit Pharma Vitamin A+E drops 30 ml
3,98 €
OstroVit Pharma Vitamin A+E drops 30 ml
OstroVit Pharma Vitamin A+E is a modern dietary supplement in drops designed for women and men who wish to take care of their appearance. Thanks to combination of two vitamins, crucial for the organism, which nourish and secure the skin against oxidative stress, the product can contribute to considerable improvement of looks.

One recommended daily dose of the OstroVit Pharma Vitamin A + E dietary supplement contains as much as 800 µg of vitamin A and 36 mg of vitamin E. This amount of active ingredients will allow you to effectively replenish their level in the body.
Why is it worth taking vitamins A and E?
Vitamin A, also referred to as retinol and beta-carotene, is a term for organic components from retinoid group which play a series of essential roles in human organism. Vitamin A primarily regulates growth of epithelial tissue and influences the pace of its development. Additionally, it can keep a suitable condition of hair, skin and nails. Besides, it fosters good eyesight and can help you treat bacterial and viral infections. In turn, vitamin E serves as a strong anti-oxidant. It protects you against free radicals, thus securing against various diseases. It also delays skin aging.
Properties of the ingredients contained in OstroVit Pharma Vitamin A+E:
BEAUTIFUL LOOK - If you take vitamin A and E on a regular basis, your skin will be healthier and more moisturized, while your hair and nails stronger. Our supplement will provide you with healthier look and better mood.
HEALTHY ORGANISM - Vitamin E included in the supplement protects you against harmful impact of free radicals which cause a string of diseases. In turn vitamin A supports eyesight and prevents infections.
SIMPLE COMPOSITION - OstroVit Pharma Vitamin A+E dietary supplement contains vitamin E in the form of octane d-alpha tocopherol, vitamin A in the form of retinyl acetate and valuable MTC oil which boosts assimilability of vitamins.
EASY TO USE - Vitamins in drops is a revolutionary health-promoting product. All you need to do is dissolve 6 drops of our supplement in water, juice or warm tea to enjoy precious influence of active ingredients.
Suggested usage
Shake well before use. Measure 6 drops per teaspoon or dissolve in liquid at room temperature (water, tea, juice). The product is intended for adults.
Do not exceed the recommended daily allowance. A dietary supplement cannot be used as a substitute (replacement) for a varied diet. A balanced diet and a healthy lifestyle are recommended. Do not eat if you are allergic to any of the ingredients of the product. The product should not be used by children, pregnant women and nursing mothers. Keep out of the reach of small children.
BEST BEFORE: See bottom of package. Consume within 6 months of opening the package. Store at 15-25 °C, in a closed container, in a dry place. Keep away from direct sunlight.
Nutritional information
Ingredients
MCT oil containing medium-chain fatty acids from oilseeds Guinean, D-alpha-tocopheryl acetate (vitamin E), retinyl acetate (vitamin A).
The product may contain milk (including lactose), soy, peanuts, other nuts, seeds sesame, grains containing gluten, eggs, crustaceans, fish.
Nutrition Facts
| Active ingredients | Portion 6 drops | % RI* |
| --- | --- | --- |
| Vitamin A | 800 µg | 100 |
| Vitamin E | 36 mg | 300 |
*RI - Reference intake
Product reviews
0
opinion
Questions and Answers
Add a question about this product