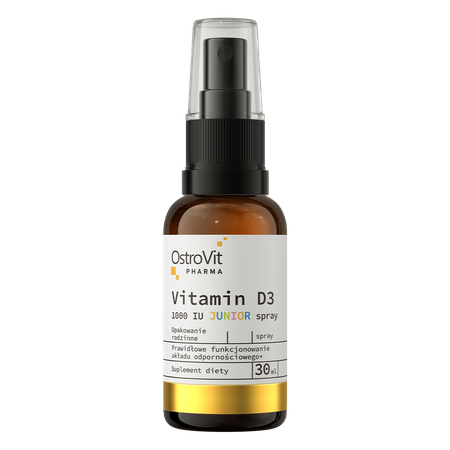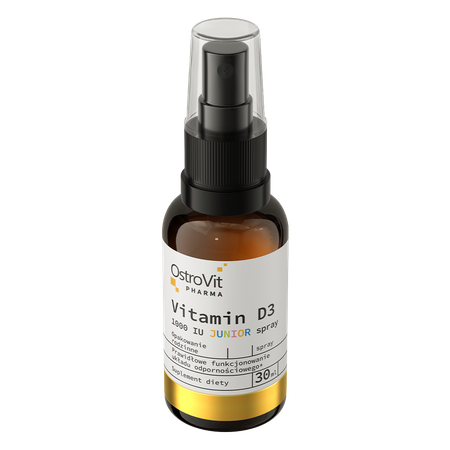 OstroVit Pharma Vitamin D3 1000 IU Junior spray 30 ml
4,21 €
OstroVit Pharma Vitamin D3 1000 IU Junior spray 30 ml
OstroVit Pharma Vitamin D3 1000 IU Junior is a dietary supplement in spray, designed for children, teenagers and adults who do not like to swallow pills. As the liquid is hidden in a handy small bottle with a dispenser, taking vitamin D has never been so easy!

What is it OstroVit Pharma Vitamin D3 1000 IU Junior?
OstroVit Pharma Vitamin D3 1000 IU Junior is based on a universal formula which performs well in persons of any age. A small dose of the vitamin in one portion of the product, i.e. 1000 IU, makes the product suitable even for babies. Thanks to the fact that vitamin D3 has been separated from lanolin, the product remains highly efficient. It also contains vitamin E in the form of D-alpha-tocopheryl acetate with a strong anti-oxidant effect, and MTC oil which fosters proper absorption of vitamins. The supplement assures an important support to the immunity system.
Properties of the ingredients contained in OstroVit Pharma Viatmin D3 1000 IU
FORMULA FOR THE ENTIRE FAMILY – Our supplement can be used by all members of the family, both children over one year of age, as well as teenagers and adults.
COMBINATION OF TWO VITAMINS – Aside from vitamin D3, the supplement contains vitamin E which additionally reinforces immunomodulating properties of the product. It is a strong anti-oxidant which attacks free radicals.
SUPPORT TO MINERALIZATION – Vitamin D will let you take care of proper development of your child's bones and teeth. It effectively counteracts growth of rickets which leads to bone deformations.
CONVENIENT DOSING – Our dietary supplement from OstroVit Pharma series comes in an easy-to-use form. Just press the pump dispenser to apply the vitamin directly into your mouth or food.
Laboratory-proven quality
For the sake of our customers' health, the products we manufacture are regularly tested in an independent accredited laboratory to ensure and maintain the highest quality.






Suggested usage
Children above the age of 1, teenagers and adults – single press the pump dispenser once a day directly into your mouth or food.
Do not exceed the recommended daily intake. The dietary supplement must not be used to substitute a diversified diet. Balanced eating habits and healthy lifestyle are recommended. Do not use in case of allergy to any of the ingredients. The product should not be used by children, pregnant women and breastfeeding mothers. Keep out of reach of children.
BEST BEFORE: see the bottom of the box. Use within 6 months after opening.
Nutritional information
Ingredients
MCT oil with medium-chain fatty acids from African oil palm, alpha-tocopheryl acetate (vitamin E), cholecalciferol from lanolin (vitamin D).
The product may contain milk (together with lactose), soy, peanuts, other nuts, sesame seeds, gluten-rich corn, eggs, crustacea, fish.
Nutrition Facts
| Active ingredients | 1 application | % RI* |
| --- | --- | --- |
| Vitamin D | 25 μg / 1000 IU | 500 |
| Vitamin E | 1.8 mg | 15 |
*RI - Reference Intake
Product reviews
0
opinion
Questions and Answers
Add a question about this product