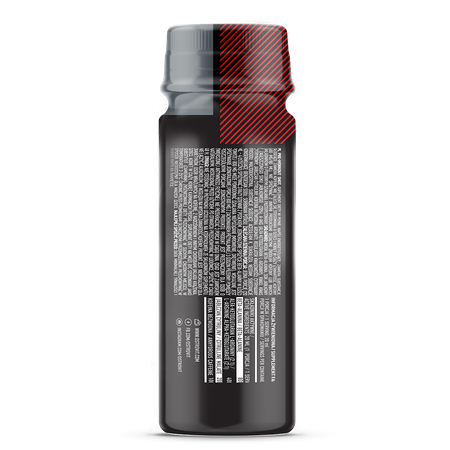 OstroVit Pre Workout Shot 80 ml
0,76 €
OstroVit Pre Workout Shot 80 ml
OstroVit Shot is a professional pre-workout product based on four synergistically complementary active substances, which together will make your training even better, even more intense, and truly transcendent.


80 ml of the product in the package
4 servings in one ampoule
Sensational, refreshing citrus-lime flavor
No added sugar or fat
It is real power and energy in a compressed form. Take it to the next level and prove that you can reach the impossible. It contains a complex of the most effective substances aimed at increasing endurance, concentration, muscle pump and promoting better and more intense training.
OstroVit Shot - feel the energy shot!
OstroVit Shot is characterized by a unique, intense and aromatic citrus-lime flavor that will take you into a tropical state of freshness, to feel after a while a truly electrifying energy and readiness for your best and dream workout.
ATTENTION! A tingling or stinging sensation all over your body is due to beta-alanine, which causes paresthesia. It is the body's natural reaction to the high content of this active ingredient, considered by some to be an asset and an additional motivational kick.
Properties of the ingredients contained in OstroVit Shot:
Incredible muscle pump in training
Focus and concentration
Increased endurance and efficiency
Powerful boost of energy
Stimulation and electrifying power kick for a long time
Suggested usage
One serving (20 ml - 4 teaspoons) consume 3 times a day with meal.
Disposable intake of beta-alanine in excess of 800 mg may cause side effects (tingling, numbness). It is advisable to consume a single serving of 800 mg with a break of at least 3 hours between individual unit servings of the product. The product is intended for people with increased physical activity. Do not exceed 3 servings during the day. Sediment is a natural phenomenon. Shake before use. Once opened, store in the fridge, consume within 48 hours.
Do not use if you are allergic to any of the ingredients of the supplement. Do not mix with alcohol. Because it contain the high content of caffeine the product is not indicated for diabetics, people sensitive to caffeine, hypertension and other cardiovascular diseases, children, pregnant women, breast-feeding women. Food supplement can not be used as a substitute (replacement) of a varied diet.
Nutritional information
Ingredients
Water, beta-alanine, A-AKG (L-arginine alpha-ketoglutarate), citrulline malate, acid - citric acid; anhydrous caffeine, aromas, acidity regulator - trisodium citrate; maltodextrin, sweeteners: acesulfame K, sucralose, neotame; preservatives: sodium benzoate, potassium sorbate.
Nutrition Facts
Active ingredients
For a portion
Beta-alanine
800 mg

L-arginine alpha-ketoglutarate

(2:1)
400 mg
Citruline malate
200 mg

Anhydrous caffeine

100 mg
Product reviews
0
opinion
Questions and Answers
Add a question about this product