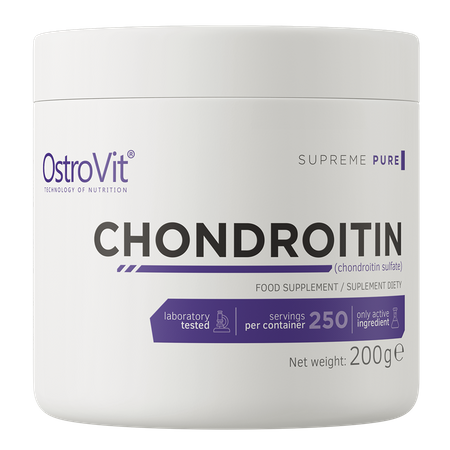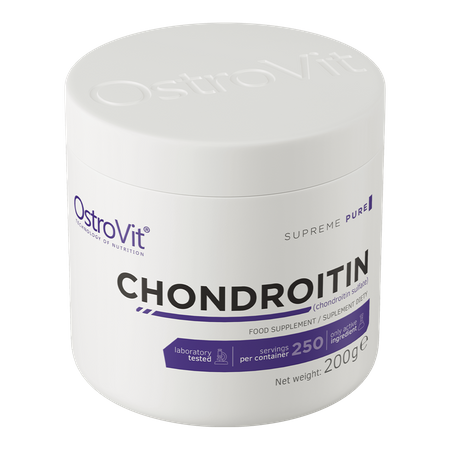 OstroVit Supreme Pure Chondroitin 200 g natural
17,94 €
OstroVit Chondroitin 200 g
OstroVit Chondroitin is a powdered dietary supplement supplementing the daily diet with chondroitin, which is responsible for the proper regeneration of cartilage, chondroitin deficiency can lead to damage and degeneration of cells that are not able to regenerate on their own after heavy exercise. The preparation is recommended in particular to elderly people and sportsmen. Product from the Supreme Pure Line where you choose only the declared active ingredient. Without unnecessary preservatives, anti-caking agents and fillers.

200 g of the product
1 serving = 800 mg
Fight for your healthy joints
Some regeneration for your motor apparatus
SUPREME PURE product line
Without unnecessary anti-caking agents and fillers
OstroVit Chondroitin
Chondroitin is a chemical compound that belongs to mucopolysaccharides. It consists of glucuronic acid residues and N-acetylgalactosamine. Chondroitin sulfate is endogenous, so it is a naturally occurring substance produced by our body. It belongs to the main building blocks of articular cartilage. Chondroitin in the form of sulfate has the greatest effectiveness. This relationship is very important because it is involved in eliminating the feeling of friction between articular surfaces.In addition, chondroitin naturally supports the production of synovial fluid, which is responsible for the proper functioning of the joints. Thanks to this, their structure is not subject to destruction, and the quality of traffic is still at the correct level.
Properties of the ingredients contained in OstroVit Chondroitin:
Can support the reconstruction of connective tissue
Support the production of synovial fluid
Perfect for older people
Support the natural functioning of the joints
Suggested usage
Dissolve a single serving of the product 800 mg (1 scoop) in 100 - 150 ml of water or juice in a shaker. Please use the measuring cup included in the package (1 ml). Take one serving a day.
Do not exceed the recommended daily dose. Do not use the product as a substitute (replacement) for a varied diet. Recommended are a balanced diet and healthy lifestyle. Do not ingest if you are allergic to any of the ingredients. Children, pregnant or nursing woman must not take the product. Keep out of the reach of children.
Nutritional information
Ingredients
Chondroitin sulfate
The product may contain milk (including lactose), soybeans, peanuts, other nuts, sesame seeds, oats, eggs, crustaceans, fish.
Nutrition Facts
| Active ingredients | Na 100 g | Per portion |
| --- | --- | --- |
| Chondroitin sulfate | 100 g | 800 mg |
| - of which chondroitin | 90 g | 720 mg |
Product reviews
0
opinion
Questions and Answers
Add a question about this product