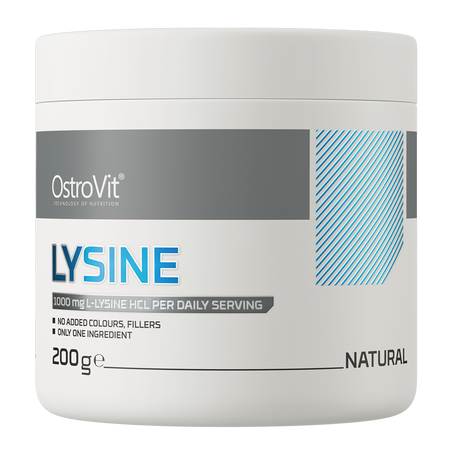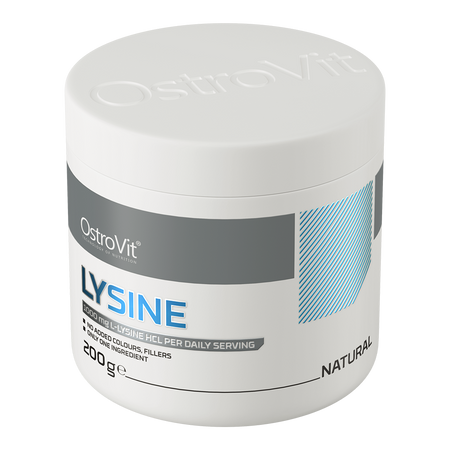 OstroVit Supreme Pure Lysine 200 g natural
6,43 €
OstroVit Supreme Pure Lysine 200 g
OstroVit Lysine is a supplement of the highest class, based on only one component, L-lysine. Unnecessary aromas, preservatives and fillers have been deliberately omitted and the ideal absorbability as well as micronization at the pharmaceutical level have made possibility to create almost an ideal supplement. It is all dictated by the high demands of consumers. From the best to the best.

200 g L-lysine in the package
200 servings in the package
1 serving is 1 g of pure lysine
Only one component, no unnecessary fillers
L-LYSINE
It is an organic chemical compound from the group of essential amino acids. For the proper body functioning, it is essential to get them in the right amount with supplements or food. Our body is not able to synthesize them by itself. In addition, it is one of the main compounds that builds all proteins in our body. Hence the name of the group, protein amino acids. L-lysine plays a major role in calcium absorption, building muscle tissues, during convalescence after severe injuries and in the production of many hormones or enzymes.
Properties of the ingredients contained in OstroVit Lysin:
Lysine will find a perfect application for both professional and recreational athletes. It is they who in particular have an increased demand for the supply of exogenous amino acids with an emphasis on the word exogenous - essential. What are the properties of L-lysine? It is one of the main amino acids that increases calcium absorption. Lysine deficiency is also associated with the excessive excretion of calcium.
Helps to naturally protect the body by strengthening the immune system
Scientific research confirms anti-stress effect
Its constant supply helps maintain lean body mass
It is one of the essential amino acids that build our proteins
Suggested usage
Dissolve a single serving of the product 1 g (1 overflowed scoop) in 100 - 150 ml of water or juice in a shaker. Please use the measuring cup included in the package (1 ml). Depending on your needs, take 1 serving daily.
Do not exceed the recommended daily dose. Do not use the product as a substitute for a varied diet. Recommended are a balanced diet and healthy lifestyle. Do not ingest if you are allergic to any of the ingredients. Children, pregnant or nursing woman must not take the product. Keep out of the reach of young children.
Nutritional information
Ingredients
L-lysine
The product may contain milk (including lactose), soy, peanuts, other nuts, sesame seeds, oats, eggs, crustaceans, fish.
Nutrition Facts
supplement facts

| Active ingredients | Per 100 g | For a portion |
| --- | --- | --- |
| L-lysine | 100 g | 1000 mg |
Product reviews
0
opinion
Questions and Answers
Add a question about this product