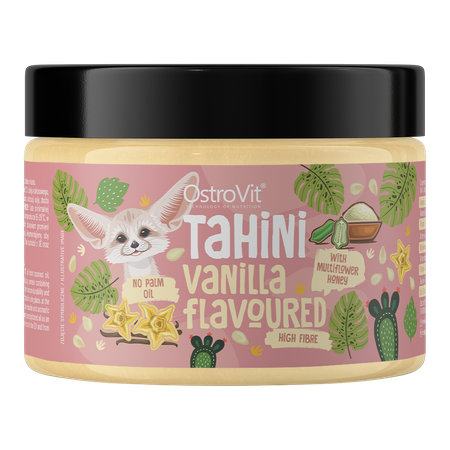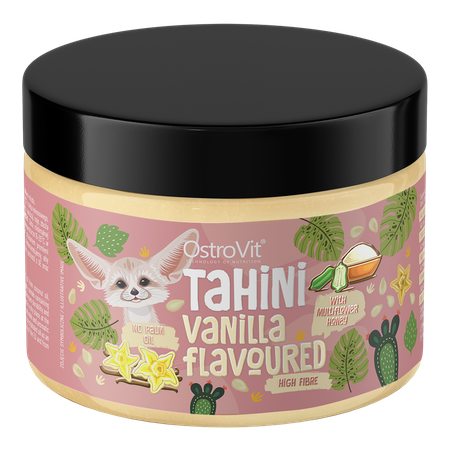 OstroVit Tahini 500 g vanillia
5,19 €
OstroVit Vanilla Tahini 500 g
OstroVit Tahini is a high-protein spread based on toasted sesame seeds, mixed flower honey and MCT oil with vanilla aroma added. The spread is sweet and oriental, and rich in natural vitamins and minerals. Are you looking for an idea for a tasty and healthy sandwich? Do you love sweets but deal with high cholesterol? Cannot you imagine pancakes, porridge or omelet without sweet additives? You must try our sesame spread – OstroVit Tahini.

Tahini – why to try it?
Tahini is a thick sesame spread based on toasted sesame seeds. Its intensive flavor perfectly matches both sweet and salty dishes. In the cuisine of the Middle East, tahini is one of the hummus ingredients. Thanks to a vast array of nutrients, including vitamins and minerals, tahini boosts operation of your organism. Vitamins included in the spread stimulate your immune and nervous systems. Also, tahini is a rich source of healthy plant fats that may foster operation of the cardiovascular system.
OstroVit Tahini sesame spread also contains a mixed flower honey which may boost the immune system, and a MCT oil that makes you feel full and boosts metabolism. Choose our vanilla sesame spread if you:
are looking for a sweet additive to sandwiches, pancakes, omelets, etc.
want to supply important nutrients to your organism
wish to take care of your cardiovascular system
aim to support your immunity
deal with high cholesterol
Tahini spread is rich in fatty acids. Thanks to this, it may support your fat management and contribute to regulating the cholesterol, which in turn may help you protect your organism against cardiovascular diseases.
Properties:
WEALTH OF NUTRIENTS – Tahini is home to valuable nutrients. The sesame spread provides B-group vitamins, vitamin A, E, fiber, magnesium, potassium, zinc, phosphorus, iron, calcium and fatty acids.
COMPREHENSIVE APPLICATION – Vanilla tahini may well replace any other sweet spread. It is a perfect match for sandwiches, pancakes, omelets. You can also add it to the porridge or fruity shake.
LARGE AMOUNT OF PROTEINS – 100 grams of our toasted sesame spread represents as many as 13 grams of protein. A high dose of proteins make tahini a perfect idea for a wholesome post-workout snack.
Suggested usage
Consume as required.
Do not consume if you are allergic to any of the product's ingredients.
Nutritional information
Ingredients
Roasted sesame seeds 74.5 %, multiflower honey 15 %, MCT oil from coconut oil, flavouring.
Product may contain peanuts, other nuts, milk (including lactose), soy, cereals containing gluten, eggs, crustaceans, fish.
BEST BEFORE END, BATCH NUMBER: The date of minimum durability and batch number are on the bottom of the package. Keep this packaging tightly closed in a dry place, at the temperature 15-25°C. Keep out of direct sunlight. On the surface may precipitate valuable and aromatic oil. We recommend mixing the product before consumption or separately using the precipitated oil as an addition to the dishes.
SESAME SEEDS COME FROM OUTSIDE THE EU. HONEY COME FROM OF THE EU AND FROM OUTSIDE OF THE EU.
Nutrition Facts
Net weight of the product: 500 g
| Nutritional value | Per serving 25 g | Per 100 g |
| --- | --- | --- |
| Energy | 588 kJ / 142 kcal | 2350 kJ / 568 kcal |
| Fat | 12 g | 46 g |
| - of which saturated fatty acids | 1,3 g | 5 g |
| Carbohydrates | 4,8 g | 19 g |
| - of which sugars | 3 g | 12 g |
| Fiber | 3,3 g | 13 g |
| Protein | 3,3 g | 13 g |
| Salt | 0,03 g | 0,1 g |
Product reviews
0
opinion
Questions and Answers
Add a question about this product