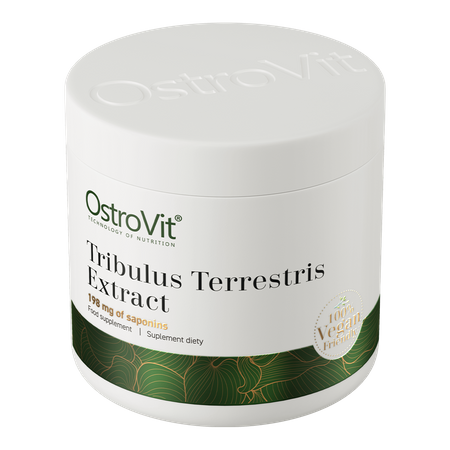 OstroVit Tribulus Terrestris Extract 100 g natural
6,49 €
OstroVit Tribulus Terrestris Extract 100 g
OstroVit Tribulus Terrestris Extract is a natural dietary supplement which contains a pure tribulus terrestris fruits extract. The product is intended for men and women who complain about low sex drive. The plant boosts libido as well as improves erection in men. If you are looking for a natural product which can help you get more satisfaction from sex and at the same time wish to take care of your health, choose OstroVit Tribulus Terrestris Extract.

Who can use tribulus terrestris extract?
Tribulus Terrestris is a plant which has been used in natural medicine for thousands of years. Thanks to its strengthening properties, it stimulates and limits fatigue and weariness. Regular use of the plant fosters sexual capabilities and may contribute to increase in anabolic hormones, including testosterone.
The tribulus terrestris can be used to support fight against hypertension and cardiovascular system disorders. It is also a diuretic, thus persons with urination disorders may feel free to use it. Try OstroVit Tribulus Terrestris Extract if you:
struggle against erectile dysfunctions and impotence
have low libido
lack energy
want to perform better in sport
suffer from urinary tract disorders
Properties:
OstroVit Tribulus Terrestris Extract dietary supplement is a pure extract from tribulus terrestris fruits with a fixed content of saponin of 90%. This is saponins which are primarily responsible for health-promoting properties of the extract as they boost libido and serve as diuretic.
Major features of the dietary supplement:
MORE ENERGY - Tribulus terrestris may stimulate and reduce tiredness. Thanks to its strengthening properties, it boosts regeneration so that you can rest more effectively.
IMPROVEMENT OF SEX LIFE QUALITY - After using the extract, saponins which are included in the plant fruits transform into DHEA, that is the so-called hormone of youth which boosts libido and improves erection.
DIURETIC - The studies confirm that tribulus is a diuretic and regular use of the extract regulates urination, which is crucial in case of cardiovascular diseases.
NATURAL COMPOSITION - Choosing our product, you can be sure you take a pure plant extract, devoid of harmful additives. The supplement is free from preservatives, colorants and fillers which would disturb operation of active substances.
Suggested usage
Take 1 serving - 220 mg (1 scoop) daily with meal, drink water. Please use the measuring cup included in the package (0,5 ml).
Do not exceed the recommended daily dose. Do not use the product as a substitute (replacement) for a varied diet. Recommended are balanced diet and healthy lifestyle. Do not ingest if you are allergic to any of the ingredients. Do not ingest if you are allergic to any of the ingredients. Do not consume the product by pregnant or nursing women, people with hypertension, people with diabetes and people under 21 years of age. Keep out of the reach of children.
Nutritional information
Ingredients
Tribulus terrestris fruit extract (Tribulus terrestris L.) standardized on 90% of saponins.
Product may contain milk (including lactose), soy, peanuts, other nuts, sesame seeds, cereals containing gluten, eggs, crustaceans, fish.
Nutrition Facts
| Active ingredients | Per portion |
| --- | --- |
| Tribulus terrestris fruit extract, of which: | 220 mg |
| - saponins (90%) | 198 mg |
Product reviews
0
opinion
Questions and Answers
Add a question about this product