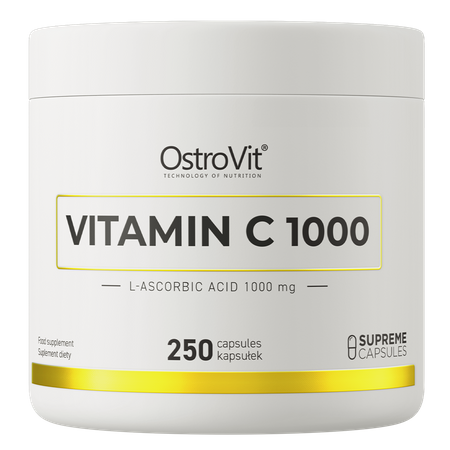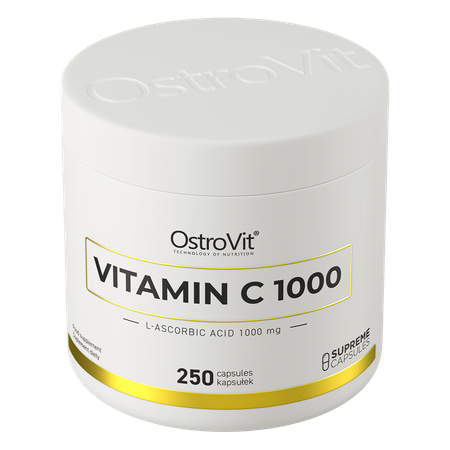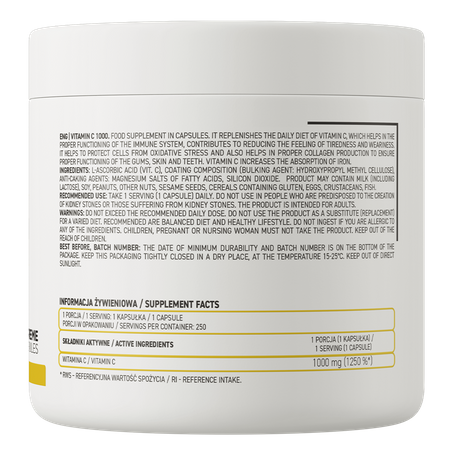 OstroVit Vitamin C 1000 mg 250 caps
9,26 €
OstroVit Vitamin C 1000 mg 250 caps
OstroVit Vitamin C 1000 mg is a natural support to immunity system. Vitamin C by OstroVit supplies 1000 mg of ascorbic acid to the organism. It strengthens protective barrier and supports it in the struggle against microorganisms and viruses, and also improves condition of connective tissue and fosters psychophysical condition.

L-ascorbic acid - vitamin C
It is an organic chemical compound from the group of polyols. It is an indispensable nutrient in the diet, mainly responsible for proper operation of connective tissue and bones. Its biologically active form - vitamin C - acts as a reducing factor and coenzyme in several metabolic pathways of the human organism. Vitamin C is considered as one of the major anti-oxidants.
Properties:
Saying that ascorbic acid is an indispensable exogenous compound, we mean the fact which proves lack of synthesis of vitamin C in our organism, and it is necessary to supply it along with food, that is through supplementation. Vitamin C has a number of valuable properties and benefits. Here are some of them:
Positive impact in case of blood flow disorders
Being a strong anti-oxidant which removes surplus of free radicals from our cells
Favorable influence on nervous and immunity systems
Vitamin C may boost regeneration and growth of muscles as it directly contributes to collagen production (builds muscular tissue)
Confirmed favorable influence on sports persons
Hinders emergence of nitrosamines (formed through impact of high temperature on nitrates) which may be a direct cause of emergence of tumors
Demonstrates favorable properties in skin care - vitamin cosmetic
Suggested usage
Take 1 serving (1 capsule) daily.
Do not use in people who are predisposed to the creation of kidney stones or those suffering from kidney stones. The product is intended for adults.
Do not exceed the recommended daily dose. Do not use the product as a substitute (replacement) for a varied diet. Recommended are balanced diet and healthy lifestyle. Do not ingest if you are allergic to any of the ingredients. Children, pregnant or nursing woman must not take the product. Keep out of the reach of children.
Nutritional information
Ingredients
L-ascorbic acid (vit. C), coating composition (bulking agent: hydroxypropyl methyl cellulose).
Product may contain milk (including lactose), soy, peanuts, other nuts, sesame seeds, oats, eggs, crustaceans, fish.
Nutrition Facts
| Active ingredients | Per portion | % RI* |
| --- | --- | --- |
| Vitamin C | 1000 mg | 1250 |
*RI- Reference intake
Product reviews
0
opinion
Questions and Answers
Add a question about this product