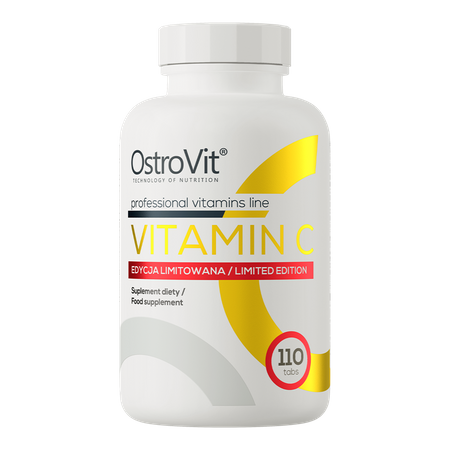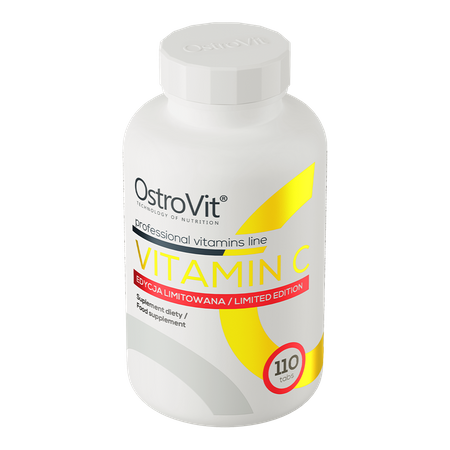 OstroVit Vitamin C 110 tabs
2,91 €
OstroVit Vitamin C 110 tabs
OstroVit Vitamin C natural support of the immune system. OstroVit Vitamin C supplies 1000 mg of ascorbic acid to the body in each serving. It strengthens the protective barrier and supports it in the fight against microorganisms and viruses, and additionally improves the condition of connective tissue and supports the psychophysical condition.

1 serving = 1 tablet
Servings per container: 110
Package contents: 110 tablets
LIMITED EDITION
Vitamin C - L-ascorbic acid
L-ascorbic acid is an organic chemical compound from the group of polyhydric alcohols. It is an essential nutrient in the human diet, which is mainly responsible for the proper functioning of connective tissue and bones. Its biologically active form - vitamin C, acts as a reducing agent, and a coenzyme in several metabolic pathways of the human body. Vitamin C is considered one of the main antioxidants.
Properties of the ingredients contained in OstroVit Vitamin C:
Powerful antioxidant that removes excess free radicals from our cellss
Have a beneficial effect on the nervous and immune systems
Vitamin C can accelerate regeneration and muscle growth, as it directly participates in the production of collagen (builds muscle tissue)
Proven beneficial effects among athletes
Inhibit the formation of nitrosamines (formed by the action of high temperature, for example, nitrates), which can be a direct cause of the formation of tumors
Have a beneficial effect in the care of our skin - a vitamin cosmetic
Suggested usage
Use 1 serving (1 tablet) daily.
Do not use in people who have a predisposition to the formation of kidney stones or suffer from kidney stones.
Do not exceed the recommended daily dose for consumption. Dietary supplement can not be used as a substitute (replacement) of a varied diet. A balanced diet and a healthy lifestyle are recommended. Do not eat if you are allergic to any of the ingredients in the product. The product should not be used by children, pregnant women and nursing mothers. Keep out of reach of small children.
Nutritional information
Ingredients
L-ascorbic acid (vit. C), bulking agent: microcrystalline cellulose; starch, anticaking agents: silicon dioxide, magnesium salts of fatty acids.
The product may contain milk (including lactose), soybeans, peanuts, other nuts, sesame seeds, cereals containing gluten, eggs, crustaceans, fish.
Nutrition Facts
| Active ingredients | Per portion | % RI* |
| --- | --- | --- |
| Vitamin C | 1000 mg | 1250 |
*RI - Reference intake
Product reviews
0
opinion
Questions and Answers
Add a question about this product