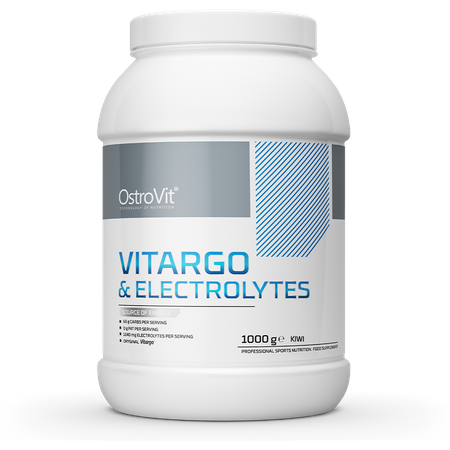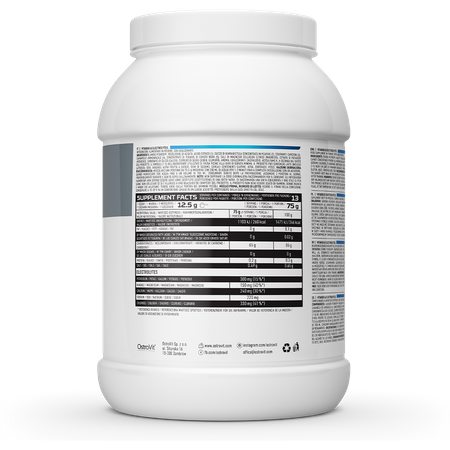 OstroVit Vitargo + Electrolytes 1000 g kiwi
15,48 €
OstroVit Vitargo + Electrolytes 1000 g
OstroVit Vitargo + Electrolytes 1000 g is a carbohydrate supplement, especially dedicated to all physically active people, whose main ingredient is VITARGO starch, supplemented with the addition of minerals. The product is characterized by a high content of carbohydrates, which are the primary source of energy in our diet. If you regularly do sports and want an easy way to provide your diet with high molecular weight carbohydrates and electrolytes - try our OstroVit Vitargo + Electrolytes - a carbohydrate supplement available in delicious kiwi flavor!
6
Scoops
1 serving = 6 scoops
1 pack = 13 suggested servings
taste of juicy kiwi
65 g of carbohydrates and 1240 mg of electrolytes in each serving of the supplement
What are the characteristics of dietary supplements containing VITARGO starch?
Starch also called a polysaccharide is the main carbohydrate found in cereal grains, legumes, potatoes and other tubers and roots. VITARGO is a type of carbohydrate that is derived precisely from starch. They are characterized by high molecular weight and high osmolarity levels. As a result, they have the ability to quickly replenish muscle glycogen and are a source of easily digestible energy. Therefore, supplementation with carbohydrate nutrient OstroVit Vitargo + Electrolytes is recommended for people with increased physical activity, whose need for carbohydrates and minerals in the diet is increased. Thanks to its convenient powder form, it's easy to prepare and you can take it anywhere you want - it's the perfect snack to prepare in a few moments both during and after a workout. Just mix it with water to get a portion of a delicious drink with a constant amount of carbohydrates equal to 65 g. Regular supplementation of VITARGO allows efficient supplementation of the daily diet with essential carbohydrates and electrolytes, thus helping to maximize physical effort and accelerate post-workout recovery. Find out which minerals, apart from VITARGO starch, our dietary supplement consists of:
Magnesium - an essential mineral in our diet, responsible for, among other things, maintaining electrolyte balance and normal energy metabolism. In addition, it participates in the process of cell division and supports the work of the nervous system, allowing it to maintain normal psychological functions. Its proper supply in the diet protects us from feelings of fatigue and tiredness and has a huge impact on the functioning of our muscles.
Potassium - right alongside magnesium, supports the body's electrolyte balance. It maintains proper muscle tone. It can control the volume of water in the body and regulate pressure. It affects the functioning of the nervous system.
Calcium - primarily supports the proper functioning of our muscles and helps maintain proper nerve transmission. It also contributes to maintaining proper energy metabolism and plays a significant role in the process of cell division and specialization.
Sodium Chloride - is an essential component of our diet, responsible, among other things, for maintaining electrolyte balance and proper hydration of our cells.
Laboratory-confirmed quality
For the sake of our customers' health, the products we manufacture are regularly tested in an independent accredited laboratory to ensure and maintain the highest quality.






Suggested usage
Mix a portion of 75 g (6 measures) for 1-2 minutes with 200 ml water until it dissolves completely using the shaker. Next, make up the volume up to 700 ml with water. Consume immediately after preparation. Use 2 servings a day, preferably during and immediately after training.
Do not exceed the recommended daily dose. Do not use the product as a substitute (replacement) for a varied diet. Recommended are balanced diet and healthy lifestyle. Do not ingest if you are allergic to any of the ingredients. Children, pregnant or nursing women must not take the product. Keep out of the reach of children.
Keep this packaging tightly closed in a dry place, at the temperature 15-25°C. Keep out of direct sunlight
Nutritional information
Ingredients
Starch VITARGO®, acidity regulator: citric acid (1); beet juice concentrate powder (2), colours: carotenes (3), ammonia caramel (4), black carrot concentrate powder (5); magnesium salts of citric acid (magnesium), potassium citrate (potassium), calcium carbonate (calcium), sodium chloride (sodium, chloride), flavouring, sweeteners: sucralose, acesulfame K.
Depending on the flavour of the product, the symbol (1-5) of the ingredient used is located near the minimum durability date.
Product may contain milk (including lactose), soy, peanuts, other nuts, sesame seeds, cereals containing gluten, eggs, crustaceans, fish.
Nutrition Facts
Nutritional value
at 1 serving 75 g
at 100 g
%RI*
Energy
1103 kJ / 260 kcal
1471 kJ / 346 kcal
-
Fat
0 g
0.1 g
-
- of which saturated fatty acids
0 g
0 g
-
Carbohydrates
65 g
86 g
-
- of which sugars
0 g
0 g
-
Protein
0.2 g
0.3 g
-
Salt
0.49 g
0.65 g
-
ELECTROLYTES
Potassium
300 mg
400 mg
15 %*
Magnesium
150 mg
200 mg
40 %*
Calcium
240 mg
320 mg
30 %*
Sodium
220 mg
293.3 mg
-
Chloride
330 mg
440 mg
41 %*
*RI - Reference intake
Product reviews
0
opinion
Questions and Answers
Add a question about this product