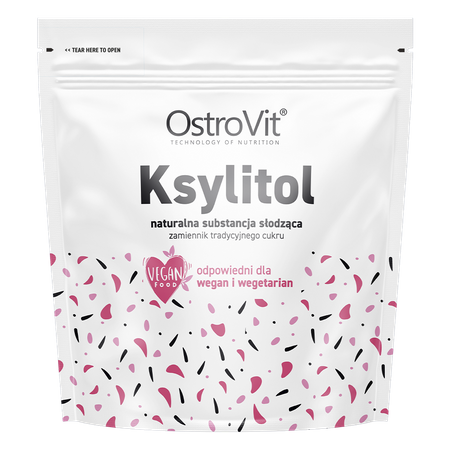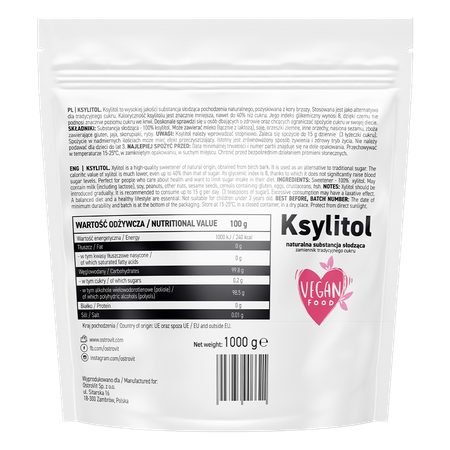 OstroVit Xylitol 1000 g natural
Customers recommend!
Rating 5/ 5
10,26 €
OstroVit Xylitol 1000 g
OstroVit Xylitol is a high quality product that contains alcoholic sugar that can be used carelessly as a substitute for white sugar (sucrose). It naturally occurs in some fruits, vegetables and other plants, e.g. birch bark. It exhibits anti-caries, bacteriostatic effect, supports the absorption of calcium in the body, i.e. affects bone mineralization.


1000 g in the package
Original Finnish xylitol
OstroVit Xylitol - Xylitol polyhydric alcohol
OstroVit Xylitol extracted from the bark of Finnish birch, compared to some cheap Chinese corn counterfeits. It has a pleasant light mint aroma, and sweetness similar to traditional sucrose.
Properties:
Excellent as a substitute for traditional sugar
Has bacteriostatic effect
Has anti-caries effect
Has a support effect of calcium absorption
Beneficial for bone mineralization
Low IG = Perfect for diabetics
Suggested usage
Xylitol should be introduced gradually. It is recommended to consume up to 15 g per day (3 teaspoons of sugar).
Ingestion in excessive amounts may have a laxative effect. The balanced way is important nutrition and a healthy lifestyle.
Nutritional information
Ingredients
Sweetener - 100% xylitol.
May contain milk (including lactose), soy, peanuts, other nuts, sesame seeds, oats, eggs, crustaceans, fish.
Nutrition Facts
| Nutritional values | Per 100 g |
| --- | --- |
| Energy Value | 1000 kJ / 240 kcal |
| Fat | 0 g |
| - of which saturated fatty acids | 0 g |
| Carbohydrates | 99.8 g |
| - of which sugars | 0.2 g |
| - including polyhydric alcohols (polyols) | 98.5 g |
| Protein | 0 g |
| Salt | 0.01 g |
Country of origin: Finland
Product reviews
1
opinion
What customers say about this product
Questions and Answers
Add a question about this product