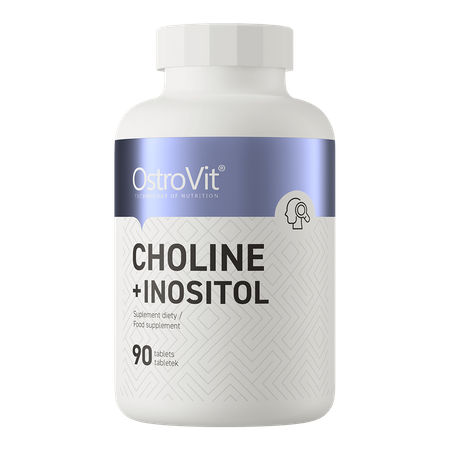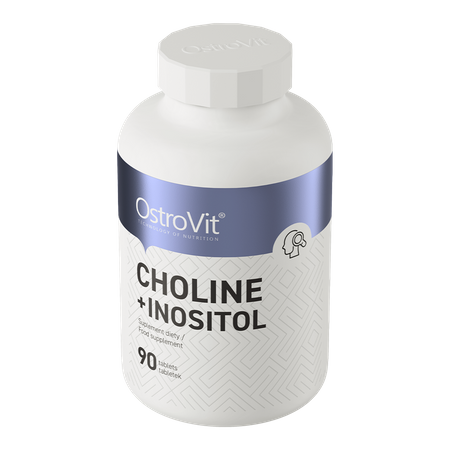 OstroVit Choline + Inositol 90 tabs
4,25 €
OstroVit Choline + Inositol 90 tabs
Choline and inositol, that is ingredients being part of B-group vitamins, support operation of nervous system and participate in fat and cholesterol metabolism.

Active ingredients of the OstroVit Choline + Inositol supplement
Choline - is a natural component of most animal tissues. Its presence in the body ensures the proper structure of the brain. Choline crosses the blood-brain barrier and acts as a transmitter to the nervous system. Participates in the metabolism of fatty acids.
Inositol - occurs in cell membranes. Responsible for the proper functioning of neurotransmitters. It sensitizes receptors to serotonin, thus relieving the feeling of stress. In addition, it supports the metabolism of fats and cholesterol.
Properties of the ingredients contained in OstroVit Choline + Inositol:
PERFECT COMBINATION OF INGREDIENTS - Choline and inositol offer enhanced action. Their mixture will allow you to achieve much better results than in the case of supplementing only one of them.
SUPPORT OF THE NERVOUS SYSTEM - Ingredients contained support the functioning of the brain, facilitating memorization and learning and improving concentration. It also affects the general well-being and quality of sleep.
CARE FOR LIVER HEALTH - Combination of choline and inositol can regulate blood cholesterol levels, support fatty acid metabolism, and detoxify the body.
COMFORTABLE FORM - OstroVit Choline + Inositol is available in the form of easy-to-swallow tablets. One package of the product is enough for three months of regular supplementation.
Suggested usage
Take 1 serving (1 tablet) daily.
Do not exceed the recommended daily dose. Do not use the product as a substitute (replacement) for a varied diet. Recommended are balanced diet and healthy lifestyle. Do not ingest if you are allergic to any of the ingredients. Children, pregnant and nursing woman must not take the product. Keep out of the reach of children.
Nutritional information
Ingredients
Starch, bulking agent: microcrystalline cellulose; choline bitartrate, myo-inositol, anticaking agents: magnesium salts of fatty acids, silicon dioxide.
Product may contain milk (including lactose), soy, peanuts, other nuts, sesame seeds, cereals containing gluten, eggs, crustaceans, fish.
Nutrition Facts
| Active ingredients | Per portion |
| --- | --- |
| Choline bitartrate | 300 mg |
| Myo-inositol | 300 mg |
Product reviews
0
opinion
Questions and Answers
FAQ
Hi, When to take a Choline tablet ? Just before/after dinner or in the morning after waking up on an empty stomach ? Kind regards.
Hello, nothing should be taken on an empty stomach, except for fasting medications. Choline tablets are best used after eating, e.g. 30 minutes after a meal.
Do you need more information?
If the above information is not sufficient for you, please send us your question. We will do our best to answer them.
Add a question about this product