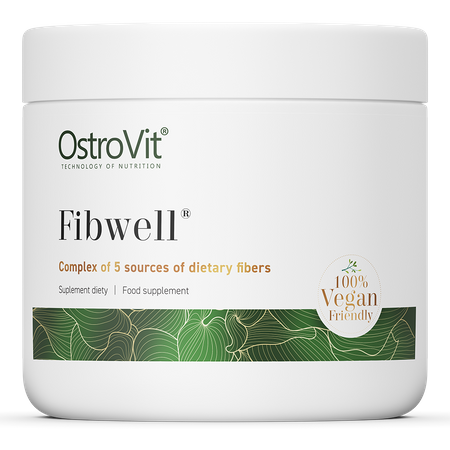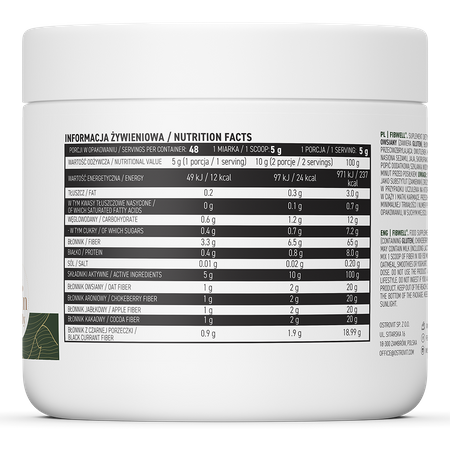 OstroVit Fibwell VEGE 240 g natural
OstroVit Fibwell VEGE 240 g
OstroVit Fibwell VEGE is a vegan dietary supplement in the form of a complex of several types of powdered plant fibers - oat, chokeberry, apple, cocoa and black currant fibers. The product is free of unnecessary additives and will be perfect as an addition to yogurt, oatmeal, smoothies or homemade baked goods. So if you need to naturally supplement your diet with high-quality powdered fiber - try our OstroVit Fibwell!

5 types of powdered fibers in one package
as many as 48 servings of the product
perfect for vegans and vegetarians
OstroVit Fibwell VEGE is a product created for people for whom a healthy diet and value meals are a priority. An adequate amount of fiber in our diet is essential for the proper work of the digestive system and is extremely important for weight loss. One package of the product is as much as 48 servings of fiber, which, with regular supplementation, is enough for 24 days of use. It is very important to take it before meals consumed, drinking an adequate amount of water. The package comes with a convenient measuring cup, thanks to which you can precisely measure the required amount of the product.
Types of fibers contained in OstroVit Fibwell and their properties:
Oat fiber - obtained from natural oat fibers, has a natural cereal taste. Thanks to its high content of betaglucans, oat fiber effectively lowers cholesterol levels and also supports the digestive system.
Chokeberry fiber - obtained from dried aronia pomace, it is rich in many valuable nutrients. Provides a feeling of satiety and prevents constipation.
Apple fiber - obtained from natural, specially selected apple fibers. It is insoluble in water, and on contact with liquid it swells quickly, resulting in a quick feeling of satiety.
Cocoa fiber - extracted from natural cocoa fibers, has rich nutritional qualities. Like its other predecessors, it has a very positive effect on the digestive system.
Black currant fiber - Is obtained from dried pomace of black currant. It easily absorbs water and is very efficient. It is indispensable for weight loss, perfectly satiates and effectively reduces the feeling of hunger.
Suggested usage
Mix 1 scoop of fiber in 100-150 ml of water or juice. Wash down with an extra glass of water. The product can also be added to oatmeal, smoothies or yoghurt. Consume twice a day, 30 minutes before a meal.
Do not exceed the recommended daily dose. Do not use the product as a substitute (replacement) for a varied diet. Do not ingest if you are allergic to any of the ingredients. Children, pregnant or nursing women must not take the product. Keep out of the reach of children.
Keep this packaging tightly closed in a dry place, at the temperature 15-25°C. Keep out of direct sunlight.
Nutritional information
Ingredients
Oat fiber (containing gluten), chokeberry fiber, apple fiber, cocoa fiber, black currant fiber, anti-caking agent: silicon dioxide.
Product may contain milk (including lactose), soybeans, peanuts, other nuts, sesame seeds, eggs, crustaceans, fish.
Nutrition Facts
Net weight of the product: 240 g
| Nutrition facts | per 1 serving 5 g | per 2 servings 10 g | at 100 g |
| --- | --- | --- | --- |
| Energy | 49 kJ/12 kcal | 97 kJ/24kcal | 971 kJ/237 kcal |
| Fat | 0.2 g | 0.3 g | 3.0 g |
| - of which saturated fatty acids | 0 g | 0.1 g | 0.7 g |
| Carbohydrates | 0.6 g | 1.2 g | 12 g |
| - of which sugars | 0.4 g | 0.7 g | 7.2 g |
| Fiber | 3.3 g | 6.5 g | 65 g |
| Protein | 0.4 g | 0.8 g | 8.0 g |
| Salt | 0.01 g | 0.02 g | 0.2 g |
| Active ingredients | 5 g | 10 g | 100 g |
| Oat fiber | 1 g | 2 g | 20 g |
| Chokeberry fiber | 1 g | 2 g | 20 g |
| Apple fiber | 1 g | 2 g | 20 g |
| Cocoa fiber | 1 g | 2 g | 20 g |
| Black currant fiber | 0.9 g | 1.9 | 18.99 g |
Product reviews
0
opinion
Questions and Answers
Add a question about this product