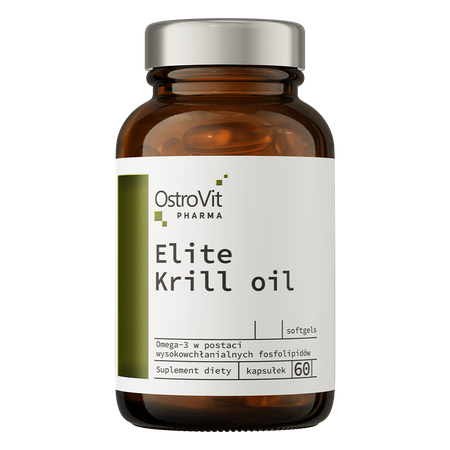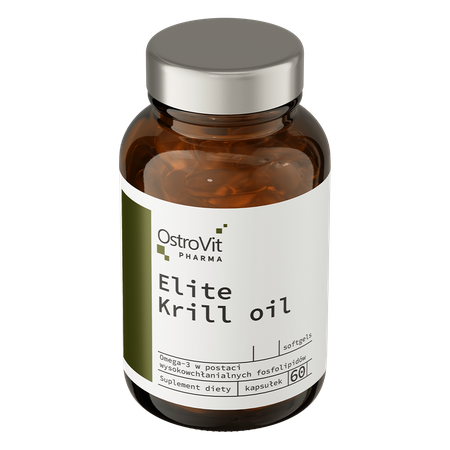 OstroVit Pharma Elite Krill Oil 60 caps
8,55 €
OstroVit Pharma Elite Krill Oil 60 caps
OstroVit Pharma Elite Krill Oil is the highest quality dietary supplement in softgel capsules based on Antarctic Krill oil, standardized for Omega 3 fatty acids (EPA and DHA), phospholipids and astaxanthin. OstroVit Pharma is a line that puts the quality of raw materials, pharmaceutical diligence of production and all the components thanks to which the supplement is created in the first place. OstroVit Pharma are absolutely elite supplements for consumers who know what is most important to them.

1000 mg lipid extract from Antarctic krill
60 softgel capsules in the package
The highest quality of raw materials and production
Glass, dark bottle with capsules
The product is enough for a month of supplementation
The supplement contains standardization for astaxanthin and phospholipids
OstroVit Pharma Elite Krill Oil
Euphausia superba or Antarctic krill is a small crustacean whose species inhabited almost the entire Southern Ocean. It is of great importance in the supplementation industry due to the high concentration of omega-3 in the form of phospholipids and the content of astaxanthin. What makes krill oil gains in its uniqueness are primarily phospholipids, i.e. groups of organic chemical compounds, lipids, which, in addition to glycerol residues and higher fatty acids, contain a phosphoric acid residue. Omega 3, i.e. mainly EPA and DHA, support the proper functioning of the circulatory system, can help reduce blood triglycerides, have anti-inflammatory or even anti-depressant effects.
Properties of the ingredients contained in OstroVit Pharma Elite Krill Oil:
Content of phospholipids, which are the main building blocks of our cell membranes
EPA and DHA fatty acids have cardioprotective effects
Astaxanthin is one of the strongest antioxidants with a free radical scavenging effect
It can help reduce blood triglycerides
It can help reduce body fat
It supports the processes that regulate our immune system
WARNING! Due to the high content of fish oil, the product has a fishy smell.
Suggested usage
Consume 1 serving (2 capsules) daily, preferably with a meal.
Do not exceed the recommended daily allowance. The dietary supplement should not be used as a substitute (replacement) of a varied diet. A balanced diet and a healthy lifestyle are recommended. Do not consume if you are allergic to any of the ingredients in the product. The product should not be used by children, pregnant women and nursing mothers. Keep out of reach of small children.
Nutritional information
Ingredients
Lipid extract from Antarctic Krill Crustacean (Euphausia superba), capsule shell (gelatin, humectant: glycerol; purified water).
The product may contain milk (including lactose), soy, peanuts, other nuts, sesame seeds, oats, eggs, fish.
Nutrition Facts
| Active ingredients | For a portion |
| --- | --- |
| Lipid extract from krill, in this: | 1000 mg |
| - Omega 3 fatty acids: | 200 mg |
| * in this eicosapentaenoic acid EPA | 120 mg |
| * in this docosahexaenoic acid DHA | 80 mg |
| Phospholipids | 100 mg |
| Astaxanthin | 200 μg |
Product reviews
0
opinion
Questions and Answers
FAQ
Servings per container: 30 Serving size: 2 capsules but title says 30 capsules, so something here doesn't add up. please check.
The name of the product was wrong, which actually consists of 60 capsules, which makes 30 servings. We have corrected the name. Thank you for your vigilance.
Do you need more information?
If the above information is not sufficient for you, please send us your question. We will do our best to answer them.
Add a question about this product