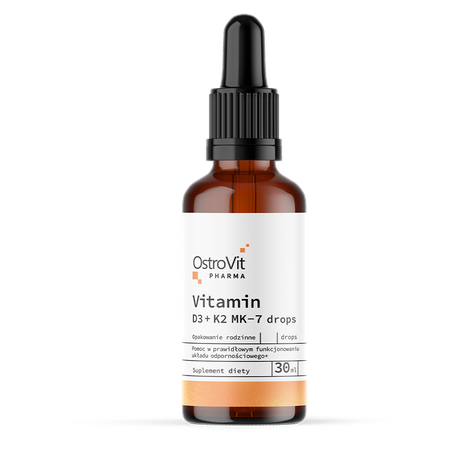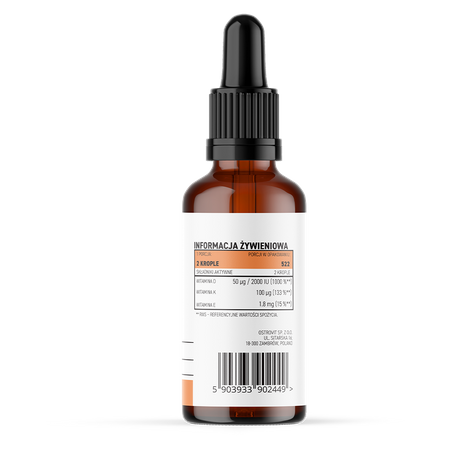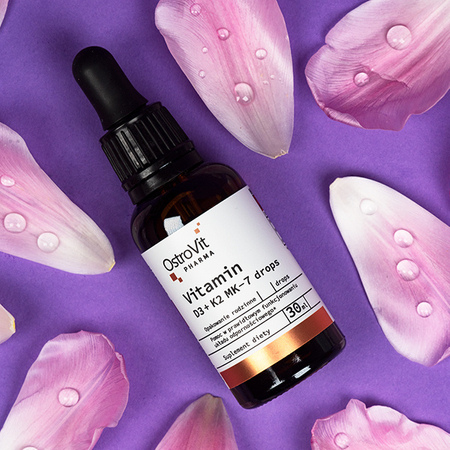 OstroVit Pharma Vitamin D3 + K2 MK-7 drops 30 ml
6,43 €
OstroVit Pharma Vitamin D3 + K2 MK-7 in drops 30 ml
OstroVit Pharma Vitamin D3 + K2 MK-7 is a dietary supplement in drops which can help you take care of your immunity. Thanks to highly assailable liquid, the product brings quick results and is very effective. If you want to avoid sicknesses, have strong bones and radiant skin, choose OstroVit Pharma Vitamin D3 + K2 MK-7 in drops - a user-friendly dietary supplement in drops.

What is OstroVit Pharma Vitamin D3 + K2 MK-7 in drops?
OstroVit Pharma Vitamin D3 + K2 MK-7 dietary supplement in the form of drops will provide you with solid immunity as well as strong and healthy bones. Combination of three fat-soluble vitamins - D3, K2 and E jointly with MCT oil and olive oil - assures better assimilability of active ingredients. Thanks to liquid form, vitamins can quickly penetrate the vascular system and bring best results.
The drops from OstroVit Pharma is a perfect choice if you wish to eliminate deficiency of vitamin D3, K2 and E. Choose our supplement if you would like to:
avoid sicknesses
have stronger bones and teeth
enjoy beautiful skin
take care of your eyesight
make sure your blood coagulation is proper
prevent muscle aches
Properties:
Deficiency of nutrients may lead to serious health-related consequences. Thanks to OstroVit Pharma Vitamin D3 + K2 MK-7 dietary supplement, you can quickly and conveniently supplement vitamin D3, K2 and E, and forget about problems related to their deficiency in the organism.
Major features of the dietary supplement:
SUPPORT TO IMMUNITY - The dietary supplement from OstroVit Pharma stimulates the immunity system. Thanks to strong anti-oxidant properties, it reduces oxidative stress.
WELL-THOUGHT-OUT SELECTION OF INGREDIENTS - Vitamin K2 strengthens impact of vitamin D3. Vitamin E in turn supplements its effects.
HIGH ASSIMILABILITY - The dietary supplement in the form of drops containing vitamins, MCT oil and olive oil guarantees top efficacy and quick results.
EASY USE - To provide yourself with a suitable amount of vitamin D, E, and K, dissolve two drops of the supplement in your favorite drink or swallow them straight from the teaspoon.
Active ingredients of OstroVit Pharma Vitamin D3 + K2 MK-7 in drops
OstroVit Pharma dietary supplement is a set of three vitamins responsible for correct operation of your organism. Learn how each of them works:
VITAMIN D - It supports operation of immunity system. It lets you keep your bones healthy and strong. It prevents muscles aches and sleep disorders. It protects skin and fosters its regeneration.
VITAMIN K - It helps you keep your bones and teeth healthy, and assures their suitable density. It regulates blood coagulation as well as assimilability of vitamin D.
VITAMIN E - It has strong anti-oxidant properties. It raises immunity and secures against infections. It is a support to eyesight.
Suggested usage
Shake well before use. Measure out 2 drops per teaspoon or dissolve in liquid at room temperature (water, tea, juice).
Before use, it is advisable to perform a 25- (OH) D blood test and consult your doctor or pharmacist about the test results. The product is intended for adults.
Do not exceed the recommended daily allowance. A dietary supplement cannot be used as a substitute for a varied diet. A balanced diet and a healthy lifestyle are recommended. Do not eat if you are allergic to any of the ingredients of the product. The product should not be used by children, pregnant women, nursing mothers and people taking anticoagulants containing vitamin K antagonists (e.g. warfarin and acenocoumarol). Keep out of reach of small children.
BEST USED BEFORE: See bottom of pack. To be consumed within 2 months of opening. Store at room temperature in a closed container in a dry place. Protect from direct sunlight.
Nutritional information
Ingredients
MCT oil containing medium chain fatty acids from guinea oil seeds, olive oil, menaquinone-7 MK-7 (vitamin K) derived from Bacillus subtilis natto, cholecalciferol (from lanolin) (vitamin D), D-alpha-tocopheryl acetate (vitamin E).
The product may contain milk (including lactose), soy, peanuts, other nuts, sesame seeds, cereals containing gluten, eggs, crustaceans, fish.
Nutrition Facts
| Active ingredients | Per portion (2 drops) | % RI* |
| --- | --- | --- |
| Vitamin D | 50 µg / 2000 IU | 1000 |
| Vitamin K | 100 µg | 133 |
| Vitamin E | 1.8 mg | 15 |
*RI- Reference intake
Product reviews
0
opinion
Questions and Answers
Add a question about this product