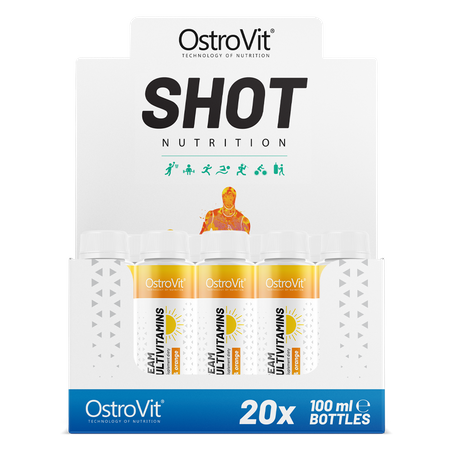 OstroVit SUNbeam Multivitamins Shot 100 ml
21,64 €
OstroVit SUNbeam Multivitamins Shot 100 ml
OstroVit SUNbeam Multivitamins Shot is a multi-ingredient dietary supplement with a carrot-orange flavor. Our next product from the series of OstroVit shots is a perfect supplement to the diet, among others, in beta carotene, copper, zinc, hyaluronic acid and B vitamins. OstroVit SUNbeam Multivitamins Shot was created for all those who care about beautiful and healthy looking skin. Each bottle is 100 ml of delicious and ready-to-drink shot - you can take it with you anywhere and drink it whenever you want!

as many as 14 ingredients in each shot
50 ml is one serving
delicious carrot-orange flavor
How to take care of your skin to enjoy a healthy and beautiful appearance on a daily basis?
How to take care of your skin to enjoy a healthy and beautiful appearance on a daily basis? Maintaining its beautiful and radiant appearance has been a leading trend for centuries. On the market there is a growing selection of preparations for skin care as well as oral supplementation, which are designed to help take care of its good condition and beautiful color for as long as possible. One of them is our OstroVit SUNbeam Multivitamins Shot - a wealth of vitamins and micronutrients.
Find out what ingredients our shot consists of:
Lycopene - is an organic chemical compound from the group of carotenes, belonging to the carotenoids or natural pigments found in plants and animals. It is also a powerful antioxidant, meaning it has the ability to neutralize free radicals.
Zinc -is an essential element in maintaining healthy skin, hair and nails. It also helps protect our cells from oxidative stress and maintain normal fatty acid and macronutrient metabolism.
Beta - carotene - otherwise known as provitamin A. It is a chemical compound belonging to the group of carotenoids, like lycopene. It has strong antioxidant properties and provides a natural sunscreen for our skin, reducing its sensitivity to UV rays.
Vitamin E - A fat-soluble vitamin that helps protect cells from oxidative stress.
Pantothenic acid - Vitamin B5. Among other things, it contributes to the proper synthesis and metabolism of steroid hormones, vitamin D and some neurotransmitters. It also supports proper energy metabolism and the functioning of the nervous system.
Niacin - Vitamin B3. Helps maintain healthy skin and mucous membranes, supports nervous system function.
Copper - an element that helps maintain proper pigmentation of the skin and hair, and also supports the maintenance of the proper condition of connective tissues.
Riboflavin - vitamin B2 - supports the maintenance of healthy skin and mucous membranes and the protection of our cells against oxidative stress.
Vitamin B6 - contributes to the regulation of hormonal activity, supports the work of the nervous system.
Hyaluronic acid - One of the biggest advantages of hyaluronic acid when supplementing it is the positive effect on the functioning of bones, joints and connective tissue. Thanks to its properties, it can also increase the elasticity of the skin, accelerate recovery from injuries, cuts, abrasions or soft tissue damage.
Thiamine - vitamin B1 - supports the proper functioning of the nervous system, contributes to the proper functioning of the heart.
Biotin - Helps maintain healthy skin, hair and mucous membranes. In addition, it contributes to the maintenance of normal energy metabolism and macronutrients.
Folic acid - another vitamin from the B group. It takes part in the process of cell division and the proper synthesis of amino acids.
Vitamin B12 - takes part in many important processes - including the production of red blood cells, the proper functioning of the immune system and the maintenance of proper psychological functions. It plays a very important role in the process of cell division.
Laboratory-confirmed quality
For the sake of our customers' health, the products we manufacture are regularly tested in an independent accredited laboratory to ensure and maintain the highest quality.






Suggested usage
Consume 1⁄2 bottle (50 ml - 10 teaspoons) per day. Do not consume more than 1 serving per day. The product is intended for adults. Shake before consumption. After opening, store in the refrigerator, consume within 48h.
Do not consume if you are allergic to any of the supplement's ingredients. The product is not recommended for children, pregnant women, breastfeeding women. The dietary supplement should not be used as a substitute (replacement) for a varied diet. A balanced diet and healthy lifestyle is recommended.
Store in a dry, cool place at 2-25°C. Protect against sunlight and frost. Keep out of the reach of small children.
Nutritional information
Ingredients
Water, apple juice from apple juice concentrate 20%, acidity regulator: citric acid; lycopene, zinc picolinate (zinc), beta-carotene, flavors, DL-alpha-tocopheryl acetate (vitamin E), calcium D-pantothenate (pantothenic acid), sweetener: sucralose; preservatives: potassium sorbate, sodium benzoate; Inositol hexanicotinate (niacin), copper diglycinate (copper), riboflavin (vitamin B2), pyridoxine hydrochloride (vitamin B6), hyaluronic acid (sodium hyaluronate), thiamine hydrochloride (thiamine), D-biotin (biotin), pteroylmonoglutamic acid (folic acid), cyanocobalamin (vitamin B12).
Product may contain milk (including lactose), soybeans, peanuts, other nuts, sesame seeds, cereals containing gluten, eggs, shellfish, fish.
Nutrition Facts
| Active ingredients | Per portion 50 ml | % RI* |
| --- | --- | --- |
| Lycopene | 15 mg | - |
| Zinc | 7.5 mg | 75 %* |
| Beta-carotene | 7 mg | - |
| Vitamin E | 12 mg | 100 %* |
| Pantothenic acid (vitamin B5) | 12 mg | 200 %* |
| Niacin | 8 mg | 50 %* |
| Copper | 1 mg | 100 %* |
| Riboflavin | 2.8 mg | 200 %* |
| Vitamin B6 | 2.4 mg | 171 %* |
| Hyaluronic acid | 2.5 mg | - |
| Thiamine | 1.1 mg | 100 %* |
| Biotin | 200 μg | 400 %* |
| Folic acid | 100 μg | 50 %* |
| Vitamin B12 | 5 μg | 200 %* |
*RI - REFERENCE INTAKE
Product reviews
0
opinion
Questions and Answers
Add a question about this product