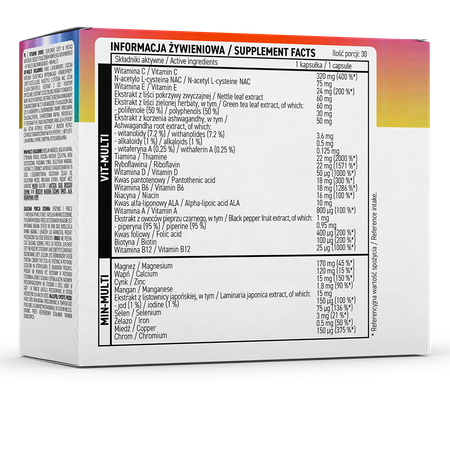 OstroVit VIT&MIN SPORT 60 caps 2pack
4,11 €
OstroVit Vit&Min SPORT 60 caps 2pack
Do you do sport or lead active lifestyle? Are you looking for a dietary supplement which can provide your organism with comprehensive support? See VIT&MIN SPORT! It is a complex formula designed for demanding users and contains key vitamins and minerals in easily assimilable form. Check this out!

What is VIT&MIN SPORT?
VIT&MIN SPORT is a set of modern dietary supplements developed with highly active persons in mind. It is composed of well-selected vitamins (VIT-MULTI) and minerals (MIN-MULTI). Both formulas take a form of capsules which can be easily swallowed and assimilated.
Choose this product if you wish to do the following:
take care of optimal amount of substances, key to your health and mood
provide yourself with all most important vitamins and micro-elements in 1 pill
have sufficient energy to act
VIT&MIN SPORT products have been manufactured in accordance with standards applicable in EU, which assures its top quality and safety.
What are the properties of VIT&MIN SPORT?
VIT-MULTI includes the following:
ascorbic acid (vitamin C) - supporting proper collagen synthesis, a natural anti-oxidant
N-acetylcysteine (NAC) - the easiest assimilable form of cysteine which fosters growth of fat-free muscle mass and supports functions of the organism
vitamin E (α-Tocopheryl acetate DL), also referred to as "youth vitamin"
green tea extract - rich source of anti-oxidants and polyphenols
ashwagandha root extract - substance of valuable properties, used in eastern medicine
B-group vitamins - required for proper functioning of nervous system and blood-forming processes
black pepper fruit extract standardized for 95% of piperine - valued for support to metabolic processes
MIN-MULTI includes the following:
magnesium in an easily assimilable form of carbonate - supporting proper electrolyte balance, muscle functions and cognitive functions
calcium - important to keep bones healthy
potassium - crucial for proper electrolyte balance
zinc
manganese
iodine (obtained from Saccharina japonica extract)
iron
copper
chromium
Due to the ingredients used in the OstroVit MIN-MULTI 30 caps product - (mainly selenium in the form of L-selenomethionine), the product has an irritating, unpleasant smell.
Such a comprehensive formula serves as a perfect support to your organism - particularly if you are active and wish to achieve sport-related goals.
Each set contains 30 capsules VIT-MULTI and MIN-MULTI, which is sufficient for a monthly treatment aimed at helping your body and mind. Check and exercise more efficiently!
Laboratory-confirmed quality
For the sake of our customers' health, the products we manufacture are regularly tested in an independent accredited laboratory to ensure and maintain the highest quality.






Suggested usage
Take 1 serving (1 capsule of VIT-MULTI and 1 capsule of MIN-MULTI) daily, after the main meal.
It is advisable to perform a 25-(OH)D blood test and consult the doctor or pharmacist before use. The product is intended for adults.
Do not exceed the recommended daily dose. Do not use the product as a substitute (replacement) for a varied diet. Recommended are balanced diet and healthy lifestyle. Do not ingest if you are allergic to any of the ingredients. The product should not be consumed when using sedatives, sleeping pills, antiepileptic drugs and should not be used by children, pregnant women and during lactation. Keep out of the reach of children.
Nutritional information
Ingredients
VIT-MULTI INGREDIENTS: L-ascorbic acid, coating composition (bulking agent: hydroxypropyl methyl cellulose), N-acetyl L-cysteine NAC, DL-alpha-tocopheryl acetate, nettle leaf extract, green tea leaf extract standardized on 50% of polyphenols, ashwagandha root extract standardized on 7.2% of withanolides, 1% of alkaloids and 0.25% of withaferin A, thiamine hydrochloride, riboflavin, cholecalciferol, calcium D-pantothenate, pyridoxalo 5'-phosphate P-5-P, nicotinic acid, alpha-lipoic acid ALA, retinyl acetate, black pepper fruit extract standardized on 95% of piperine, calcium L-methylfolate L-5-MTHF, D-biotin, methylcobalamin.
MIN-MULTI INGREDIENTS: Magnesium carbonate, calcium carbonate, potassium citrate, capsule shell (gelatin, purified water), zinc picolinate, manganese diglycinate, laminaria japonica extract standardized on 1% of iodine, L-selenomethionine, iron (II) diglycinate, copper diglycinate, chromium picolinate.
Product may contain milk (including lactose), soybeans, peanuts, other nuts, sesame seeds, oats, eggs, crustaceans, fish.
Nutrition Facts
| Active ingredients | Per portion | % RI* |
| --- | --- | --- |
| VIT-MULTI |   |   |
| Vitamin C | 320 mg | 400 |
| N-acetyl L-cysteine | 75 mg | - |
| Vitamin E | 24 mg | 200 |
| Nettle leaf extract | 60 mg | - |
| Green tea leaf extract, of which: | 60 mg | - |
| - polyphenols (50%) | 30 mg | - |
| Ashwagandha root extract, of which: | 50 mg | - |
| - withanolides (7.2%) | 3.6 mg | - |
| - alkaloids (1%) | 0.5 mg | - |
| - withaferin A (0.25%) | 0.125 mg | - |
| Tiamine | 22 mg | 2000 |
| Ryboflavin | 22 mg | 1571 |
| Vitamin D | 50 µg | 1000 |
| Pantothenic acid | 18 mg | 300 |
| Vitamin B6 | 18 mg | 1286 |
| Niacin | 16 mg | 100 |
| Alpha-lipoic acid ALA | 10 mg | - |
| Vitamin A | 800 µg | 100 |
| Black pepper fruit extract, of which: | 1 mg | - |
| - piperyne (95%) | 0.95 mg | - |
| Folic acid | 400 µg | 200 |
| Biotin | 100 µg | 200 |
| Vitamin B12 | 25 µg | 1000 |
| MIN-MULTI |   |   |
| Magnesium | 170 mg | 45 |
| Calcium | 120 mg | 15 |
| Potassium | 75 mg | 3.75 |
| Zinc | 15 mg | 150 |
| Manganese | 3 mg | 150 |
| Laminaria japonica extract, of which: | 15 mg | - |
| - iodine (1%) | 150 µg | 100 |
| Selenium | 75 µg | 136 |
| Iron | 3 mg | 21 |
| Copper | 0.5 mg | 50 |
| Chromium | 150 µg | 375 |
*RI- Reference intake
Product reviews
0
opinion
Questions and Answers
Add a question about this product