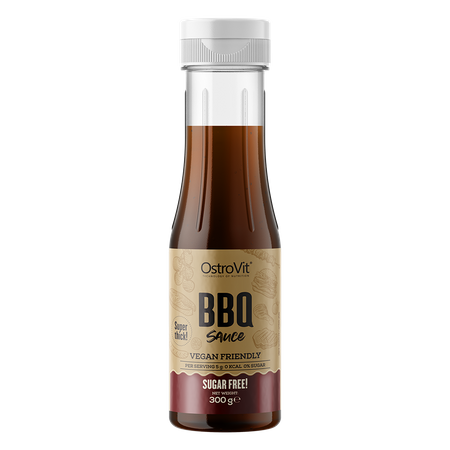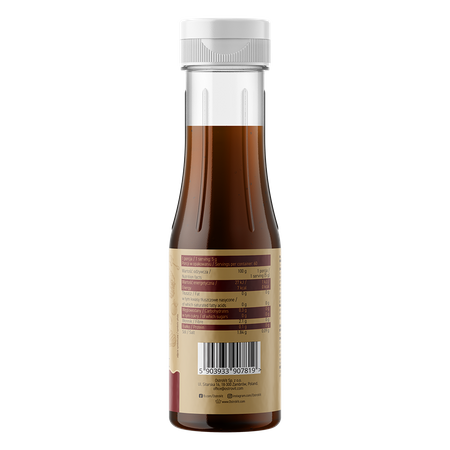 OstroVit Barbecue Sauce 300 g barbecue
2,09 €
OstroVit Barbecue Sauce 300 g
OstroVit Barbecue Sauce is a unique dry sauce for grilled meat without sugar and fat! A special patented formula with a bamboo fiber assures a perfect sauce consistency, while carefully selected spices and aromas make the sauce a perfect match for meats and fish. Do you love BBQ meals but do not want to combine them with high-calorie additives? Thanks to OstroVit Barbecue Sauce, you can be sure your meals do not get more calorific.

Why to choose OstroVit Barbecue Sauce?
Meat and sandwich sauces available in stores are high-calorie products! 100 grams of the average barbecue sauce is usually about 180 kcal and even 35 grams of sugar! In effect sauces are widely considered as very fattening and people on diet are discouraged from using them. What if you could get a healthy BBQ sauce whose consistency is perfect and its strong flavor combines smoke and caramel? Now it is possible!
In view of a rising demand for low-fat barbecue additives, we have decided to introduce a series of sauces intended for people on a reducing diet. 100 grams of our healthy barbecue sauce includes only 7 calories! Despite the fact that the product is completely sugar-free, its very sweet taste does not differ from the one you know from high-calorie counterparts. Choose OstroVit Barbecue Sauce if you:
love barbecue sauce flavor
are looking for a low-calorie meat and sandwich additive
are on a diet
are going to have a barbecue party
are looking for a healthier alternative to fattening sauces with sugar
Properties
Our low-cal sauce for meats, fish, burgers and other dishes will be a perfect choice if you are going to have a barbecue party with a family or friends. Thanks to the fact that this is a low-calorie product, you do not have to limit yourself and worry about your fitness. You can eat our barbecue sauce with no doubts!
Key features of the product:
UNIVERSAL APPLICATION – Our low-calorie BBQ sauce is a perfect additive to meats, salty snacks, salads, burgers and fries. From now on you can enjoy your favorite sauce and forget about counting calories!
STRONG TASTE – A unique composition of flavors, including a mixture of spices, smoke flavoring and dried union, make the product intensive in terms of taste which can compete with the best sugar-rich barbecue sauces.
THICK CONSISTENCY – Perfect consistency obtained thanks to bamboo fiber goes well with meat, fish, burgers or sandwiches. The product is very efficient as one box gives you around 60 portions of the sauce.
FOR PEOPLE ON A DIET – OstroVit Barbecue Sauce is one of few sauces which you can eat without limits, even if you are on a reducing diet. The product is free from fat and sugar, and one portion of the sauce represents fewer than one calorie!
Suggested usage
Store in a cool, dry place. Once opened, keep refrigerated and use up within one month. Shake well before use.
Do not ingest if you are allergic to any of the ingredients.
Nutritional information
Ingredients
Water, spirit vinegar, bamboo fibre, salt, thickener: xanthan gum; spices, smoke flavouring, dried onion, colour: ammonia caramel; acidity regulator: lactic acid; preservative: sodium benzoate; sweetener: sucralose.
Product may contain milk (including lactose), soybeans, peanuts, other nuts, sesame seeds, cereals containing gluten, eggs, crustaceans, fish. Do not ingest if you are allergic to any of the ingredients.
Nutrition Facts
Net weight of the product: 300 g
| Nutritional facts | 1 serving | 100 g |
| --- | --- | --- |
| Energy | 1 kJ / 0 kcal | 27 kJ / 7 kcal |
| Fat | 0 g | 0 g |
| - of which saturated fatty acids | 0 g | 0 g |
| Carbohydrates | 0 g | 0.3 g |
| - of which sugars | 0 g | 0 g |
| Fibre | 0 g | 2.1 g |
| Protein | 0 g | 0.1 g |
| Salt | 0.09 g | 1.84 g |
Product reviews
0
opinion
Questions and Answers
Add a question about this product