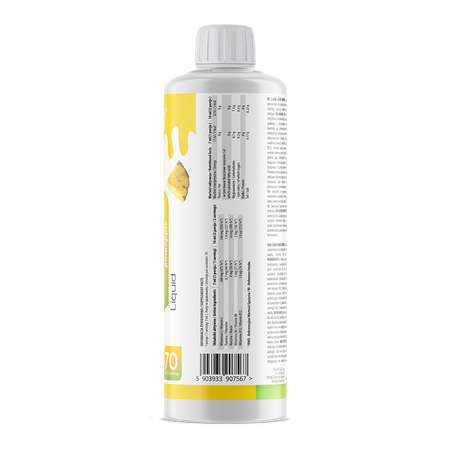 OstroVit Low Carb Drink 500 ml pineapple
ATTENTION - Expiry date of the product 26.10.2023
6,27 €
OstroVit Low Carb Drink 500 ml
OstroVit Low Carb Drink is a dietary supplement in the form of a concentrated liquid for making in water with the taste of juicy pineapple, which is a combination of as many as five active ingredients - vitamin C with vitamins B1, B3, B6 and B12. It is dedicated to physically active people who want to comprehensively supplement the daily need for vitamin C and B vitamins. Regular use will ensure optimal daily needs for these vitamin groups and our new dietary supplement can be safely taken in people who limit the amount of carbohydrates in the diet. Therefore, if you are looking for an alternative to supplementation with tablets and at the same time you are looking for products low in sugar - try our OstroVit Low Carb Drink 500 ml!

70 servings in the package
1 portion = 7 ml
Delicious pineapple flavor version
Properties of the ingredients contained in OstroVit Low Carb Drink 500 ml:
Vitamin C- i.e. L-ascorbic acid - is an organic chemical compound from the group of polyhydroxy alcohols. It is an essential nutrient in the human diet, which is mainly responsible for the proper functioning of connective tissue and bones. Its biologically active form - vitamin C, acts as a reducing factor and coenzyme in several metabolic pathways of the human body. Vitamin C is considered one of the main antioxidants - it removes excess free radicals from our cells. Jej właściwy poziom w naszej diecie pozwala także na szybszą regenerację oraz wzrost mięśni, biorąc bezpośredni udział w produkcji kolagenu. Wspiera układ nerwowy oraz odpornościowy.
Vitamin B1 - Thiamine - contributes to the maintenance of proper energy metabolism and helps in the proper functioning of the nervous system. It helps in maintaining proper psychological functions as well as helps in the proper functioning of the heart.
Vitamin B3 - Niacin like vitamin B1 contributes to the maintenance of proper energy metabolism and also helps to maintain proper psychological functions. Like riboflavin - niacin helps maintain healthy skin and contributes to the reduction of tiredness and fatigue.
Vitamin B6 - participates in many important biochemical processes, is responsible for the functioning of the nervous system, affects blood pressure, heart function and muscle contractions and supports the body's immunity.
Vitamin B12 - contributes to the maintenance of normal energy metabolism, helps in the proper functioning of the nervous system and in maintaining the proper metabolism of homocysteine. This vitamin plays a role in the process of cell division.
Laboratory-proven quality
For the sake of our customers' health, the products we manufacture are regularly tested in an independent accredited laboratory to ensure and maintain the highest quality.






Suggested usage
Dissolve 7 ml of concentrate (1 tablespoon) in 350-400 ml of water. Take 1-2 servings daily. Shake before each use. The product is intended for adults.
Do not exceed the recommended daily dose. Do not use the product as a substitute (replacement) for a varied diet. Recommended are balanced diet and healthy lifestyle. Do not ingest if you are allergic to any of the ingredients. Product should not be used by children, pregnant women, nursing women, people with a predisposition to form kidney stones or those suffering from kidney stones.
Store in a dry, cool place at 2-25°C. Protect against sunlight and frost. Once opened, the product should be stored in a refrigerator. Use within 5 weeks of opening.
Nutritional information
Ingredients
Water, aroma, acidity regulator: citric acid; maltodextrin, L-ascorbic acid (vitamin C), apple juice from apple juice concentrate 20 %, colour: carotenes; salt, sweeteners: sucralose, acesulfame K; nicotinic acid (niacin), pyridoxine hydrochloride (vitamin B6), thiamine hydrochloride (thiamine), preservatives: potassium sorbate, sodium benzoate; cyanocobalamin (vitamin B12).
Product may contain milk (including lactose), soybeans, peanuts, other nuts, sesame seeds, cereals containing gluten, eggs, crustaceans, fish.
Nutrition Facts
Product capacity: 500 ml
| Active ingredients | 1 serving 7 ml | 2 servings 14 ml | %RI* in 7 ml | %RI* in 14 ml |
| --- | --- | --- | --- | --- |
| Vitamin C | 380 mg | 760 mg | 475%* | 950%* |
| Thiamine | 0.7 mg | 1.4 mg | 64%* | 127%* |
| Niacin | 8 mg | 16 mg | 50%* | 100%* |
| Vitamin B6 | 1 mg | 2 mg | 71%* | 143%* |
| Vitamin B12 | 1.9 μg | 3.8 μg | 76%* | 152%* |
*RI- Reference Intake
| Nutritional facts | 1 serving 7 ml | 2 servings 14 ml |
| --- | --- | --- |
| Energy | 11 kJ/3 kcal | 22 kJ/5 kcal |
| Fat | 0 g | 0 g |
| - of which saturated fatty acids | 0 g | 0 g |
| Carbohydrates | 0.7 g | 1.3 g |
| - of which sugars | 0.2 g | 0.4 g |
| Protein | 0 g | 0 g |
| Salt | 0.11 g | 0.22 g |
Product reviews
0
opinion
Questions and Answers
Add a question about this product