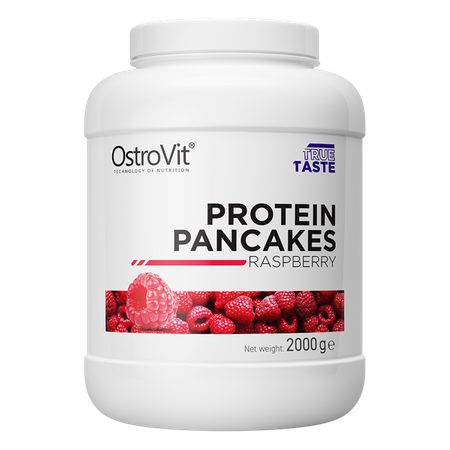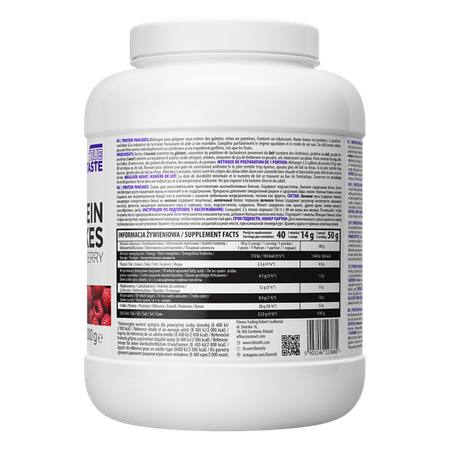 OstroVit Protein Pancakes 2000 g raspberry
OstroVit Protein Pancakes 2000 g
OstroVit Protein Pancakes are delicious, nutritious pancakes based on oat flour and whey protein concentrate with no added sugar. OstroVit High-Protein Pancakes are the perfect choice for a quick, healthy and light breakfast or dinner, a sweet snack or a nutritious meal after training. They taste great straight from the pan without any additions, but they can be varied with fresh fruit, yogurt, sweet coating, honey, jam or peanut butter.


2000 g of delicious pancakes in the package
40 servings can be prepared from the packaging
No added sugar
High-protein content
New improved version
5 flavors!
OstroVit Protein Pancakes
The main source of protein is whey protein concentrate, enriched with egg and milk proteins. Whey protein concentrate is an excellent source of wholesome animal protein, which contains a wide profile of amino acids necessary for building muscle fibres.Intensively supports the muscle growth process and enhances the reconstruction of muscle fibres. It works anabolic and anti-catabolic - prevents the breakdown of muscle tissue. Reduces fatigue and accelerates muscle recovery after training. Oatmeal is a source of very valuable complex carbohydrates, B vitamins, zinc, iron, magnesium and selenium. In addition, oats contain the highest content of dietary fibre among all cereals, and most importantly, it is dominated by a beneficial soluble fibre fraction affecting our health. In addition, the high content of insoluble fibre improves bowel function, gives a feeling of satiety which helps reduce the calorie content of meals.
Properties:
An excellent source of easily digestible proteins
Does not contain dyes, preservatives
Easy to prepare
Healthy snack that perfectly diversifies the daily diet
Delicious taste
As much as 29 g of wholesome proteins in one serving
Suggested usage
Mix 3.5 scoops of powder (50 g) with 80 ml of water or milk. Mix until a dough is uniform. If the dough seems too thick, add more milk or water. Wait 3 minutes. Fry the pancakes on both sides in a hot, well-greased pan until golden brown.
Nutritional information
Ingredients
Oat flour (contains gluten), milk whey protein concentrate (contains lecithin), milk proteins , egg powdered proteins (containing acidity regulator: citric acid), flavors, powdered beetroot juice concentrate, salt, sweetener: sucralose.
Dietary supplement. Contains sweeteners.
May contain soy, peanuts, other nuts, sesame seeds, crustaceans, fish.
Nutrition Facts
| Nutritional values | Per 100 g | Per portion | % RI* |
| --- | --- | --- | --- |
| Energy value | 1544 kJ /366 kcal |  772 kJ / 183 kcal | 9 |
| Fat | 4.9 g | 2.5 g | 3 |
| - of which saturates | 1.1 g | 0.5 g | 3 |
| Carbohydrates | 23 g | 12 g | 5 |
| - of which sugar | 1.8 g | 0.9 g | 1 |
| Protein | 55 g | 28 g | 56 |
| Salt | 0.45 g | 0.22 g | 4 |
*RI - Reference intake
Product reviews
0
opinion
Questions and Answers
Add a question about this product