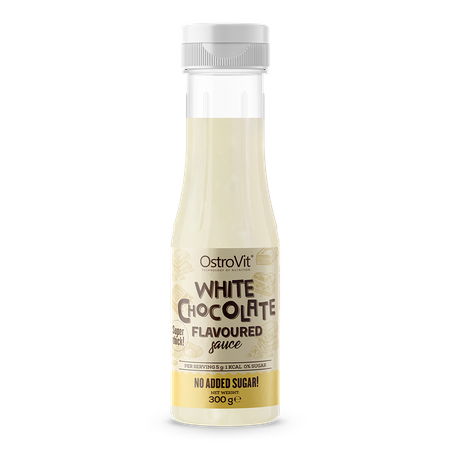 OstroVit White Chocolate Sauce 300 g white chocolate
2,11 €
OstroVit White Chocolate Sauce 300 g
OstroVit White Chocolate Sauce is a delicious, melt-in-your-mouth sauce that does not contain added sugar. One serving of the product provides the body with only 1 kcal, which makes the topping an extraordinary and tasty alternative to high-energy products of this type. It is a delicious addition to desserts, pancakes, diet cakes and sweet snacks, which will give the dishes the aroma of white chocolate and at the same time will not provide the body with unnecessary calories!
No added sugar - The product contains a low-energy sweetener, which is sucralose, which contributes to lowering the energy content of the diet.
Low energy - 1 serving of the product provides the body with only 1 kcal.
A source of insoluble dietary fiber - The sauce contains addition of natural bamboo fiber, which ensures desired consistency of the product and additionally cares for the feeling of satiety.
Efficiency - One package of the product is 60 portions of delicious topping.
Convenient form - The sauce is placed in a handy bottle, which allows precise dosing of the toppings.
Versatile use - The product goes perfectly with desserts and pancakes. The sauce will also work as an addition to dietary cakes or sweet snacks.
OstroVit White Chocolate Sauce - decadent feast without added sugar
White chocolate is a confectionery based on cocoa butter that does not contain cocoa powder. Unlike classic, dark chocolate, it is distinguished by a light color, which, however, does not affect its taste - White chocolate is also very popular and is known to all lovers of sweets. However, it is a source of significant amounts of calories, fat and monosaccharides… Luckily, OstroVit Sauce with white chocolate flavor comes with help - a low-energy topping, which is a great alternative to classic, high-calorie chocolate products. It is a product, which does not contain fat and added sugar. It is a sweet sauce, the portion of which provides the body with only 1 kcal!
OstroVit Sauce with white chocolate flavor is an ideal proposition for people who comply with dietary restrictions. It is also an original solution for conscious enthusiasts of sweets. It is a product that tastes great as an addition to pancakes or dietary pastries. White chocolate sauce also perfectly emphasizes the aroma of ice cream or desserts. This is a great way to satisfy the desire for "a little something", without providing the body with unnecessary calories.
Suggested usage
Do not ingest if you are allergic to any of the ingredients. Contains naturally occurring sugars.
Store in a cool, dry place. Once opened, keep refrigerated and use up within 1 month. Shake well before use.
Nutritional information
Ingredients
Water, buttermilk in powder, bamboo fiber, thickener: xanthan gum; flavouring, acidity regulator: lactic acid; preservative: sodium benzoate; salt, sweetener: sucralose; colour: carotenes.
With sweetener.
Product may contain soybeans, peanuts, other nuts, sesame seeds, cereals containing gluten, eggs, crustaceans, fish.
Nutrition Facts
| Nutritional facts | Per 100 g | Per portion |
| --- | --- | --- |
| Energy | 75 kJ / 18 kcal | 4 kJ / 1 kcal |
| Fat | 0 g | 0 g |
| - of which saturated fatty acids | 0 g | 0 g |
| Carbohydrates | 2.5 g | 0 g |
| - of which sugars | 2.3 g | 0 g |
| Protein | 1.3 g | 0 g |
| Salt | 0.0 g | 0 g |
Product reviews
0
opinion
Questions and Answers
Add a question about this product