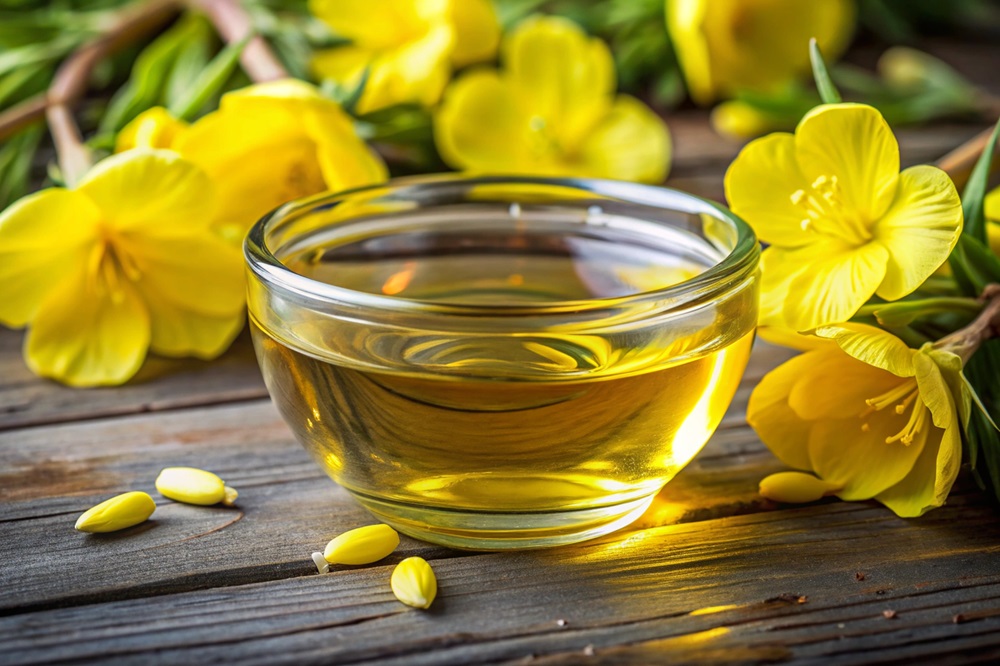 Evening primrose oil is a source of unsaturated fatty acids that can have health-promoting properties and have a beneficial effect on the human body. It is obtained from small evening primrose seeds and can be used in many areas of life both in cosmetics and as a support among people on reduction.
Why is it worth choosing evening primrose oil as a source of gamma-linolenic acid? And what specific properties distinguish evening primrose oil from other vegetable oils?
Evening primrose oil - What is it?
Evening primrose is a plant from the evening primrose family, in which about 120 different plant species can be distinguished. It is native to North America, from where it spread to other continents. Evening primrose came to Europe in the seventeenth century
Two most popular plants of the evening primrose family, from which oil is most often obtained, are:
evening primrose (Oenothera biennis),
oenothera (Oenothera paradoxa).
These plants have single stems and reach a height of 50 to 150 cm. Characteristic of evening primrose are yellow, collected in neat inflorescences flowers, which during the day remain closed and open for the evening. Their name is also associated with this property - Traditionally evening primrose flowers are referred to as "night candle", and the English name of evening primrose literally means "evening primrose".
Although in herbal medicine you can use virtually all parts of the plant, the most appreciated element are small seeds collected in oblong bags (in one bag there can be as many as 230 seeds) – They have the most valuable health-promoting properties and they can be a raw material for oil production.
Evening primrose oil was formerly widely used as a remedy for bruises, wounds and skin lesions, as well as a support in the fight against hemorrhoids, sore throat or digestive problems. And how is it today?
Pro-health properties of evening primrose oil - what are the reasons for them?
Evening primrose oil can have great pro-health potential due to its unique composition, compared to other vegetable oils.
More than 80% of fatty acids in evening primrose oil can be essential fatty acids (EFAs), of which 70% is linoleic acid and about 10% - gamma-linolenic acid (GLA) - It is primarily the content of gamma-linolenic acid that evening primrose oil can owe a number of beneficial properties.
There are vegetable oils that contain more GLA than evening primrose oil. So why is it worth using this oil?
Evening primrose oil can contain 7-10 g of GLA in 100 g of oil, while borage oil – 18-26 g and blackcurrant oil – 12-20 g. However, it is evening primrose oil that is distinguished by a very high bioavailability of GLA and more effective action, compared to other vegetable oils, despite the lower concentration of gamma-linolenic acid.
This may be primarily due to the structure of triacylglycerols molecules that form fat. Each triacylglycerol has 3 sites where the fatty acid can be attached. The position of the fatty acid in the molecule and the type of adjacent fatty acids determine how effectively they will be digested and used by the body. The position of GLA in triacylglycerol evening primrose oil and the low content of saturated fatty acids are preferred by pancreatic lipase, which clearly increases its biological value.
Beneficial effects of evening primrose oil may also be influenced by the presence of antioxidant vitamin E, phytosterols, polyphenols and minerals such as zinc, selenium, magnesium or calcium. The use of evening primrose oil as a source of GLA is therefore supported by both the amount of fatty acids and the quality of the oil.
Properties and action of primrose oil
Substancje aktywne obecne w oleju z wiesiołka mogą działać prozdrowotnie na organizm człowieka, przyczyniając się do poprawy odporności, łagodzenia dolegliwości bólowych, jak również wspierania urody i kondycji skóry, włosów oraz paznokci.
Polecane produkty z olejem z wiesiołka
Olej z wiesiołka a odporność
Obecne w oleju z wiesiołka niezbędne nienasycone kwasy tłuszczowe mogą wspierać prawidłowe funkcjonowanie układu immunologicznego, a tym samym mogą wzmacniać odporność organizmu. Zawarte w produkcie związki mogą również sprzyjać detoksykacji ustroju, niwelując szkodliwe substancje i zmniejszając stężenia metali ciężkich, takich jak ołów czy kadm.
Jakby tego było mało, olej z wiesiołka może łagodzić dolegliwości reumatyczne i pobudzać tkanki do regeneracji. Substancja może być stosowana również w problemach o podłożu zapalnym.
Olej z wiesiołka a cholesterol i układ krążenia
Olej z wiesiołka może pozytywnie wpływać na gospodarkę lipidową, oddziałując na zmniejszenie stężenia cholesterolu całkowitego w surowicy krwi, a także jego frakcji LDL i trójglicerydów. Jednocześnie produkt może przyczynić się do wzrostu stężenia frakcji HDL cholesterolu. Tym samym olej może działać kardioprotekcyjnie, zmniejszając ryzyko rozwoju miażdżycy czy choroby niedokrwiennej serca.
Dzięki bogactwu substancji czynnych w oleju z wiesiołka produkt może także przyczyniać się do obniżenia ciśnienia tętniczego krwi, rozszerzenia naczyń krwionośnych i poprawy przepływu krwi, jak również może wykazywać działanie antyagregacyjne na płytki krwi.
Olej z wiesiołka a układ nerwowy
Kwasy nienasycone zawarte w oleju z nasion wiesiołka mogą pozytywnie oddziaływać na funkcjonowanie centralnego układu nerwowego, wspierając pamięć, koncentrację i procesy myślowe, a także korzystnie wpływając na samopoczucie.
Olej z wiesiołka a skóra, włosy i paznokcie
Olej z wiesiołka, m.in. dzięki zawartości kwasu gamma-linolenowego, może korzystnie wpływać na kondycję skóry, dbając o jej nawilżenie i odpowiednie odżywienie. Substancja może być pomocna w przypadku atopowego zapalenia skóry czy łuszczycy. Ponadto olej z nasion wiesiołka można wykorzystywać również jako wsparcie w przypadku występowania egzemy, trądziku, alergii skórnej czy suchej skóry.
Włączenie do diety oleju z wiesiołka i odpowiednia podaż GLA, może zmniejszyć suchość skóry, utratę elastyczności i podatność na powstawanie zmarszczek. Jednocześnie związek może wpływać na zmniejszenie suchości i świąd skóry, a tym samym przyczynić się do mniejszej ilości podrażnień.
Kwasy tłuszczowe obecne w wiesiołku mogą także dbać o prawidłową kondycję płytki paznokciowej oraz o odpowiedni poziom nawilżenia skóry głowy. Olej z wiesiołka może neutralizować swędzenie skalpu i zmniejszać częstotliwość występowania łupieżu. Produkt i zawarte w nim substancje mogą odżywiać włosy, zmniejszając ich tendencję do przetłuszczania.
Olej z wiesiołka a odchudzanie
Olej z wiesiołka może wspierać trawienie i przyspieszać przemianę materii. Jednocześnie zawarte w produkcie kwasy GLA mogą uaktywniać funkcje brunatnej tkanki tłuszczowej i wspierać spalanie zbędnego tłuszczu, przekształcając go w energię. Tym samym olej z wiesiołka może wielotorowo wspomagać procesy redukcji masy ciała.
Jak stosować olej z wiesiołka?
Olej z wiesiołka dostępny jest w różnych postaciach, m.in. jako:
produkt spożywczy, umieszczony w butelkach z ciemnego szkła,
preparat dostępny w aptekach w małych buteleczkach, często z pipetą ułatwiającą jego dozowanie,
suplement diety w kapsułkach.
Wybór odpowiedniego oleju z wiesiołka zależy od preferowanej formy jego stosowania.
Decydując się na wykorzystywanie produktu jako dodatku do dań, takich jak kasze, sałatki czy surówki, warto sięgać po nierafinowany, tłoczony na zimno olej z wiesiołka. Warto wówczas pamiętać, iż taki olej nie nadaje się do smażenia, a jedynie do spożywania na zimno. Po otwarciu produkt musi być przechowywany w lodówce, a okres jego przydatności jest dość krótki, gdyż kwasy tłuszczowe w nim zawarte mogą szybko się utleniać (jełczeć) pod wpływem tlenu, światła i temperatury.
Olej z wiesiołka w kapsułkach może wyróżniać się natomiast dłuższą datą przydatności do spożycia i wygodą stosowania. Warto jednak pamiętać, aby przed zakupem suplementu diety sprawdzić jego skład i zawartość oleju w kapsułce.
Odpowiednia porcja suplementu i dawkowanie zależne są od rodzaju wybranego preparatu i umieszczone przez producenta na opakowaniu wybranego produktu.
W przypadku olejów przeznaczonych do picia zwykle rekomenduje się spożywanie jednej łyżki płynu przed posiłkiem, maksymalnie trzy razy dziennie. Z kolei podczas korzystania z suplementów w postaci kapsułek często zaleca się przyjmowanie 1-2 sztuk dziennie. Wszystko zależy jednak od zastosowanej dawki oleju z wiesiołka w preparacie.
Dziennie rekomenduje się, aby dostarczać do organizmu od 1 do 6 g związku.
Olej z wiesiołka - przeciwwskazania i skutki uboczne
Olej z wiesiołka uznawany jest za bezpieczną substancję, jednak mimo wielu prozdrowotnych właściwości, produkt spożywany w nadmiernych ilościach może także negatywnie wpływać na zdrowie, przyczyniając się do występowania niepożądanych objawów, takich jak nudności, biegunki, bóle brzucha i głowy czy wymioty.
Dlatego bardzo ważne jest zachowanie umiaru i stosowanie się do zaleceń producenta umieszczonych na opakowaniu produktu.
Nie każdy może jednak korzystać z dobrodziejstw oleju z wiesiołka. Produkt nie powinien być stosowany przez osoby, które:
przyjmują leki na krzepliwość krwi,
wyróżniają się niską krzepliwością krwi, skłonnością do krwawień i wybroczyn – olej z wiesiołka może je nasilać,
cierpią na padaczkę.
Olej z wiesiołka może wchodzić w interakcje z niektórymi lekami, dlatego podczas stosowania farmaceutyków warto skonsultować się z lekarzem, w celu omówienia możliwości korzystania z suplementów diety bogatych w olej z wiesiołka.
Bibliografia:
Data ostatniej aktualizacji: 05.01.2023