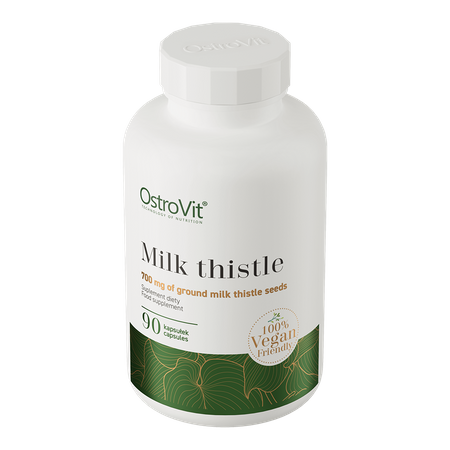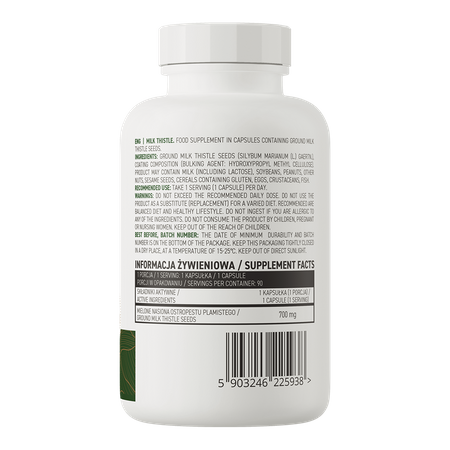 OstroVit Milk Thistle VEGE 90 capsules
Customers recommend!
Rating 5/ 5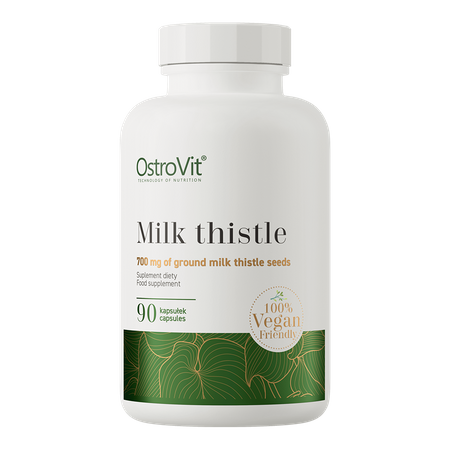 3,89 €
OstroVit Milk Thistle VEGE 90 capsules
OstroVit Milk Thistle VEGE is a dietary supplement which is a source of ground milk thistle seeds. It is a vegan preparation with a simple formulation, available in easy-to-swallow capsules. It is a product created for conscious consumers who care about supplementing their daily diet with valuable compounds.
1
CAPSULE
1 serving = 1 capsule
Source of milk thistle - one serving of the dietary supplement provides the body with 700 mg of ground milk thistle seeds.
Simple composition - the product does not contain unnecessary additives and fillers.
Suitable for vegetarians and vegans - the product does not contain ingredients of animal origin.
1 serving = 1 capsule.
Performance - the product package contains 90 servings of the product, which is enough for three months of regular supplementation.
Convenient form - the preparation is available in the form of easy-to-swallow capsules for a hassle-free supply of the dietary supplement.
OstroVit Milk Thistle VEGE - valuable dietary supplement
Milk Thistle - Silybum marianum - plant from the Asteraceae family, used in traditional medicine since ancient times. This herb is native to the Mediterranean and is currently found almost all over the world, both in Europe and Africa, as well as in areas of South and North America. Milk thistle in appearance resembles popular thistles, and the commonly used raw material obtained from the plant are its fruits, without pappus, and leaves. Milk thistle is a source of vitamins, minerals and bioactive substances. The richness of valuable compounds makes the plant and its individual parts, willingly used as components of dietary supplements.
The products in the VEGE line have been developed using only vegan ingredients. Due to the company's high safety policy and the fact that allergenic ingredients are used in the production plant, hence the information about the possibility of cross-contamination on the label. For more information, please contact us by e-mail.
Suggested usage
Take 1 serving (1 capsule) per day.
Do not exceed the recommended daily dose. Do not use the product as a substitute (replacement) for a varied diet. Recommended are balanced diet and healthy lifestyle. Do not ingest if you are allergic to any of the ingredients. Do not consume the product by children, pregnant or nursing women. Keep out of the reach of children.
Nutritional information
Ingredients
Ground milk thistle seeds (Silybum marianum (L.) Gaertn.), capsule shell (bulking agent: hydroxypropyl methylcellulose.
Product may contain milk (including lactose), soybeans, peanuts, other nuts, sesame seeds, oats, eggs, crustaceans, fish.
Nutrition Facts
| Active ingredients | 1 portion |
| --- | --- |
| Ground milk thistle seeds |  700 mg |
Product reviews
1
opinion
What customers say about this product
Questions and Answers
Add a question about this product