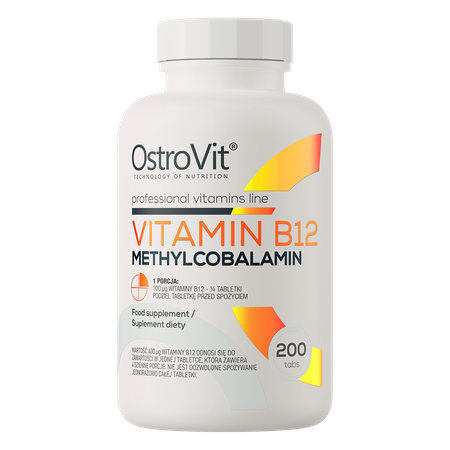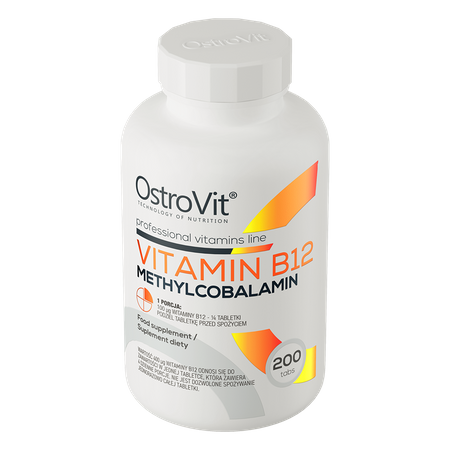 OstroVit Vitamin B12 Methylocobalamin 200 tablets
4,25 €
OstroVit Vitamin B12 Methylocobalamin 200 tablets
OstroVit Vitamin B12 Methylcobalamin is a high-quality dietary supplement, which is a source of vitamin B, in the best form - methylcobalamin. It is a preparation available in the form of easy-to-swallow tablets, created for people who want to supplement their daily diet with a valuable micronutrient.
1/4
Tablet
1 serving = 1/4 tablet
Source of vitamin B12 in the best form - one serving of the dietary supplement contains 100 ug of methylcobalamin - a compound that is absorbed much faster and stays in the body for longer, compared to other forms of vitamin B12.
1 serving = ¼ tablet.
Performance - the product package contains up to 800 servings of the preparation, which is enough for many months of supplementation.
Convenient form - the preparation available in the form of easy-to-swallow tablets.
Suitable for vegetarians and vegans - dietary supplement does not contain ingredients of animal origin.
OstroVit Vitamin B12 Methylcobalamin - a source of well-absorbed vitamin B12
Vitamin B12, also known as cobalamin or the red vitamin, is an organic chemical compound classified as a water-soluble B vitamin. It is an organometallic substance in which bonds are present between metal ions (in this case cobalt) and various molecules and anions.
Vitamin B12 naturally occurs in animal products. The compound can be found in meat, milk and dairy products, as well as fish and seafood. Some vegan products, such as plant-based drinks and breakfast cereals, are also enriched in the substance, with the aim of ensuring an adequate supply of the compound among people who limit or eliminate animal products, which are a natural source of the valuable micronutrient, from their daily diet.
Vitamin B12 is available in various forms, which differ in the degree of absorption and assimilability. The OstroVit preparation used methylcobalamin, a compound that is characterized by high bioavailability and is easily absorbed by the body. It is an active form that also provides the body with methyl groups, thanks to which it is particularly recommended among people with disorders related to methylation processes. Methylcobalamin is quickly absorbed and remains in tissues longer, and moreover does not contain harmful cyanide. Thus, the dietary supplement OstroVit is a valuable addition to the daily diet, which provides the supply of the highest quality micronutrient.
Properties of the ingredients contained in OstroVit Vitamin B12 Methylocobalamin:
Vitamin B12 present in the preparation:
Contributes to the maintenance of normal energy metabolism,
Helps in the proper functioning of the nervous and immune systems,
Supports the maintenance of optimal homocysteine metabolism,
Helps maintain normal psychological functions,
Contributes to the reduction of tiredness and fatigue,
Supports proper production of red blood cells,
Plays a role in the process of cell division.
Suggested usage
Take 1 serving (1/4 tablet) a day. Product is intended for adults.
Do not exceed the recommended daily dose. Do not use the product as a substitute (replacement) for a varied diet. Recommended are a balanced diet and healthy lifestyle. Do not ingest if you are allergic to any of the ingredients. Children and nursing women must not take the product. Keep out of the reach of children.
Nutritional information
Ingredients
Bulking agent: microcrystalline cellulose; starch, anti-caking agents: magnesium salts of fatty acids, silicon dioxide; methylcobalamin (vitamin B12).
Product may contain milk (including lactose), soy, peanuts, other nuts, sesame seeds, cereals containing gluten, eggs, crustaceans, fish.
Nutrition Facts
| Active ingredients | 1/4 tablet | % RI* | 1 tablet | % RI* |
| --- | --- | --- | --- | --- |
| Vitamin B12 | 100 µg | 4 000 | 400 µg | 16 000 |
*RI- Reference intake
Product reviews
0
opinion
Questions and Answers
FAQ
Hi, Are the "Magnesium salts of fatty acids" from this item from animal sources, please? Fish is okay, but is it from bovine, chicken or pork? Thank you.
Hi,
Magnesium salts of fatty acids is come from vegetable. It's not contain any ingredient of animal origin. 
Do you need more information?
If the above information is not sufficient for you, please send us your question. We will do our best to answer them.
Add a question about this product