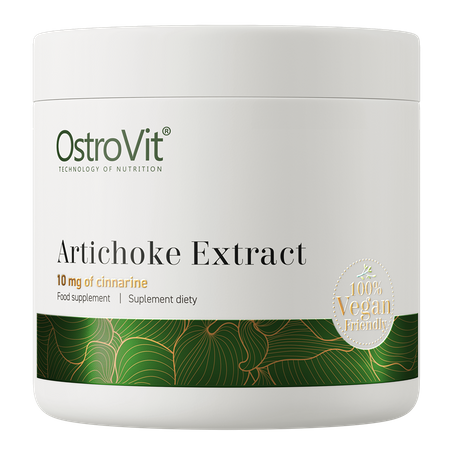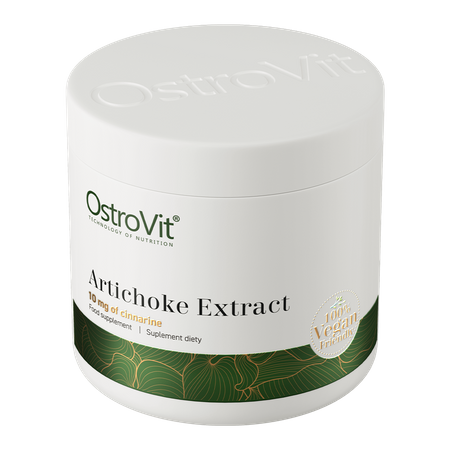 OstroVit Artichoke Extract 100 g natural
6,73 €
OstroVit Globe Artichoke Extract 100 g
OstroVit Globe Artichoke Extract is a natural dietary supplement which contains a pure globe artichoke leaves extract. This vegetable has a positive impact on operation of the digestive system – not only does it support the liver, but it also regulates cholesterol level in blood and is known for assisting in weight loss. The natural cinarine included in the artichoke extract detoxicates the organism and boosts toxins removal. Do you have digestive issues and look for a dietary supplement to counteract them? Choose globe artichoke extract from OstroVit!
What is OstroVit Globe Artichoke Extract?
Cynara scolymus L., that is globe artichoke, is a medicinal plant and its natural habitat is the Mediterranean Sea area. Yet it is also cultivated in other parts of Europe and North America. Artichoke has been used to treat people since ancient times. The cinarine included in this vegetable regulates operation of liver and bile ducts as well as boosts metabolism.
The globe artichoke also contains inulin whose primarily task is to regulate the sugar level in blood. Additionally, the plant is rich in vitamin C, B, A, E, K, folic acid, minerals and fatty acids. Choose OstroVit globe artichoke extract if you look for a natural product which:
fosters digestion
lets you keep your liver and bowels healthy
regulates production of digestive juices
counteracts bloating and nausea
reduces hunger
helps you control your weight
cleanses organism from the inside
Properties:
OstroVit Globe Artichoke Extract dietary supplement contains a pure globe artichoke leaves extract, standardized for 5% of cinarine, thanks to which its efficacy is the same for each batch of the product. Cinarine has anti-oxidant and anti-bacterial properties. It may also reduce cholesterol in blood.
Major features of the supplement:
SUPPORTED DIGESTION - The globe artichoke has a positive influence of operation of liver and bowels, as well as boosts production of digestive juices, thus reducing unpleasant ailments after having a meal.
SLIMMING PROPERTIES - Aside from health-promoting impact, globe artichoke extract can help you when you wish to lose extra kilograms. Thanks to high content of fiber, this agent suppresses appetite and reduces hunger.
VITAMINS AND MINERALS - OstroVit Globe Artichoke Extract is a rich source of vitamins and minerals, such as iron, calcium, potassium, magnesium, sodium, phosphorus and zinc.
VEGAN PRODUCT - Thanks to the fact that the supplement contains only a pure extract from Cynara scolymus L., you can use it also if you are vegan. The supplement is free from colorants, fillers and any other substances which may hinder its effect.
Suggested usage
Take 1 serving - 200 mg (1 scoop) daily with meal, drink water. Please use the scoop included in the package (0,5 ml).
Do not exceed the recommended daily dose. Do not use the product as a substitute (replacement) for a varied diet. Recommended are balanced diet and healthy lifestyle. Do not ingest if you are allergic to any of the ingredients. Do not consume the product by children, pregnant or nursing women. Keep out of the reach of children.
Nutritional information
Ingredients
Artichoke leaf extract (Cynara scolymus L.) standardized on 5% of cinnarine.
Product may contain milk (including lactose), soy, peanuts, other nuts, sesame seeds, cereals containing gluten, eggs, crustaceans, fish.
Nutrition Facts
| Active ingredients | Per portion |
| --- | --- |
| Artichoke leaf extract, of which: | 200 mg |
| - cinnarine (5%) | 10 mg |
Product reviews
0
opinion
Questions and Answers
Add a question about this product