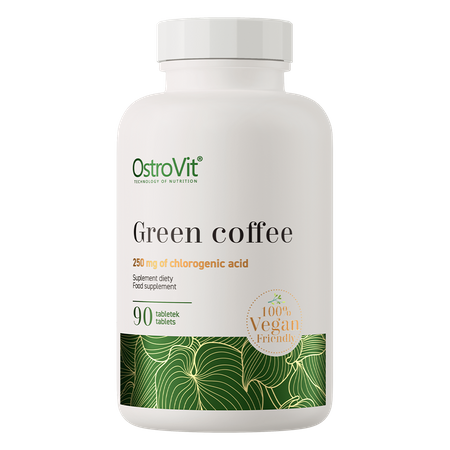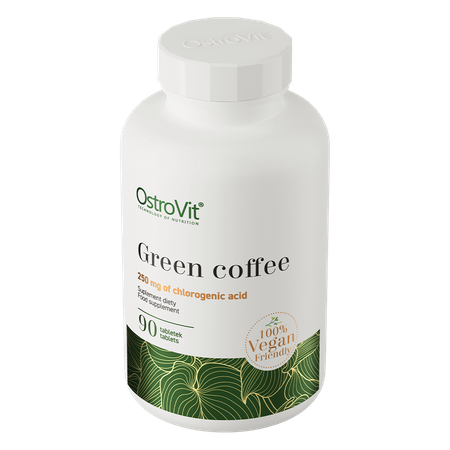 OstroVit Green Coffee 90 tabs
6,38 €
OstroVit Green Coffee 90 tabs
OstroVit Green Coffee is the highest quality dietary supplement in tablets containing green coffee bean extract. Each tablet contains 500 mg of pure extract, which is characterized by a high content of caffeine, thanks to which the preparation has strong stimulating and stimulating properties. Due to its high content of cholic acid, it effectively supports slimming and increases thermogenesis of the whole body.


90 tablets with green coffee extract in the package
The content of chlorogenic acid
1 serving = 1 tablet
"Pure energy in a tablet."
Green coffee
The green coffee extract is characterized by a much higher content of molecules known as chlorogenic acid compared to previously burnt coffee beans. The chlorogenic acids in the green coffee extract are easily absorbed, and in themselves or their metabolites (such as ferulic acid) have many beneficial effects on the human body. Oral intake of green coffee extract may slightly reduce body weight in overweight and obese people. The high content of this acid limits the absorption of sugars from the gastrointestinal tract. In addition, it slows down the secretion of glucose into the blood after a meal and increases the sensitivity of tissues to insulin. It is a powerful antioxidant. It has strong antibacterial, antiviral and antifungal properties.
Properties:
Supports slimming
Reduces appetite
Adds energy
Helps maintain adequate cholesterol levels
Speeds up the metabolism
Supports cellulite reduction
Suggested usage
Use 1 serving a day.
On training days, take a serving before training. On non-training days, one serving before lunch.
Do not exceed the recommended daily allowance. A dietary supplement cannot be used as a substitute (replacement) for a varied diet. A balanced diet and a healthy lifestyle are recommended. Do not eat if you are allergic to any of the ingredients of the product. The product should not be used by children, pregnant women and nursing mothers. Keep out of the reach of small children.
Nutritional information
Ingredients
Green coffee extract, fillers: calcium phosphate, microcrystalline cellulose, anti-caking agents: magnesium salts of fatty acids, silicon dioxide.
Contains caffeine; not recommended for children and pregnant women (caffeine content 25 mg in one serving); Do not consume with other products that are a source of caffeine or other ingredients with similar effects.
Nutrition Facts
Net weight of product: 90 g
Servings per container: 90
| Active ingredients | For a portion |
| --- | --- |
| Green coffee extract |  500 mg  |
| - including chlorogenic acid (50%) | 250 mg |
| - including caffeine (5%) | 25 mg |
Product reviews
0
opinion
Questions and Answers
Add a question about this product