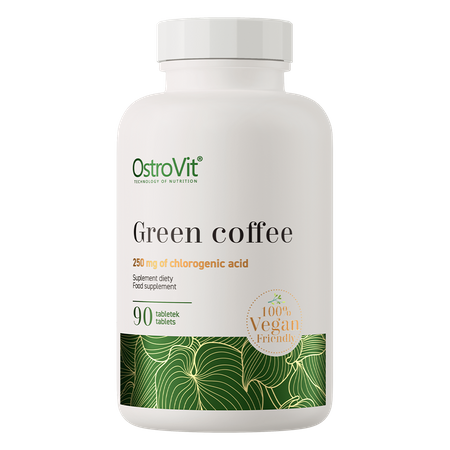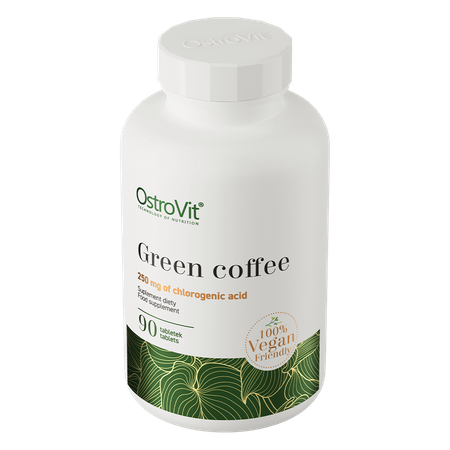 OstroVit Green Coffee 90 tabs
4,26 €
OstroVit Green Coffee 90 tablets
OstroVit Green Coffee is the highest quality dietary supplement in tablets containing green coffee bean extract. Each tablet contains 500 mg of pure extract, which is characterized by a high content of caffeine. In addition, it is a great source of chlorogenic acid.


90 tablets with pure green coffee extract
1 serving = 1 tablet
Ideal for vegans and vegetarians
Green Coffee - a source of caffeine and chlorogenic acid
Chlorogenic acid - its main source is green coffee extract. This means that it has the ability to eliminate free radicals. Supplementation also allows you to support metabolic and digestive processes - Chlorogenic acid helps reduce appetite and reduces the amount of glucose absorbed from the gastrointestinal tract.
Caffeine - is a substance naturally occurring mainly in cocoa beans, although several dozen plant species containing it are known. It is an alkaloid blocking selected adenosine receptors, causing the release of neurotransmitters, i.a. acetylcholine, norepinephrine, dopamine, serotonin, thus affecting the stimulation of the central nervous system and vasodilation. As a result, it stimulates us to action, adds energy and increases our efficiency, which is why it is so eagerly added to many beverages and dietary supplements. Moreover, caffeine has a diuretic effect and can positively affect fat burning, stimulating metabolic processes.
Suggested usage
Use 1 serving a day.
On training days, take a serving before training. On non-training days, one serving before lunch.
Do not exceed the recommended daily allowance. A dietary supplement cannot be used as a substitute (replacement) for a varied diet. A balanced diet and a healthy lifestyle are recommended. Do not eat if you are allergic to any of the ingredients of the product. The product should not be used by children, pregnant women and nursing mothers. Keep out of the reach of small children.
Nutritional information
Ingredients
Green coffee extract, fillers: microcrystalline cellulose, anti-caking agents: magnesium salts of fatty acids, silicon dioxide.
Contains caffeine; not recommended for children and pregnant women (caffeine content 25 mg in one serving); Do not consume with other products that are a source of caffeine or other ingredients with similar effects.
Nutrition Facts
Net weight of product: 90 g
Servings per container: 90
| Active ingredients | For a portion |
| --- | --- |
| Green coffee extract |  500 mg  |
| - including chlorogenic acid (50%) | 250 mg |
| - including caffeine (5%) | 25 mg |
Product reviews
0
opinion
Questions and Answers
Add a question about this product