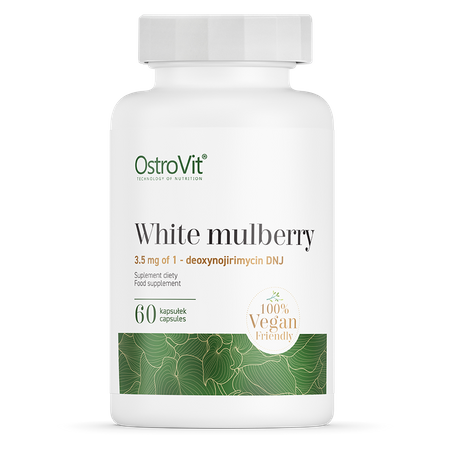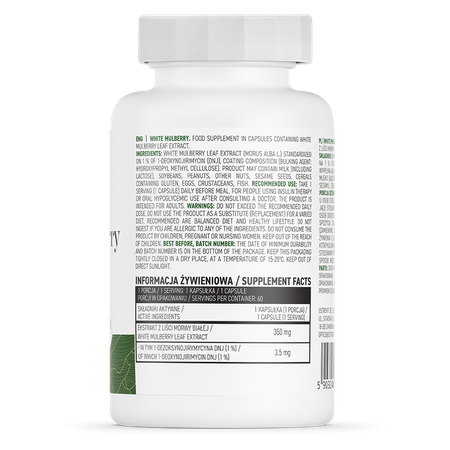 OstroVit White Mulberry VEGE 60 vcaps
4,26 €
OstroVit White Mulberry VEGE 60 vcaps
OstroVit White Mulberry VEGE is a vegan food supplement in HPMC (cellulose) capsules, containing extract from white mulberry leaves. 100% Vege Capsules is a line of supplements that sets the latest trends in line with the idea behind the vegan lifestyle. The supplements do not contain any substances and no zoonotic additives, which makes them friendly for vegans and vegetarians. OstroVit 100% VEGE CAPSULES is the quality, care and response to our customers' expectations.
1
Capsule
1 serving = 1 capsule
60 vegan capsules (HPMC) in the package
1 pack = 60 servings of the product
Standardization for 1-DNJ compound (1-desoxin-irimycin)
High quality and low price
White mulberry leaf extract
White mulberry is a plant (a small tree) of the mulberry family, used for medicinal purposes already in traditional Chinese medicine. Due to its content of the substance 1-DNJ (1-desoxin-irimycin), it is primarily known for its ability to regulate glucose-insulin metabolism. White mulberry can regulate the glucose metabolism, as well as reduce the increase in blood glucose after a meal, so it is recommended for diabetics and people who want to shed unnecessary excess kilograms. White mulberry is also an effective plant that acts on the body antioxidantally, i.e. as an antioxidant. Antioxidants are compounds that "fight" against free radicals or reactive oxygen species (ROS). Free oxygen radicals can very easily enter into chemical reactions, oxidizing cell structures, leading to DNA damage and cell dysfunction. White mulberry, due to its high vitamin B content, also has a neuroprotective effect, and there are indications of antidepressive or pro-cognitive effects.
Properties of the ingredients contained in OstroVit White Mulberry VEGE:
Support the control of post-meal glycemia
They can help to "reduce" body fat
They show an antioxidant effect - a free radical scavenger
Can reduce the level and oxidation of low density lipoproteins - LDL
Help to maintain proper body weight
Laboratory-confirmed quality
For the sake of our customers' health, the products we manufacture are regularly tested in an independent accredited laboratory to ensure and maintain the highest quality.






Suggested usage
Take 1 serving (1 capsule) daily before meal.
For people using insulin therapy or oral hypoglycemic use after consulting a doctor. The product is intended for adults.
Do not exceed the recommended daily dose. Do not use the product as a substitute (replacement) for a varied diet. Recommended are balanced diet and healthy lifestyle. Do not ingest if you are allergic to any of the ingredients. Do not consume the product by children, pregnant or nursing women. Keep out of the reach of children.
Nutritional information
Ingredients
White mulberry leaf extract (Morus alba L.) standardized on 1% of 1-deoxynojirimycin (DNJ), coating composition (bulking agent: hydroxypropyl methyl cellulose).
Product may contain milk (including lactose), soybeans, peanuts, other nuts, sesame seeds, oats, eggs, crustaceans, fish.
Nutrition Facts
| Active ingredients | 1 capsule (1 serving) |
| --- | --- |
| White mulberry leaf extract | 350 mg |
| - of which 1-deoxynojirimycin DNJ (1%) | 3.5 mg |
Product reviews
0
opinion
Questions and Answers
Add a question about this product