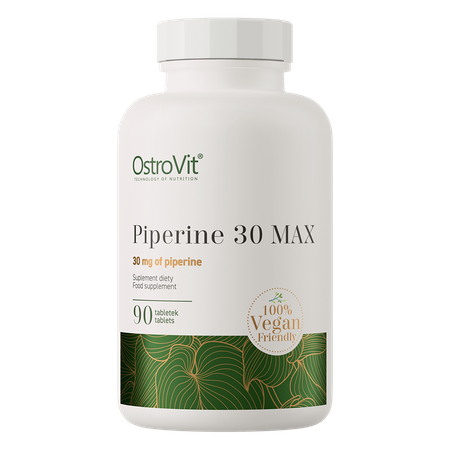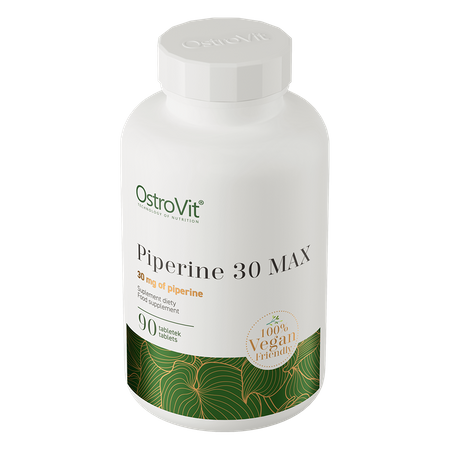 OstroVit Piperine 30 mg MAX VEGE 90 tabs
2,90 €
OstroVit Piperine 30 mg MAX VEGE 90 tablets
OstroVit Piperine 30 MAX is a black pepper fruit extract with as many as 95% of piperine. The supplement is available in the form of easy-to-swallow tabs which support operation of many systems. Piperine can help you slim down and has strong cleansing properties. It also regulates absorption of other valuable nutrients.

Why to use black pepper extract?
Black pepper is a rich source of piperine which gives its fruits a spicy flavor. Unfortunately, in the process of drying and grinding, the content of this component drops drastically. For this reason the pepper you use in the kitchen has limited pro-health properties.
Piperine is known for its antioxidant properties - it reduces the formation of free radicals, thus supporting cell regeneration. In addition, it can also stimulate the digestive system, supporting metabolism and acting antidiarrheally. Its regular intake may influence the pace of post-workout regeneration.
Properties of the ingredients contained in OstroVit Piperine 30mg MAX:
HIGH PIPERINE CONTENT - Thanks to high content of piperine in the extract, as many as 95%, the supplement proves to be highly effective.
DIGESTION SUPPORT - Piperine supports digestive system and boosts weight loss. Its operation is based on regulation of gastric juices.
INCREASE BIO-AVAILABILITY - The use of black pepper extract can strengthen effects of other nutrients. If you use products rich in curcumin, coenzyme Q10 or beta-carotene, piperine may assist in absorbing them.
EASY USE - OstroVit Piperine 30 MAX dietary supplement comes in tabs which you can swallow at any time of the day. Simply sip the recommended daily dose of the supplement with water and enjoy the effects piperine can give you.
Suggested usage
Take 1 serving (1/4 tablet) per day. Product is intended for adults.
Do not exceed the recommended daily dose. Do not use the product as a substitute (replacement) for a varied diet. Recommended are balanced diet and healthy lifestyle. Do not ingest if you are allergic to any of the ingredients. Children, pregnant or nursing woman must not take the product. Keep out of the reach of children.
Nutritional information
Ingredients
Bulking agent: microcrystalline cellulose; starch, black pepper fruit extract (Piper nigrum L.) containing 95% of piperine, anticaking agents: magnesium salts of fatty acids, silicon dioxide.
Product may contain milk (including lactose), soybeans, peanuts, other nuts, sesame seeds, cereals containing gluten, eggs, crustaceans, fish.
Nutrition Facts
| Active ingredients | Per portion (1/4 tablet) | 1 tablet |
| --- | --- | --- |
| Black pepper fruit extract, of which: | 7.9 mg | 31.6 mg |
| - piperine (95%) | 7.5 mg | 30 mg |
Product reviews
0
opinion
Questions and Answers
Add a question about this product