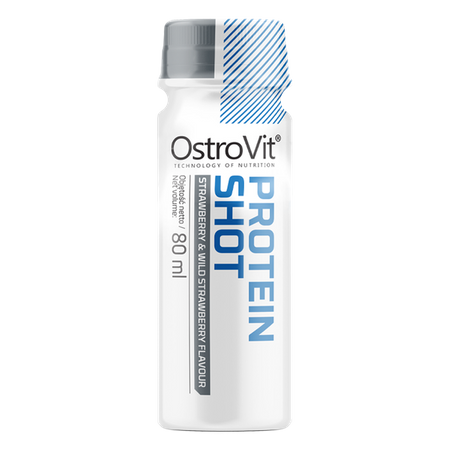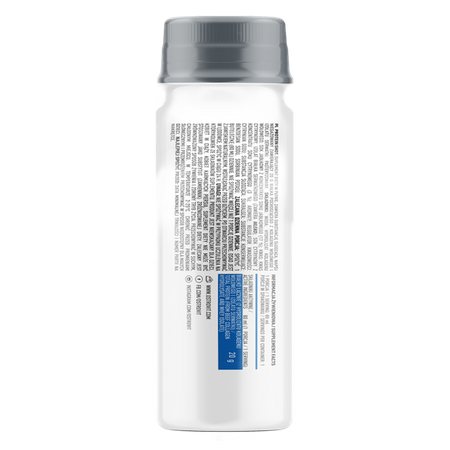 OstroVit Protein Shot 80 ml strawberry & wild strawberry
1,42 €
OstroVit Protein Shot 80 ml
OstroVit Protein Shot is a source of protein in the form of a strawberry & wild strawberry-flavored shot. Our next innovative preparation from the series of OstroVit shots is a comprehensive combination of two types of proteins - derived from whey protein isolate and beef protein hydrolyzate. Shot will be an ideal addition to the diet for physically active people who need to supplement the level of protein on a daily basis, which is so important both in the period of building muscle mass and reducing body fat. From now on, you don't have to worry about preparing a protein shake every time you go to the gym - you can take our ready OstroVit Protein Shot in a convenient bottle with you anywhere!

up to 20 g of protein in one serving of a shot
convenient packaging
delicious strawberry & wild strawberry flavor
Physical activity and the amount of protein in the diet
They have a direct influence on each other. Well, with each intense physical effort, there is an increase in protein synthesis processes in the body and greater consumption of body proteins - catabolism, which increases the demand for wholesome proteins. Although the sources of protein in our diet are not lacking - meat, fish, eggs, milk and its products, it is not always possible to provide its daily requirement, especially in people who train intensely and engage in physical activity. Fortunately, with the development of technology, it has become possible to obtain various forms of protein for additional supplementation - whey protein isolates and beef protein hydrolysates are the most popular, which can also be found in our OstroVit Protein Shot.
Check what types of proteins are present in our OstroVit Protein Shot and what they are characterized by:
Whey protein isolate - is a form of protein with a content higher than 80%. It is characterized by a small amount of fats and carbohydrates and a negligible amount of lactose. Whey proteins are used in the diet of athletes and people during convalescence, ensuring better muscle regeneration. In addition, it has an anti-catabolic effect - prevents muscle breakdown and effectively supports the growth of lean body mass. Supports the feeling of satiety.
Beef protein hydrolyzate - thanks to its high bioavailability and the highest nutritional value, beef protein hydrolyzate effectively accelerates the building of lean body mass. Stimulates the growth and regeneration of muscle fibers. In addition, it works anti-catabolic - prevents muscle breakdown. It is an excellent preparation to be used both before and after exercise. The use of the product is effective during weight reduction, as it stimulates the burning of body fat, especially that located in the abdominal area. Beef protein isolate is considered the basis of the diet of every athlete. It is especially recommended for strength sports, bodybuilding and fitness.
Suggested usage
Take 1 bottle (80 ml) daily. Do not consume more than 1 serving a day. Sediment is a natural phenomenon. Shake before use. Once opened, store in the fridge, consume within 24 hours.
Do not ingest if you are allergic to any of the ingredients. The product is not indicated for children, pregnant women and breastfeeding women. Do not use the product as a substitute (replacement) for a varied diet. Recommended are balanced diet and healthy lifestyle. Store in a cool, dry place at 2-25°C. Protect from sunlight and freeze. Keep out of reach of children.
Nutritional information
Ingredients
Water; beef collagen hydrolysate; apple juice from apple juice concentrate (17 %); acid: citric acid; whey protein isolate (contains milk); lemon juice from lemon juice concentrate (3 %); flavourings; acidity regulator: sodium citrate; sweetener: sucralose; preservatives: sodium benzoate, potassium sorbate.
Food supplement in liquid. With sweetener. Non-carbonated beverage containing 20 g of protein derived from bovine collagen and whey isolate. Pasteurized.
Nutrition Facts
| Active ingredients | at 1 serving |
| --- | --- |
| Total protein (from beef collagen hydrolysate and whey isolate) | 20 g |
.table_wrapper{text-align: center;display: block;font-weight: 600;text-transform: uppercase;padding: 10px;border: 1px solid #f1f1f1;} .nutrition_table_wrapper{max-width: 700px;font-size: 12px;} .nutrition_table_wrapper table{max-width: 700px;font-weight: 500;width: 100%;text-transform: none;} .nutrition_table_wrapper table th{padding: 10px 0;} .nutrition_table_wrapper table td{padding: 10px 0;border-top: 1px solid #f1f1f1; } .top_info label{min-width: 300px;} span.table_label{font-size: 25px;padding: 10px 0 20px; display: block; margin-bottom: 10px; border-bottom: 5px solid #3c0b8f;} .top_info{display: block; font-weight: 600; margin-bottom: 10px;} .top_info label{width: 30%; display: inline-block;} @media only screen and (max-width: 757px){ .nutrition_table_wrapper{max-width: 320px;} .nutrition_table_wrapper table{max-width: 320px;} .top_info label{width: 80%;}} -->
| Nutritional value | 100 ml |
| --- | --- |
| Energy | 455 kJ / 107 kcal |
| Fat | 0 g |
| -of which saturated fatty acids | 0 g |
| Carbohydrates | 1.9 g |
| - of which sugars | 1.8 g |
| Fiber | 0 g |
| Protein | 23.6 g |
| Salt | 0.02 g |
Product reviews
0
opinion
Questions and Answers
Add a question about this product