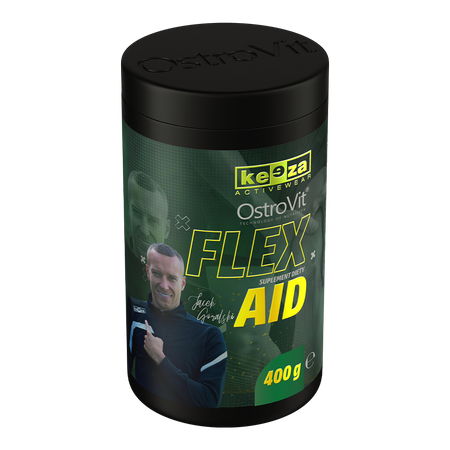 OstroVit KEEZA Flex Aid 400 g gruszkowo-limonkowy
15,42 €
OstroVit KEEZA Flex Aid 400 g
OstroVit KEEZA Flex Aid is a set of eleven active ingredients in a convenient to administer powder form for dissolution in water. The ingredients in our formula support the function and regeneration of joints and bones. Keeping them in good shape allows for safe and effective daily workouts. That is why our Dietary Supplements OstroVit KEEZA Flex Aid is recommended especially for people who regularly practice physical activity, so that they can comprehensively take care of their musculoskeletal system.

20 servings of the supplement in the form of a powder to dissolve in water
1 serving = 3 scoops of supplement
complex combination of active ingredients
Properties of the ingredients contained in OstroVit KEEZA Flex Aid:
PROTECTION AND STRENGTHENING JOINTS AND BONES – Ingredients such as collagen, chondroitin sulfate, hyaluronic acid and a complex of vitamins C, D3 and K2 directly affect the efficiency of bones and joints.
EASY TO USE – Perfect for people who avoid supplementation in the form of tablets. It is enough to dissolve 20 g of our supplement in 100-150 ml of water or juice once a day.
FRUITY TASTE – Pear-lime taste of the liquid makes regular supplementation a pleasure.
Check what action the individual active ingredients contained in the supplement have:
Hydrolyzed beef collagen. In our preparation in a dose of as much as 10,000 mg. Its basic function is to maintain the structural integrity of tissues and organs, it binds water in tissues, it is very important in regenerative processes - wound healing, scar formation, bone fusion after fractures. Enables better absorption of minerals, increasing bone density, supports protective and repair processes in cartilage tissue.
Methylsulfonylmethane MSM. It is an organic sulfur compound. Like glucosamine, it is often recommended for joint problems. In addition, sulfur also participates in the synthesis of collagen and keratin. These substances are necessary for the maintenance of strong and healthy hair, skin and nails.
Glucosamine sulfate 2KCL. It is a substance that is a building block of compounds found in articular cartilage. Supplementation is recommended during the period of increased physical exertion and greater strain on the joints. The lack of this substance means that the joints do not do their job properly.
Calcium. It is needed for the maintenance of healthy bones and teeth, and also helps in the proper functioning of muscles. Calcium additionally contributes to normal blood clotting and the maintenance of normal energy metabolism and normal nerve transmission.
Vitamin C. As L-acrobic acid, it is an essential nutrient in the human diet. It is responsible for the proper functioning of connective tissue and bones, and participates in the synthesis of collagen. Is a strong antioxidant.
Magnesium. Supports carbohydrate, fat and protein metabolism. Supports nerve conduction and the circulatory system.
Chondroitin sulfate. Takes part in eliminating the feeling of friction between joint surfaces. In addition, chondroitin naturally supports the production of synovial fluid, which is responsible for the proper functioning of the joints. Thanks to this, their structure is not subject to destruction, and the quality of the movement is still at the correct level.
Hyaluronic acid. One of the most desirable advantages of hyaluronic acid during its supplementation is its positive effect on the functioning of bones, joints and connective tissue - it is responsible for the elasticity of joint cartilage and determines the viscoelastic properties of joint fluid.
Vitamin B6. Helps in the normal synthesis of cysteine, contributes to the maintenance of normal energy metabolism, helps in the normal functioning of the nervous system and in the maintenance of normal homocysteine metabolism. This vitamin contributes to the maintenance of normal protein and glycogen metabolism.
Vitamin K2 Otherwise menaquinone, derived from natto. It is involved in many physiological processes in the human body. First of all, it is involved in the process of blood clotting and in the development and proper functioning of the skeletal system. In the form of MK-7, it is the most bioavailable form of vitamin K.
Vitamin D3. Otherwise known as cholecalciferol. Supports the body's calcium and phosphate balance, maintains the proper level of calcium in the blood. It affects the proper functioning of the muscles.
Suggested usage
Mix the recommended serving of 20 g (3 scoops) in 100-150 ml of water or juice. Consume once a day. Before use, it is advisable to perform a 25-(OH)D blood test and consult the test result with your doctor or pharmacist. This product is intended for adults.
Do not exceed the recommended daily serving for consumption. The dietary supplement should not be used as a substitute (replacement) for a varied diet. A balanced diet and healthy lifestyle is recommended. Do not consume if you are allergic to any of the product ingredients. The product should not be used by children, pregnant women, nursing mothers and people taking anticoagulants containing vitamin K antagonists (e.g. warfarin and acenocoumarol). Keep out of reach of small children. Store at 15-25°C, in a closed container, in a dry place. Protect from direct sunlight.
Nutritional information
Ingredients
Hydrolyzed beef collagen, maltodextrin, acidity regulator: citric acid; methylsulfonylmethane, glucosamine sulfate 2KCL (contains shellfish), magnesium salts of citric acid (magnesium), calcium carbonate (calcium), anti-caking agent: Silicon dioxide; L-ascorbic acid (vitamin C), flavors, chondroitin sulfate, sweeteners: sucralose, acesulfame K; color: carotenes; cholecalciferol (vitamin D), hyaluronic acid (sodium hyaluronate), pyridoxine hydrochloride (vitamin B6), menaquinone-7 MK-7 (vitamin K) derived from Bacillus subtilis natto.
Product may contain milk (including lactose), soybeans, peanuts, other nuts, sesame seeds, cereals containing gluten, eggs, shellfish, fish.
Nutrition Facts
| Active ingredients | 20 g (1seving) | % RI* |
| --- | --- | --- |
| Hydrolyzed beef collagen | 10 000 mg | - |
| Methylsulfonylmethane (MSM) | 500 mg | - |
| Glucosamine sulfate 2KCL | 500 mg | - |
| Calcium | 120 mg | 15% |
| Vitamin C | 100 mg | 125% |
| Magnesium | 57 mg | 15% |
| Chondroitin sulfate | 40 mg | -  |
| Hyaluronic acid (sodium hyaluronate) | 20 mg | - |
| Vitamin B6 | 1 mg | 71% |
| Vitamin K | 75 µg | 100% |
| Vitamin D | 50 µg/2000 IU | 1000% |
*RI - Reference Intake
Product reviews
0
opinion
Questions and Answers
Add a question about this product