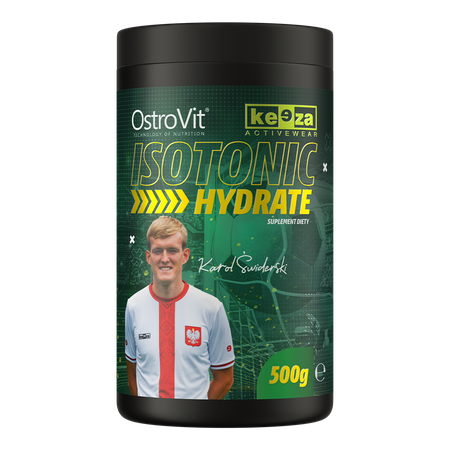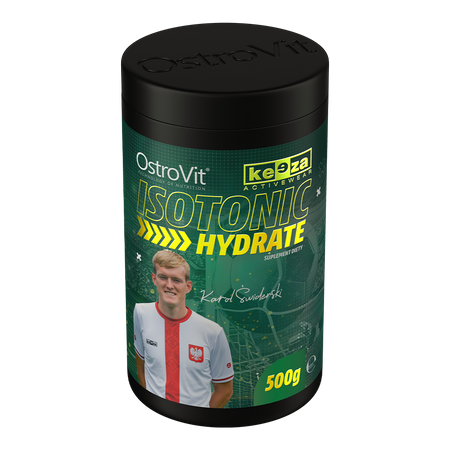 OstroVit KEEZA Isotonic 500 g mango
6,52 €
OstroVit KEEZA Isotonic 500 g
OstroVit KEEZA Isotonic is another of the series of isotonic OstroVit, a powdered dietary supplement for the preparation of an isotonic drink solution, with a juicy mango flavor. The group of isotonic drinks aims to regulate the body's water and electrolyte balance, i.e. the loss of excessive amounts of water caused by intense exercise or problems with the digestive system. A high concentration of vitamins and minerals is the basis for proper hydration of the body, which is essential in our daily functioning.

25 servings of the product in a package
High concentration of vitamins and minerals
Addition of L-carnitine
It also contains B vitamins
Delicious flavor version
OstroVit KEEZA Isotonic
OstroVit KEEZA Isotonic is a wealth of vitamins, minerals and a special composition of electrolytes, which are essential especially during very intense physical activity. Isotonic drink promotes proper hydration of our body, prevents muscle cramps, while containing a low amount of calories, which is favorable for people who care about their figure. The product is very soluble in water and very easy to prepare. Isotonic drinks are primarily dedicated to athletes, long-distance runners, marathon runners and people with increased daily physical activity.
Properties of the ingredients contained in OstroVit KEEZA Isotonic:
Glucose contrary to popular opinion, its presence is not intended to improve the taste qualities - it ensures efficient absorption of water by our body, and thanks to the combination with glucose, electrolytes are more effectively transported to the tissues.
Potassium promotes proper muscle tone. It can control the volume of water in the body and regulate pressure. Has an effect on the functioning of the nervous system.
Calcium conducts nerve impulses. It participates in the process of cell division and regeneration. Promotes blood clotting, regulates muscle function and contributes to the regulation of hormonal activity.
Magnesium helps in the proper functioning of muscles and in maintaining electrolyte balance. Contributes to the maintenance of normal energy metabolism and helps in the proper functioning of the nervous system.
Chlorine ensures proper nerve conduction and permeability of cell membranes. Regulates the body's water and electrolyte balance, activates digestive enzymes.
Sodium maintains the water-electrolyte and acid-base balance in the body. It also participates in the transport of nutrients to cells.
L-carnitine contributes to fat burning and may also increase training endurance.
B vitamins perform many functions in our body - they affect the functioning of the immune, nervous and cardiovascular systems, support the proper growth and development of the body, take an active part in the synthesis of sex hormones. They play an important role in metabolism and energy management.
Vitamin C vitamin known for many valuable and necessary properties. It is mainly responsible for the proper functioning of connective tissue and bones, and participates in the synthesis of collagen.
Suggested usage
Mix a 20 g serving (2.5 scoops) in 500 ml of water. Consume 1 serving during training.
Do not exceed the recommended daily serving. The dietary supplement must not be used as a substitute (replacement) for a varied diet. A balanced diet and healthy lifestyle is recommended. Do not consume if you are allergic to any of the product ingredients. The product should not be used by children, pregnant women and nursing mothers. Keep out of the reach of small children. Store at 15-25°C, in a closed container, in a dry place. Protect from direct sunlight.
The product has strong hygroscopic properties (strongly absorbs moisture). The formation of lumps or a uniform (lumpy) consistency is not an indication of a loss of product properties. In this case, the product should be ground anew.
Nutritional information
Ingredients
Glucose, maltodextrin, magnesium salts of citric acid (magnesium), acidity regulator: citric acid; potassium citrate (potassium), sodium chloride (sodium, chloride), calcium carbonate (calcium), L-carnitine tartrate, anti-caking agent: silicon dioxide; flavours, colour: carotenes; L-ascorbic acid (vitamin C), sweeteners: sucralose, acesulfame K; nicotinic acid (niacin), thiamine hydrochloride (thiamine), riboflavin (vitamin B2), pyridoxine hydrochloride (vitamin B6), methylcobalamin (vitamin B12).
Product may contain milk (including lactose), soya, peanuts, other nuts, sesame seeds, cereals containing gluten, eggs, crustaceans, fish.
Nutrition Facts
| Active ingredients | Per serving 20 g | % RI* |
| --- | --- | --- |
| Glucose | 8500 mg | - |
| Sodium | 256 mg | - |
| Chlorine | 394 mg | 49% |
| Calcium | 120 mg | 15% |
| Magnesium | 187 mg | 50% |
| Potassium | 300 mg | 15% |
| L-carnitine tartrate | 200 mg | - |
| Vitamin C | 80 mg | 100% |
| Thiamine (Vitamin B1) | 0.165 mg | 15% |
| Riboflavin (Vitamin B2) | 0.21 mg | 15% |
| Niacin (Vitamin B3) | 2.4 mg | 15% |
| Vitamin B6 | 0.21 mg | 15% |
| Vitamin B12 | 0.375 µg | 15% |
*RI - Reference intake
Product reviews
0
opinion
Questions and Answers
Add a question about this product