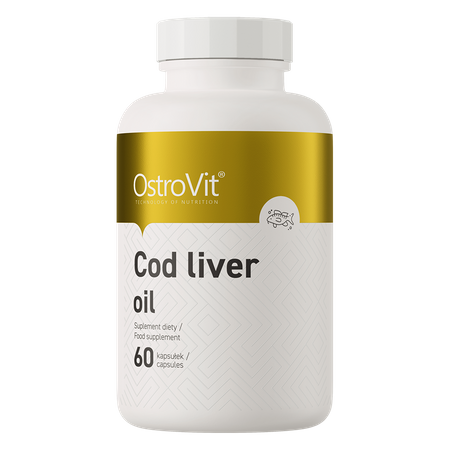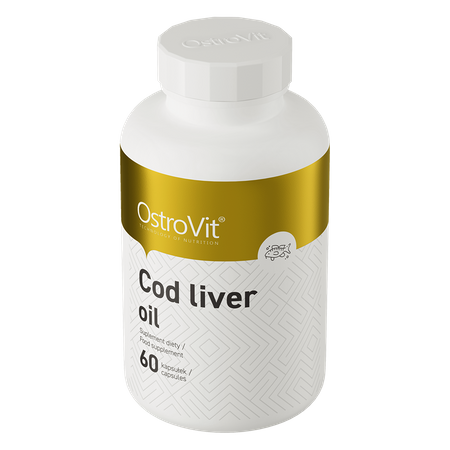 OstroVit Cod liver oil 60 caps
OstroVit Cod Liver Oil 60 capsules
OstroVit Cod Liver Oil is a dietary supplement created on the basis of oil obtained from Atlantic cod liver, which has been additionally enriched with valuable ingredients such as vitamin A and vitamin D. It is a preparation available in the form of easy-to-swallow capsules, which was created for conscious consumers who want to provide valuable compounds to the body.


A source of cod liver oil - one serving of dietary supplement provides the body with 500 mg of the compound.
Contains vitamin A and vitamin D - One capsule is a source of 375 ug of vitamin A and 3.38 ug of vitamin D.
1 serving = 1 capsule.
Efficiency - The package of the product is enough for two months of regular supplementation.
Convenient form - The preparation is available in the form of easy-to-swallow, softgel capsules.
OstroVit Cod Liver Oil - valuable dietary supplement
Cod liver oil, known primarily as fish oil, is a fat in liquid form that is obtained from the fresh liver of fish, which is Atlantic cod. OstroVit has also been additionally enriched with vitamin A in the form of retinol, i.e. an organic chemical compound, carotenoid, which in the daily human diet occurs, i.a. in milk and dairy products or in eggs. The dietary supplement also contains vitamin D in the form of cholecalciferol, which can be supplied to the body with food, i.a. in the form of fatty sea fish, as well as through skin synthesis using sunlight.
Properties of ingredients contained in OstroVit Cod liver oil:
Vitamin A present in the dietary supplement contributes to maintaining proper iron metabolism and also helps to maintain the proper condition of mucous membranes. In addition, the ingredient supports maintaining healthy skin and helps in maintaining the proper vision. The compound also supports the proper functioning of the immune system and plays role in cell specialization.
In turn, vitamin D used in the preparation helps to maintain healthy bones, teeth and proper muscle function, as well as supports the proper functioning of the immune system. It is a compound that participates in the process of cell division and helps in the proper absorption and use of calcium and phosphorus.
Suggested usage
Take 1 serving (1 capsule) daily.
Do not exceed the recommended daily dose. Do not use the product as a substitute (replacement) for a varied diet. Recommended are balanced diet and healthy lifestyle. Do not ingest if you are allergic to any of the ingredients. Children, pregnant or nursing woman must not take the product. Keep out of the reach of children.
Nutritional information
Ingredients
Cod liver oil (fish), coating composition (gelatin, humectant: glycerol; purified water), retinol (vitamin A), cholecalciferol (vitamin D).
Product may contain milk (including lactose), soy, peanuts, other nuts, sesame seeds, oats, eggs, crustaceans.
Nutrition Facts
| Active ingredients | For a portion | % RI* |
| --- | --- | --- |
| Cod Liver Oil | 500 mg | - |
| Vitamin A | 375 µg | 47 |
| Vitamin D | 3.38 µg | 68 |
*RI- Reference intake
Product reviews
0
opinion
Questions and Answers
Add a question about this product