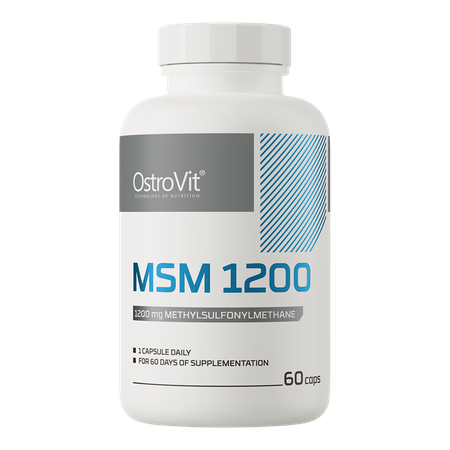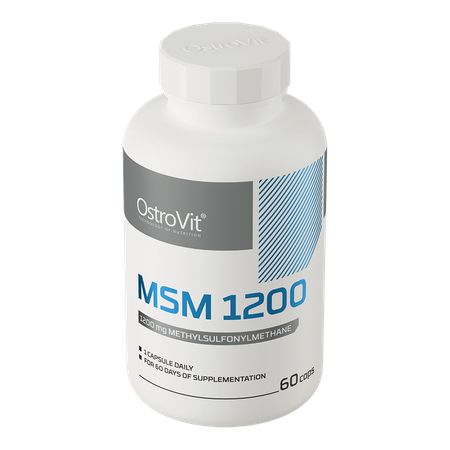 OstroVit Supreme Capsules MSM 1200 60 caps
4,20 €
OstroVit MSM 1200 60 caps
OstroVit MSM 1200 is a preparation which is a source of methyl sulfonyl methane, an organic compound of sulphur. This compound occurs in nature in many fruits, vegetables, eggs and meat, tea, cereals or even fresh cow's milk. However, it loses its properties as a result of freezing, irradiation and preservation.

60 capsules per pack
1 portion = 1 capsule
Supreme Capsules line
MSM-Methylsulfonylmethane
MSM methylsulfonylmethane is an organic chemical compound of sulphur (organic sulphur), often found in green vegetables or fresh milk. Unfortunately, it is a substance that easily degrades during technological processes of food processing. That is why supplementation with methyl sulfonyl methane is so important for us. It plays an important role during the process of amino acid and collagen synthesis.
Properties of the ingredients containing in OstroVit MSM:
Methylsulfonylmethane, commonly known as organic sulfur, has an extremely beneficial effect on our body. Sulphur is one of the essential minerals, which plays many important roles in our body. It is ideal for those who appreciate a healthy appearance of the skin, nails or hair, but for those who focus on broadly understood physical activity. Not only professional but also typically recreational. The key here is to regenerate tendons or ligaments after injuries and accidents.
They reduce post-workout muscle soreness and also influence their regeneration
During supplementation, the reduction of creatinine and bilirubin in plasma is noted
They significantly improve the skin, hair and nails, giving them an exceptionally healthy look
Effectively rebuild tendons and ligaments, ensure regeneration and proper functioning of joints
Participate in the synthesis of collagen (the main protein of connective tissue)
Prevent premature hair loss and strengthen it by improving its structure
Suggested usage
Take 1 serving (1 capsule) daily, preferably 30 minutes before a meal.
Do not exceed the recommended daily dose. Do not use the product as a substitute (replacement) for a varied diet. Recommended are balanced diet and healthy lifestyle. Do not ingest if you are allergic to any of the ingredients. Children, pregnant or nursing woman must not take the product. Keep out of the reach of children.
Nutritional information
Ingredients
Methylsulfonylmethane, capsule shell (gelatin, purified water).
Product may contain milk (including lactose), soy, peanuts, other nuts, sesame seeds, oats, eggs, crustaceans, fish.
Nutrition Facts
| Active ingredients | Per portion |
| --- | --- |
| Methylsulfonylmethane | 1200 mg |
Product reviews
0
opinion
Questions and Answers
Add a question about this product