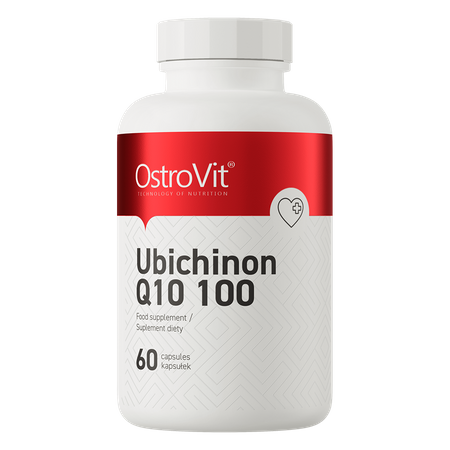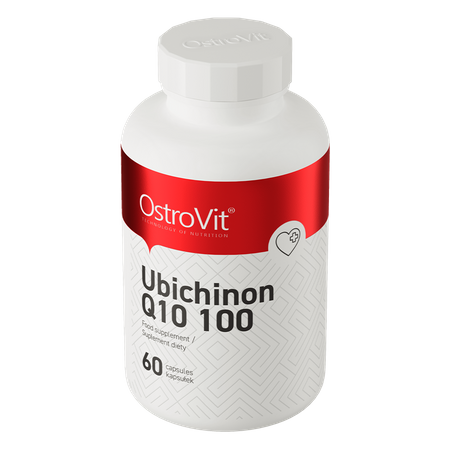 OstroVit Ubichinon Q10 100 60 caps
8,77 €
OstroVit Ubichinon Q10 100 mg 60 capsules
OstroVit Ubichinon is a high-quality dietary supplement that is a source of coenzyme Q10. It is a preparation available in the form of easy-to-swallow capsules, created for people who want to supplement their daily diet with a valuable compound.
1
Capsule
1 serving = 1 capsule
A source of coenzyme Q10 - One serving of dietary supplement provides the body with 100 mg of ubiquinone.
1 serving = 1 capsule.
Efficiency - The package contains 60 servings of the preparation, which is enough for 2 months of regular supplementation.
Convenient form - The preparation available in the form of easy-to-swallow capsules ensures a trouble-free supply of the dietary supplement.
OstroVit Ubichinon Q10 100 mg - źródło cennego związku
Koenzym Q10, to związek witaminopodobny, który jest rozpuszczalny w tłuszczach. Może występować w formie zredukowanej - wówczas zwany jest ubichinolem, lub w postaci utlenionej, jako ubichinon. Związek jest obecny w mitochondriach, gdzie wytwarzana jest energia, a największą koncentrację substancji można zaobserwować w komórkach mięśnia sercowego.
Koenzym Q10 może naturalnie powstawać w ludzkim organizmie, jednak jedynie w niewielkich ilościach, a jego poziom w ustroju zmniejsza się wraz z wiekiem. Dlatego też warto rozważyć dostarczanie związku do ustroju z zewnątrz - ubichinon można znaleźć w produktach pochodzenia zwierzęcego, m.in. w mięsie, podrobach czy rybach, a w mniejszych ilościach również w składnikach roślinnych, np. w orzechach czy pełnoziarnistych produktach zbożowych. Koenzym Q10 można dostarczać do organizmu również w formie suplementów diety, które wyróżniają się wysoką zawartością związku.
Suggested usage
Use one serving (1 capsule) daily, preferably after a meal. Drink with a glass of water.  
Do not exceed the recommended daily dose for consumption. Dietary supplement can not be used as a substitute (replacement) of a varied diet. A balanced diet and a healthy lifestyle are recommended. Do not eat if you are allergic to any of the ingredients in the product. The product should not be used by children, pregnant women and nursing mothers. Keep out of reach of small children.
Nutritional information
Ingredients
Soybean oil, ubiquinone (coenzyme Q10), emulsifier: soy lecithins; gelatin, humectant: glycerol; colour: red iron oxide; purified water.
The product may contain milk (including lactose), peanuts, other nuts, sesame seeds, cereals containing gluten, eggs, crustaceans, fish.
Nutrition Facts
| Active ingredients | For a portion |
| --- | --- |
| Coenzyme Q10 |  100 mg  |
Product reviews
0
opinion
Questions and Answers
Add a question about this product