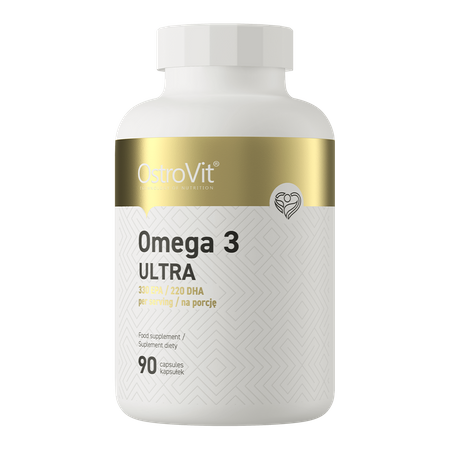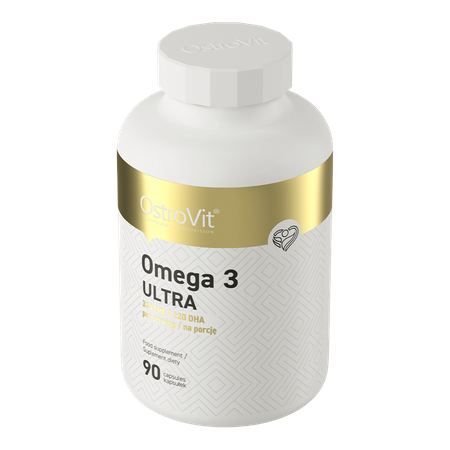 OstroVit Omega 3 Ultra 90 caps
6,06 €
OstroVit Omega 3 Ultra 90 capsules
OstroVit Omega 3 Ultra 90 capsules is a high-quality dietary supplement, which is a source of polyunsaturated omega-3 fatty acids. In the preparation you can find compounds such as eicosapentaenoic acid (EPA), docosahexaenoic acid (DHA), as well as vitamin E. The product contains highly concentrated fish oil, which is in the form of softgel capsules.

The source of omega 3 polyunsaturated fatty acids - One serving of the product contains 1000 mg of fish oil
Richness of EPA and DHA - One capsule provides the body with 330 mg of eicosapentaenoic acid (EPA) and 220 mg of docosahexaenoic acid (DHA).
Contains a fat-soluble vitamin E.
1 serving = 1 capsule.
Efficiency - The product packaging is enough for 3 months of regular supplementation
Convenient form - The preparation is available in the form of easy-to-swallow, gel capsules.
OstroVit Omega 3 Ultra 90 capsules - the source of EPA, DHA and vitamin E
Omega-3 fatty acids are compounds belonging to the group of essential fatty acids (EFAs). The body is not able to synthesize them on its own, which is why they must be supplied to the body from the outside, along with food or dietary supplements. Among the omega-3 polyunsaturated fatty acids, we can distinguish eicosapentaenoic acid (EPA) and docosahexaenoic acid (DHA), which naturally occur in oily marine fish and seafood.
OstroVit Omega 3 Ultra is also a source of vitamin E, i.e. a group of organic chemical compounds, classified as fat-soluble vitamins, among which the greatest biological activity is shown by D-alpha-tocopherol used in the preparation. It is a compound, which in the human body is stored in adipose tissue, as well as in the adrenal glands.
Properties of ingredients contained in OstroVit Omega 3 Ultra:
Docosahexaenoic acid (DHA) present in the OstroVit Omega 3 Ultra supplement allows you to maintain the proper functioning of the brain and also supports the maintenance of proper vision. Additionally, eicosapentaenoic acid (EPA) and docosahexaenoic acid (DHA) contribute to normal heart function, with beneficial effects occurring when consuming 250 mg of EPA and DHA per day. In turn, Vitamin E used in the preparation helps to protect cells against oxidative stress.
ATTENTION! Due to the high content of fish oil, the product is characterized by a fishy smell.
Laboratory confirmed quality
Out of concern for the health of our customers, our products are regularly tested in an independent accredited laboratory to ensure and maintain the highest quality.
Suggested usage
Take 1 serving (1 capsule) a day, preferably after a meal. Drink with the right amount of water.
In women planning pregnancy, being pregnant and breastfeeding, a doctor should be consulted in order to select the appropriate level of fatty acids. It is dependent on, among others on lifestyle and diet.
Do not exceed the recommended daily dose for consumption. Dietary supplement can not be used as a substitute (replacement) of a varied diet. A balanced diet and a healthy lifestyle are recommended. Do not eat if you are allergic to any of the ingredients in the product. The product should not be used by children, pregnant women and nursing mothers. Keep out of reach of small children.
Nutritional information
Ingredients
Fish oil, coating composition (gelatin, humectant: glycerol; purified water), DL-alpha-tocopheryl acetate (vitamin E).
Product may contain milk (including lactose), soybeans, peanuts, other nuts, sesame seeds, cereals containing gluten, eggs, crustaceans.
Nutrition Facts
| Active ingredients | For a portion | % RI* |
| --- | --- | --- |
| Fish oil: |  1000 mg | - |
| - EPA eicosapentaenoic acid |  330 mg | - |
| - Docosahexaenoic acid DHA |  220 mg | - |
| Vitamin E |  2 mg | 17% |
*RI - Reference intake
Product reviews
0
opinion
Questions and Answers
Add a question about this product