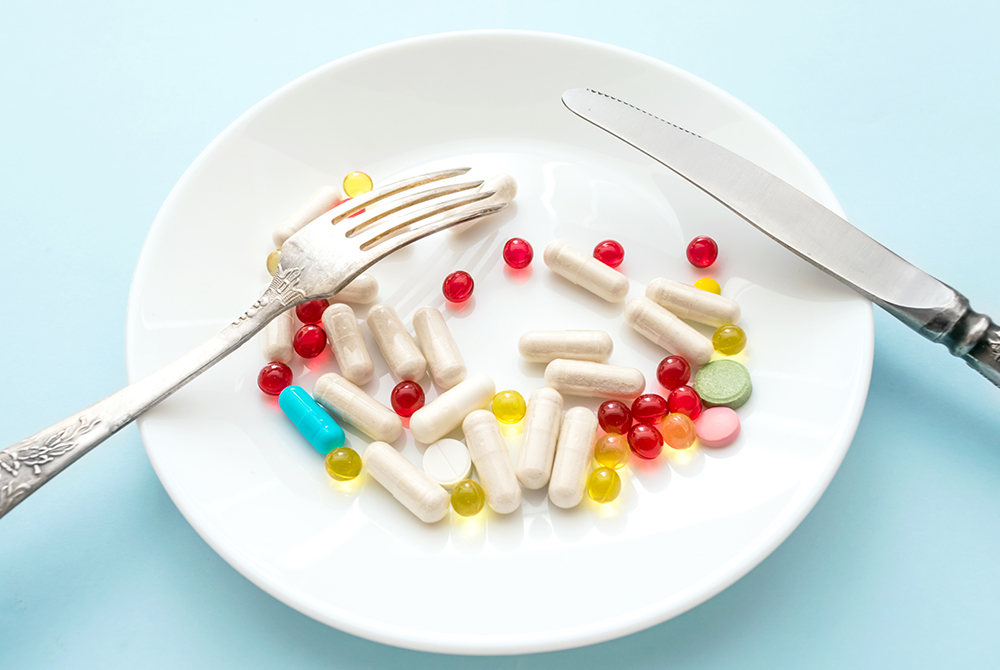 Pills that reduce weight effortlessly are the dream of many people struggling with weight excess. But do they exist? What is the role of a good slimming pill? How to buy a preparation that really works? We suggest what to look for while buying slimming tablets.
An effective weight loss pill?
Quick and easy weight loss without effort remains in the dream of everyone who struggles with excessive body weight. This is why all kinds of slimming tablets are very popular. You can buy them in pharmacies, online and in face to face sales.
The truth about slimming tablets is unfortunately quite harsh. The vast majority of these preparations have no right to work because of their composition. Some of them can be very dangerous to your health - we are talking about slimming pills of unknown origin, imported from abroad or produced at home. Many of them are launched on the market because there is a demand for this product, but usually, apart from good marketing, they have nothing to offer. It does not mean that fundamentally every slimming pill is bad, harmful and can only slim your wallet. Among dietary supplements, there are good preparations with a reliable composition, which can indeed be a support in weight loss. But it is necessary to distinguish between the supportive action of slimming tablets and the slimming effect of them individually.
Recommended products to support weight loss
A slimming pill does not make you slim, it supports slimming
Let's be clear - no slimming pill can help you lose weight without making changes to your diet and, ideally, increasing your physical activity. A good slimming pill can make it easier for you to eat healthily, manage your hunger, control your blood glucose levels or see the results of your diet a little bit faster. It all depends on the composition of the slimming pill. However, no substance does not harm your health and whose consumption causes visible and rapid weight loss without any physical effort or dietary changes.
Is there an effective slimming pill? Certainly, some tablets effectively support weight loss. They have a positive effect on physiological processes that facilitate weight loss. They increase the use of fats as a source of energy, regulate blood glucose levels, reduce insulin resistance, affect the secretion of hormones connected with the feeling of hunger and satiety, speed up metabolism (only temporarily!). However, no pill slims down.
The only exception to this may be berberine, which has had promising scientific research. Indeed, it appears that berberine in high doses (1,500 mg per day) can cause modest weight loss without changes in dietary habits or physical activity. Based on a study in a small group of 37 people, it was shown that taking berberine resulted in an average weight loss of 2.5 kg over 12 weeks. However, this is only a preliminary sign, and studies on large groups of participants are needed to be sure that berberine does lose weight.
How to buy good slimming tablets?
Good weight loss tablets that actually support slimming are available on the market. However, to be clear, they work only supportively. If the manufacturer of a tablet promises weight loss as a result of taking the supplement, you should seriously consider buying it. So how not to be fooled by producers who are only interested in profits? How to buy good slimming tablets? Follow some of the tips below.
Choose preparations that contain EXTRACTS from plants or isolated individual active ingredients. The extracts and active ingredients are what scientific research is focused on, not the whole plant.
Buy products where the extracts are standardised, e.g. green tea extract standardised to 50% polyphenols, which means you know exactly how much of the active ingredients are actually in the slimming tablets.
Do not buy tablets that contain powdered plant elements, e.g. Curcuma rhizome, green barley seeds, green coffee beans. The amounts of active substances in them are small, sometimes even marginal.
Choose weight loss products where 1-2 tablets is the recommended daily dose. It is common to find supplements whose recommended dosage is, for example, 2 tablets 3 times a day, and with this dosage, 1 pack lasts for 5 days.
First of all, pay attention to the list of ingredients. For slimming tablets to support the weight loss process in any way, their ingredients must have such potential confirmed by scientific research. Substances with confirmed slimming capabilities include berberine, curcumin, piperine, caffeine, green tea polyphenols, and African mango fruit extract.
An honest producer of slimming tablets will only use concentrated plant extracts with a potential weight loss effect demonstrated in scientific studies. However, most preparations sold as slimming tablets do not meet these conditions and can only slim your wallet.